Top of the Lake: China Girl, BBC Two, series finale review - torpor not trauma |

reviews, news & interviews
Top of the Lake: China Girl, BBC Two, series finale review - torpor not trauma
Top of the Lake: China Girl, BBC Two, series finale review - torpor not trauma
Top of the lake? More like bottom of the barrel...
Friday, 01 September 2017
Elisabeth Moss as Robin Griffin: life's a beach - and then you die
So who killed Cinnamon? Six weeks ago we saw the strangled sex-worker – packed in a pink suitcase – pushed into Bondi Bay. The finale of Top of the Lake: China Girl withheld enlightenment. Puss, the chief suspect, denied responsibility. Why would the baby-farmer destroy such a valuable (pregnant) asset?
The couple that ran his brothel (the concubines were advertised as surrogate mothers) disposed of the body but perhaps an overexcited client did the actual deed. The only sure thing was that Cinnamon was still toast.
Jane Campion's drama – it was never a thriller – began uncertainly, showed real promise in the second episode, then spiralled into stupidity. No police procedural has ever shown such contempt for the police and legal proceedings. The lead detective Robin Griffin (Elisabeth Moss) was the worst offender: instead of recusing herself from the case when she learned of the involvement of her daughter Mary (Alice Englert), she ended up sleeping with Pyke (Ewen Leslie), the man who had adopted her. That said, the poor lamb's wife Julia (Nicole Kidman) had gone off with another woman – however, at the eleventh hour, she returned in time for the faked happy ending. It was the only one on offer in a series that haunted massage parlours.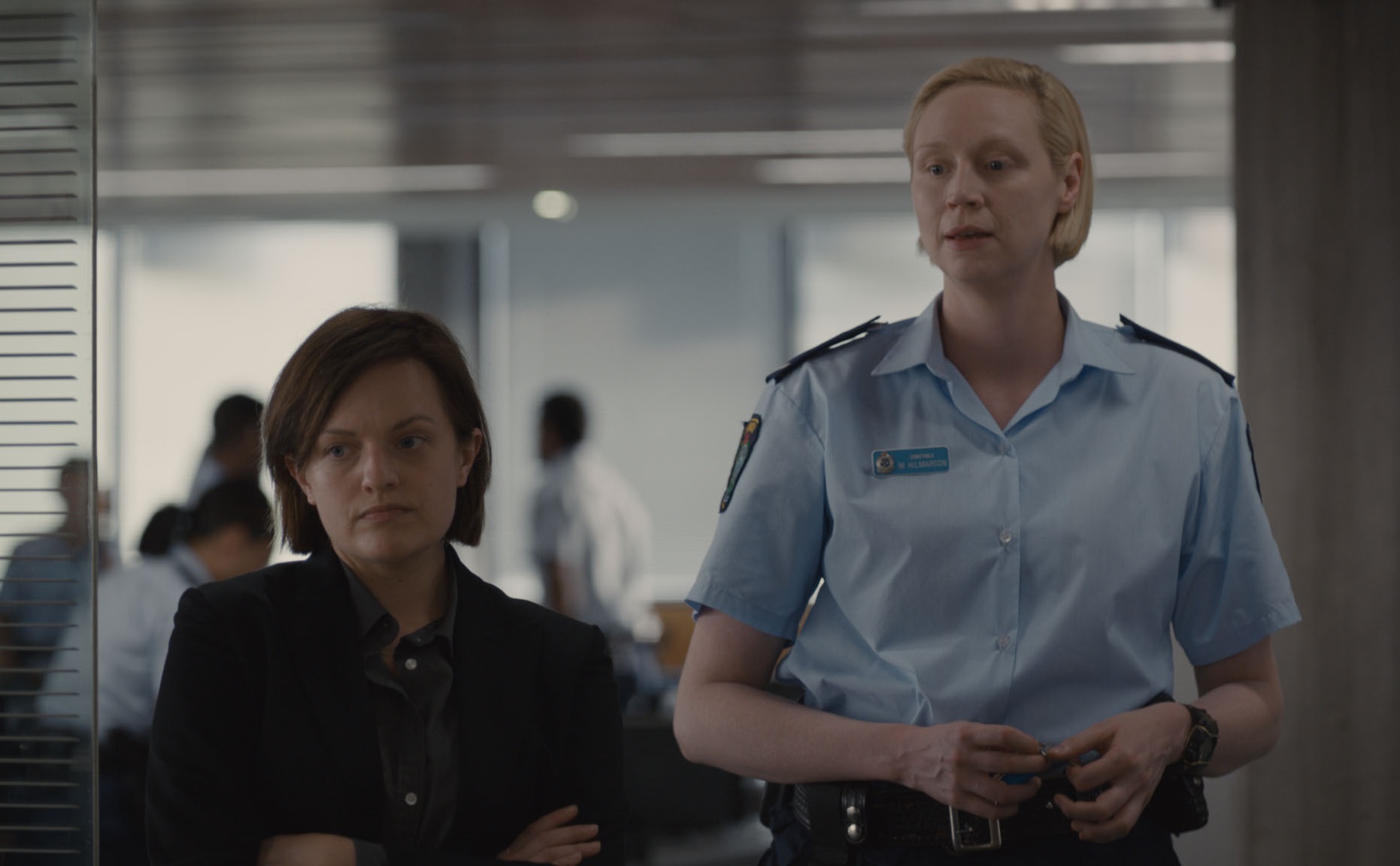 Griffin's colleagues were all dolts. At a crime scene in episode five Detective Carson (Adam Zwar), who boasted that he never read e-mails, told her: "I want to be with you – and I'm finding this quite upsetting… Just tell me if you've got someone." It was left to his wingman to explain: "He doesn't know a real no from a yes-no."
In the third episode it was revealed that Butler (Clayton Jacobson), Griffin's obese boss, and her galumphing sidekick Miranda (Gwendoline Christie, pictured above with Elizabeth Moss) were having a baby together. It wasn't until the fifth episode that we learned Miranda wasn't pregnant – thus excusing her drinking and smoking but not her sleeping with Griffin's dodgy brother. She and Butler were two more unhappy customers of Puss. If those charged with enforcing the law have so little regard for it – surrogacy is illegal in Australia – why should anyone else bother to toe the line?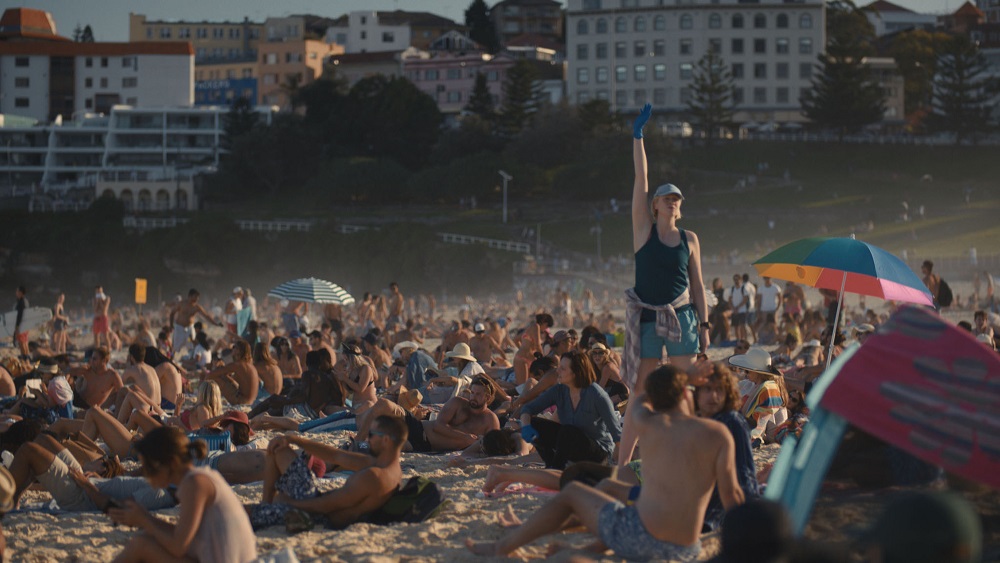 Campion and her co-writer Gerard Lee certainly didn't observe the rules of drama. Cinnamon's murder was just a device that enabled them to expose the misogyny and social inequality still found in Australia today. Unfortunately their outrage rendered them incapable of creating a single sympathetic character or generating any sustained narrative tension.
Take Brett (Lincoln Vickery), for example, the boy-client who appeared to be the only person who cared about Cinnamon's death. Not only was he vile to his mother, he gradually became a gun-toting lunatic who, seeing visions of a naked Cinnamon, couldn't even shoot straight. Aiming for Puss, he killed the manager of the brothel instead and, in the finale, burst out of the sand on Bondi beach (pictured above) to blast Miranda in the stomach. A comically inept climax worthy of the Keystone Cops.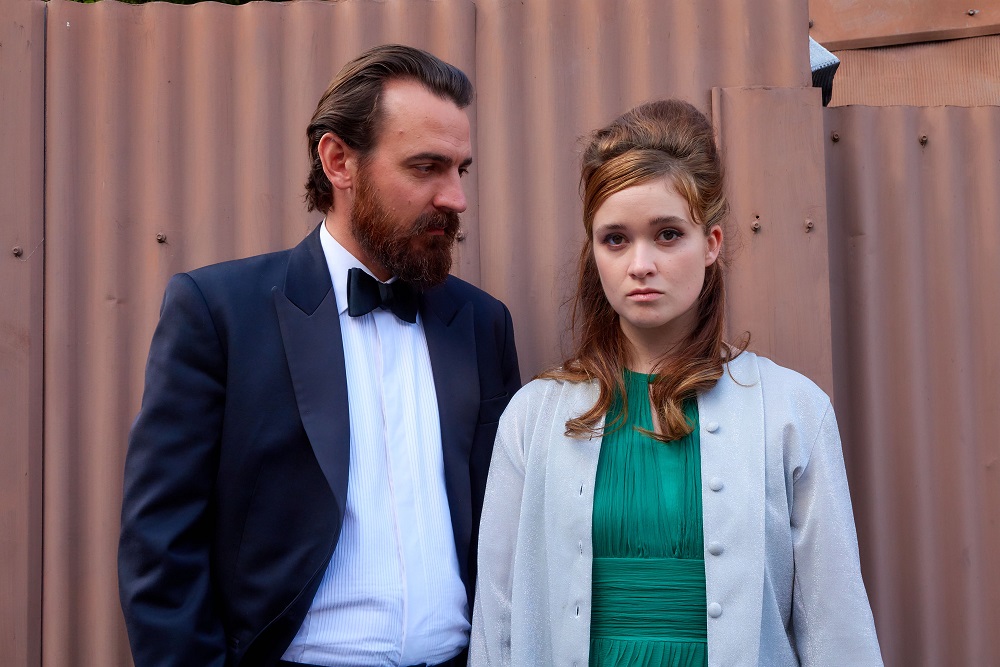 In The Kindly Ones Anthony Powell noted: "One of the worst things about life is not how nasty the nasty people are. You know that already. It is how nasty the nice people can be." There are no nice people in China Girl – and the girl who should be the object of our affections, Mary, is the nastiest (Ewen Leslie with Alice Englert, as Mary, pictured above). Of course a confused teenager whose adoptive parents have split up, and whose birth mother suddenly appears out of nowhere, deserves our sympathy. However, her cruelty to those who love her, and her adoration of Puss – a much older super-pseud who quotes Nietzsche yet doesn't know the difference between sarcasm and irony; a pimp who persuades her to prostitute herself to show solidarity with his "girls" – makes it very hard to care about her. She repeatedly asks for help only to reject it. So what does Griffin do when Mary is attacked by a client or taken hostage by the gunman? Nothing. Nix. Nada.
Only at the end, when Mary finally sees through Puss – his name should be spelled with a single "s" – does she allow Griffin to pick her up from the airport. Thus the surrogate family – Mary, Julia and Pike – are temporarily reunited (Elisabeth Moss with Alice Englert, pictured below).
Campion's decision to cast her own daughter as the 17-year-old Mary was an egregious error. Englert, 23, looks and sounds ten years older. She is too broad in the beam; her voice is too deep. The incongruity undermines every scene she's in. The final images of an infant Mary/Alice in a home movie – while Brian Cadd sings A Little Ray of Sunshine on the soundtrack – imply the series is meant to be a hymn to mother love. In this case, alas, love blinded Campion.
"Fuck love," says wannabe mum Miranda. "It's a disease. People die from it." The script is as muddle-headed as the characters. In this parallel universe, where misandry is the norm and being a male chauvinist pig is a capital offence, parenthood is seen not as a privilege but a right – and a miscarriage not only a tragedy but also a miscarriage of justice. "Slack prick!", "Soft cock!" The insults fly at Griffin's faithless husband-to-be in the second episode that included the memorable image of her wedding dress burning in the breeze high above a waterside bonfire. In more ways than one it is a glimpse of what might have been (Nicole Kidman, pictured below).
Griffin, having been raped by three men in the first series, is charged with having sex with a superior officer (one of her rapists) in the second. The scene in which she allows him to hoist himself out of his wheelchair and attempt to throttle her at the courthouse was creepy but incredible. And her slow reaction – choosing to hold a Zippo to some curtains instead of the hands of her attacker – suggests that bad things keep happening to her because she's dim rather than damaged.
Time and again the viewer's reaction can only be WTF? What's with the animatronic foetus and the twin homunculi held in the dreaming Griffin's outstretched palms? A misguided homage to David Lynch's Eraserhead? When Griffin meets Puss for the first time – on a beach, of course – she sits there while he flirts and flouts her authority: "For the psyche, rape is a catastrophe. You never recover from that shit." Then, when he tries to bite off her nose, she doesn't even arrest him for the assault – let alone the sexual assault of her daughter. He never has his collar felt and is somehow allowed to waltz out of Oz with a bevy of heavily pregnant women.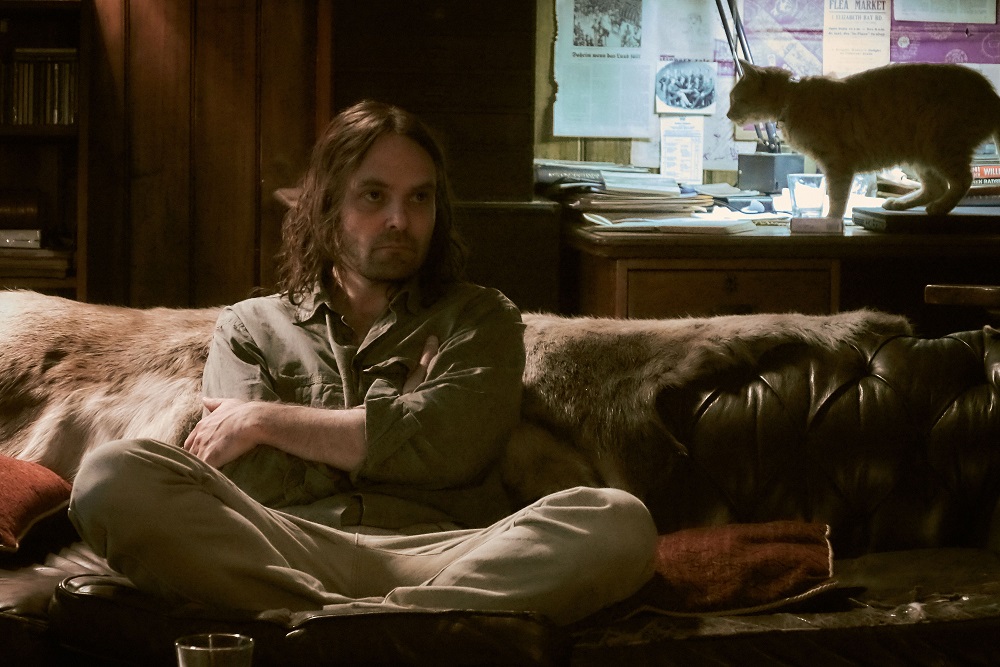 David Dencik (pictured above) deserves top honours for his portrayal of Alexander. The supreme sleazebag – all straggly hair, narrow eyes and an insidious Slavic accent; bearing his all-too-symbolic nickname of Puss with pride – is finally undone by two of his cats when Griffin recognises them in the Stasi Café (one of Mary's hang-outs). Typically, instead of doing anything sensible, the defective detective slashes him across the belly.
There has always been something otherworldly about Elisabeth Moss. Here, though, her aloofness is alienating. It suggests torpor not trauma. The fact she is a scientologist shouldn't matter but knowing she believes in a giant lizard makes me want to scream every time she slowly blinks.
Top of the Lake should never have been re-commissioned. After the first episode the audience for China Girl dwindled until more people were watching the quiz show Only Connect. In the end Campion's gutter-crawling and breast-beating doesn't amount to a hill of beans. If, for some reason, it didn't make you turn off, it made you yawn and it made you queasy.
Such a jaundiced view of humanity is epitomised in the finale by the glorious overhead shots of Bondi Beach. The camera resembles a magnifying glass ready to burn the tiny basking men and women like bugs. Campion, though, doesn't see people: only walking willies and wombs.