Top of the Lake: China Girl, BBC Two review - thrillingly murky |

reviews, news & interviews
Top of the Lake: China Girl, BBC Two review - thrillingly murky
Top of the Lake: China Girl, BBC Two review - thrillingly murky
Elisabeth Moss is joined by Nicole Kidman in the return of Jane Campion's Down Under detective show
Elisabeth Moss is back in Top of the Lake
In the riveting first series of Top of the Lake, it was personal for Down Under detective Robin Griffin. She headed to a hilly corner of New Zealand to be around for the death of her mother while looking into the disappearance of a young girl.
There she fell in love with the estranged son of a local villain but had to pull out upon learning that he was in fact her half-brother. A last-minute denial of paternity by the villain left her with something to smile about, especially as she also exposed a paedophile ring and shot its facilitator.
Spool forward to the second series on BBC Two, and the smile has vanished. Robin (Elisabeth Moss) is back at work in Sydney, celibate, and keeping stumm about the end of her engagement after her non-half-brother did a runner at the altar. She's dossing down with her actual brother, who works from home massaging men in his pants (and theirs). At work even the recruits she's training snigger at her as a trigger-happy oddball. Al Parker, the police chief/paedophile ringleader she wounded in New Zealand, got off by turning state witness, and is now seeking closure in a face-to-face. Indeed the only person who's being nice to Robin is a rookie female cop called Miranda. She's six foot three, the butt of transgender jokes, a freaky stalker fan and, though no one's complained yet, English. She's played by Gwendoline Christie, whom Game of Throners will recognise as Brienne of Tarth.
"I've got my qualities and I don't give up," Robin pleads with her boss. What she needs to settle her nerves is a case of sexual assault to crack open. It turns out to be a literal case when a body is washed up on Bondi inside a suitcase containing the mortal remains of – we must presume – an Asian sex worker. Robin doesn't know this yet, but the missing girl traded at a brothel full of other Asian women who get English lessons from a raggedy German who just happens to be dating the daughter Robin gave up for adoption 17 years earlier. Their paths are likely to cross, especially as Robin cherishes a letter of thanks from the child she's never met. So willy-nilly it's going to get personal all over again. But that's all to come.
For the past nine weeks Elisabeth Moss has been the bright star of The Handmaid's Tale playing a woman whose defiant emotions rush up in as if through holes in the ground. She's equally brilliant in Top of the Lake as a woman whose demons are all internal. The twist is that Robin's daughter Mary (Alice Englert) also turns out to be troubled, possibly thanks to a genetic inheritance handed down from the viciously unpleasant Scottish thug Matt (played by Peter Mullan in the first series) who sired Robin.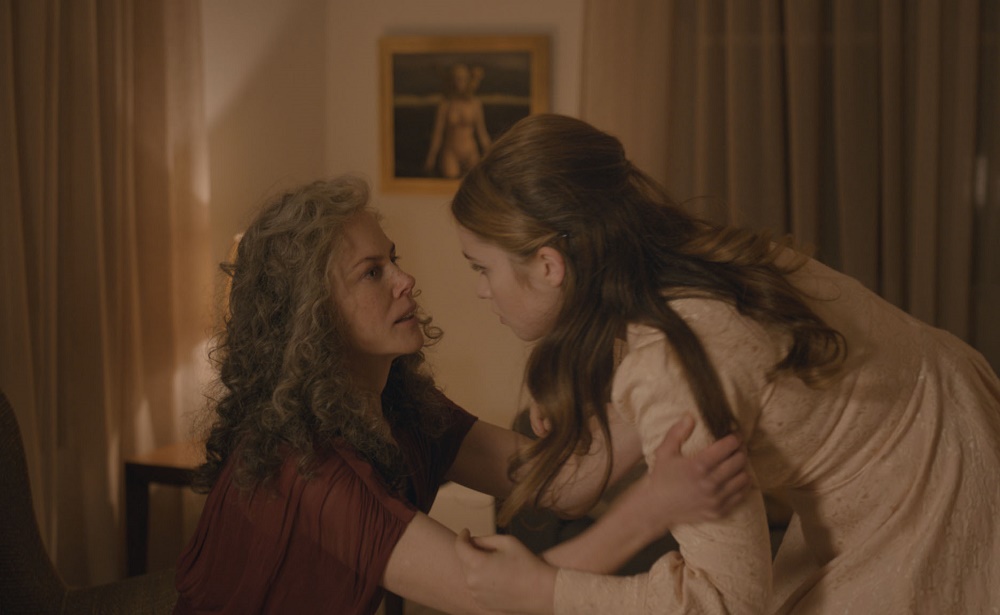 Mary's adoptive parents – especially her mother Julia (Nicole Kidman, pictured above with Englert), who has just come out as a lesbian – provoke in her ASBO-warranting levels of teenage grouchiness. She rejects maternal hugs on the spurious grounds that "you are a lezzer and a woman of shallow discrimination who may wish to fuck me too". She raids her father's wallet, issues dictats about lettuce ("not iceberg, it's floppy"), hates feminism and says that "work is for older people". Does it add an extra frisson that Englert was cast as the daughter from hell by her own mother, the director Jane Campion?
Meanwhile away from home Mary's beau is the much older Alexander (David Dencik), who claims to be the child of a rape when his mother was a cleaner at Neuschwanstein. This can perhaps be read as fantastical given that mad King Ludwig's Bavarian schloss is famously where Chitty Chitty Bang Bang was shot. Sexily, he knows reams of Dostoevsky. Claiming to be a former professor of history at Leipzig, he now instructs the Asian sex workers (pictured below) to be fluent in dirty talk with their customers. This specialist lexicon is on hideous display in a demoralising café scene featuring a group of young men who pool their local knowledge of prostitutes over their Apple Macs, comparing notes on GFE, reverse cowgirl, and nat. racks. Here's corroboration of Mary's claim that older men are a safer bet than their younger counterparts "who've been raised on porn and only want anal".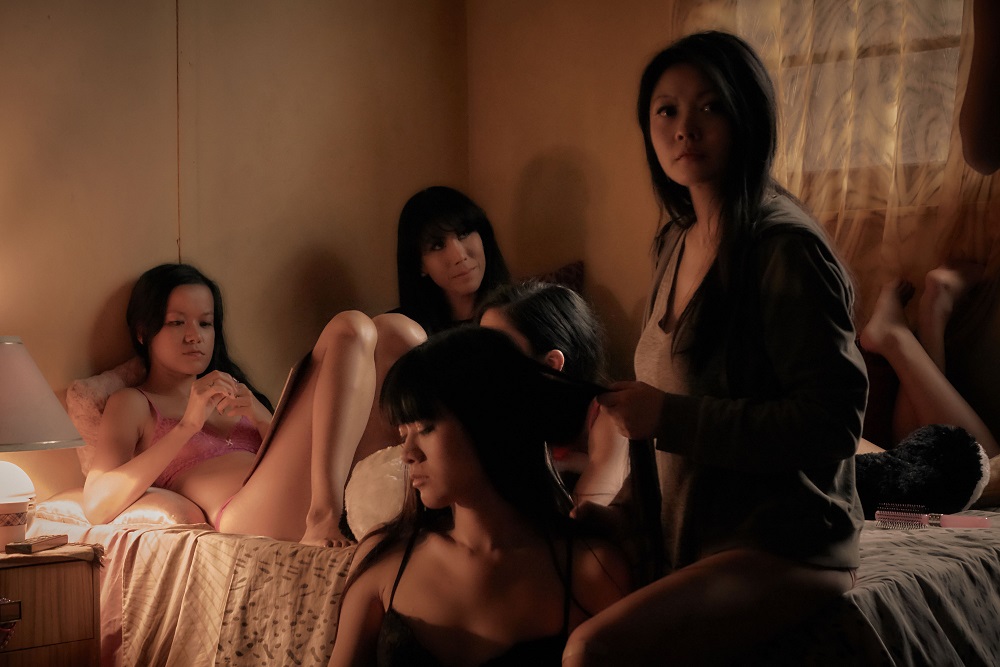 So, phew, there's plenty going on already in a series whose hectic first episode went off like a firecracker. There's other off-the-wallness too: a police chief who lets his son paint his fingernails in many colours; the neediness of the giantess Miranda who weirdly offers to lift Robin down onto the beach; Robin imagining avatars of herself and her baby child in her dreams. The script by Campion and Gerard Lee feels as if it's furiously pushing every button on the console.
So far it's very different from the Kiwi incarnation of the show, faster and shriller, even if that too had a bonkers sideshow in the shape of Holly Hunter's grizzled guru. As this series' star turn Kidman, with wild grey curls, is beautifully brittle as a disciple (if not quite pupil) of Germaine Greer. Alexander is unimpressed by her mentor: "Germaine just wanted to shake her titties at the world."
This Top of the Lake takes us to the bottom of the sea, where it's thrillingly murky. There are some lovely flourishes from cinematography Adam Arkapaw. If you can't wait to watch it in weekly instalments, the whole lot is available for binge-viewing on the iPlayer.