Magnum P I , Sky 1 review - slick and formulaic remake of Eighties original |

reviews, news & interviews
Magnum P.I., Sky 1 review - slick and formulaic remake of Eighties original
Magnum P.I., Sky 1 review - slick and formulaic remake of Eighties original
Jay Fernandez updates the Tom Selleck role in Hawaii-based drama
Thursday, 17 January 2019
Aloha! Jay Fernandez as Magnum
Perhaps inspired by the success of the revived Hawaii Five-O, CBS and Universal have gone back to the Eighties, and back to Hawaii, to see if the venerable Magnum P.I. could benefit from a similar overhaul. Early evidence suggests that as formulaic American dramas go, it's… sort of business as usual.
Tom Selleck, in Hawaiian shirt, tight jeans and a moustache crying out for a Flymo lawnmower, was the original freelance investigator, Thomas Magnum. The new guy is Jay Hernandez, last seen on the big screen in Suicide Squad and here looking very relaxed tooling around Hawaii's mountain roads and highways in a red Ferrari 308. It's not his Ferrari, though. As per the Selleck version, the car (and several others) belong to bestselling author Robin Masters, upon whose lush and luxurious estate Magnum lives. Magnum's back story voice-over tipped us to the not especially plausible fact that Masters had been a journalist embedded with Magnum's Special Forces squad in Iraq (in Selleck's case it was 'nam). They helped him acquire material for his books, and he was so grateful that he took the boys under his wing in their post-service life. Magnum himself is Masters's "live-in security consultant".
Assisted by a stream of convenient concidences, the plot sped past at breakneck speed
Long story short, Magnum and his buddies are like a tropical A-Team. They even have their own B A Baracus in the form of T C Calvin (Stephen Hill), who is, helpfully, a former Marine helicopter pilot who now flies tourists around the islands. Orville "Rick" Wright (Zachary Knighton) used to be a helicopter door-gunner, but now runs his own Hawaiian bar, or more specifically "Oahu's coolest beach club".
Magnum made a spectacular entrance in this opening episode by making a free-fall parachute jump into North Korea from a space capsule, before the story zoomed in tightly on the old-war-comrades theme. Another of his comrades, Sebastian, was kidnapped and gruesomely tortured to death – off camera, fortunately – by a couple of rogue marines, who were trying to track down a hoard of hidden gold. Snag is that since these American shows clock in at about 43 minutes once you've taken the ads out, squeezing a complete plot, lumps of previous history and the explanatory new-show stuff into one episode was like trying to stuff a mattress into an egg cup.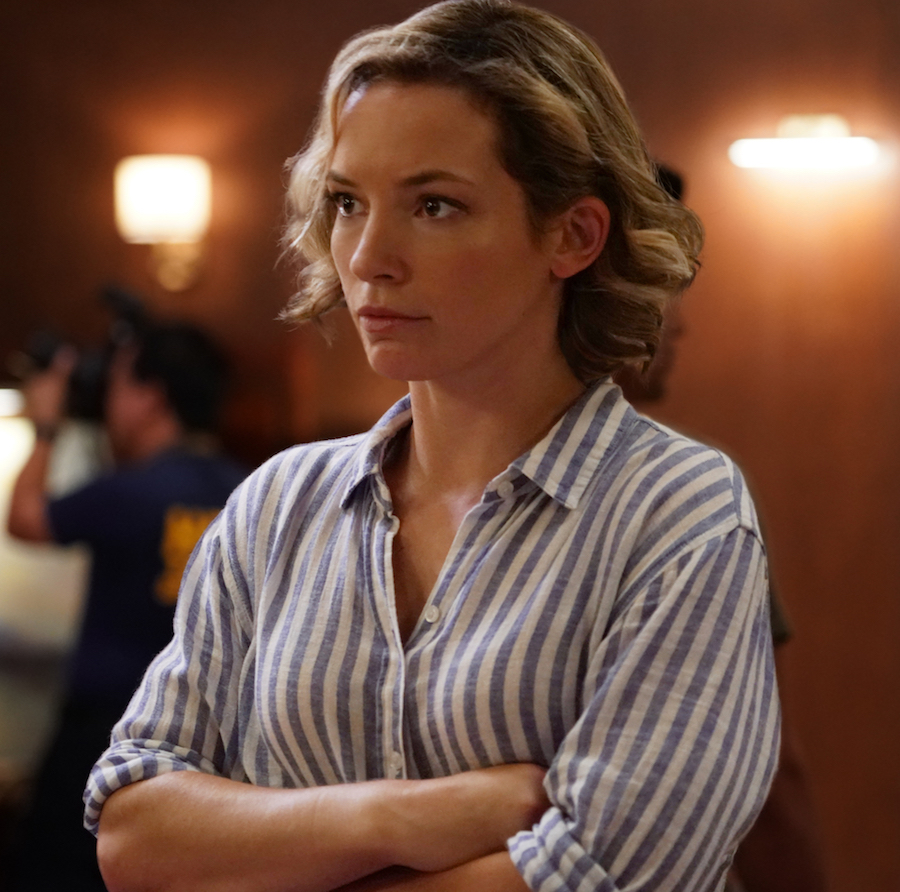 Assisted by a stream of convenient coincidences and preposterous twists, the plot sped past at breakneck speed, shoo'd along by gun battles, explosions, a rather unpleasant beating for Magnum and two wrecked Ferraris. Yet solving a violent and bloody case of murder and robbery seemed merely incidental alongside such important tasks as introducing Zeus and Apollo, Masters's matching pair of hungry Dobermanns, and more importantly Juliet Higgins, Masters's so-called "majordomo" (ie she's his estate manager). In the original Magnum the majordomo was British Army veteran Jonathan Higgins (John Hillerman), but his successor's crisp Roedean-style English is delivered by Perdita Weeks (younger sister of Honeysuckle Foyle's War Weeks). Juliet (pictured above) just happens to have some useful unarmed combat skills and a handy contacts book from when she worked for MI6.
Despite the deaths and piled-up wreckage, it ended on a note of restrained optimism and a roar of high-powered exhaust. For a bit of sea, sun, cartoon violence and some droll throwaway lines for good measure, at least it beats Death in Paradise.