Imagine Frank Gehry: The Architect Says Why Can't I?, BBC One |

reviews, news & interviews
Imagine... Frank Gehry: The Architect Says Why Can't I?, BBC One
Imagine... Frank Gehry: The Architect Says Why Can't I?, BBC One
Portrait of the artist with a passion for questioning everything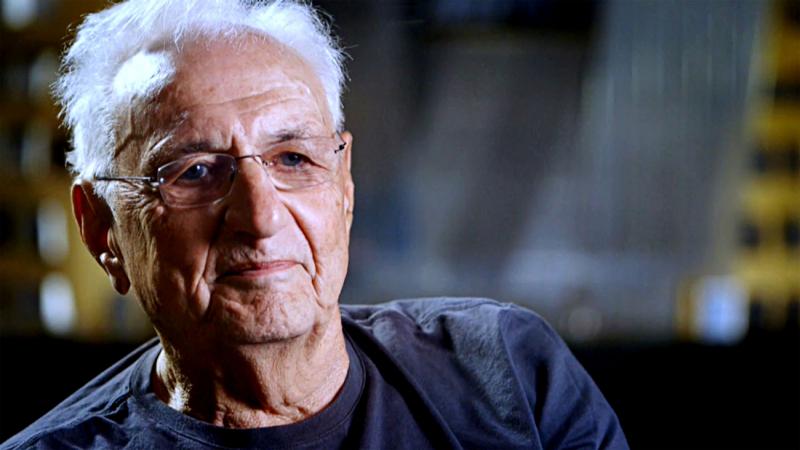 Frank Gehry: they said it couldn't be done
The hook for Alan Yentob's portrait of the 86-year-old architect Frank Gehry was the initiation and progress of an enormous new building in a rough portside area of Sydney, the Dr Chau Chak Wing Building for the business school of the University of Technology. It opened after nearly two years of construction, on time and on budget, last autumn. To commission it, the dean of the school, Ron Green, simply rang Gehry up, and Gehry replied with just four words: "I'm up for it."
As he said, the dean took a conscious risk in all sort of ways. We heard from a range of Australian workmen, including bricklayers, glaziers, and cranedrivers. At the beginning they were suspicious, believing Gehry's curvaceous and experimental walls simply couldn't be built, and part of the narrative's fascination was seeing these relatively hardened, cynical workers slowly being won over. One brickie told us that for the first time he really looked forward to coming to work. Another had his arm tattooed with an image of the Gehry's brick wall, and when the starchitect arrived for the building's opening Gehry obligingly posed with the working fan, and autographed a brick for him.
The finished building (pictured right) has a lot of Gehry's trademarks: its form is unexpected, with a great glass wall on one side, and the dazzling dancing brick on the other, roof gardens galore, and inside a huge metal mirror-framed staircase. Asked about the staircase and its meaning, Gehry rather whimsically replied he had no idea; he just did it.
"He just did it" was in fact the theme, tracing back to the architect's Orthodox grandfather with whom the young Gehry argued over the Talmud. The family were poor Polish Jews who emigrated to Toronto, and Gehry was bullied as a Christ-killer as the only Jew in his elementary school. Gehry's mother took the youngster to the art gallery and to music, and eventually they all moved again, in 1947 to Los Angeles, hoping for further opportunity. The teenage Frank went straight to work as a truck driver, but hung out with artists, and made it to architectural school, in southern California and then to Harvard.
What came across, beguilingly and convincingly, was Gehry's passion for questioning everything; and as one of his partners said, if he knew where he was going, he wouldn't go there. Critics chipped in to say that Gehry has fundamentally reinvented what architecture can be. Gehry himself says he has always wanted an architecture that looks like a work in progress and has movement to it, that rules are made to be broken, that the buildings must be humane rather than cold and lifeless. The programme though was not hagiographic: a disparaging cultural critic remarked that Gehry's buildings are vulgar and showy and are like a child screaming out for attention, while someone else likened them to a car crash.
We visited his own home in Santa Monica, an ordinary house that he revamped, rewrapping it with wood and chain mail and happily outraging the neighbours, one of whom chained his dog to pee on Gehry's wall. Gehry has built offices – the Dancing Building in Prague, nicknamed "Fred and Ginger" – and apartments, like the 76-storey Beekman Tower in Lower Manhattan.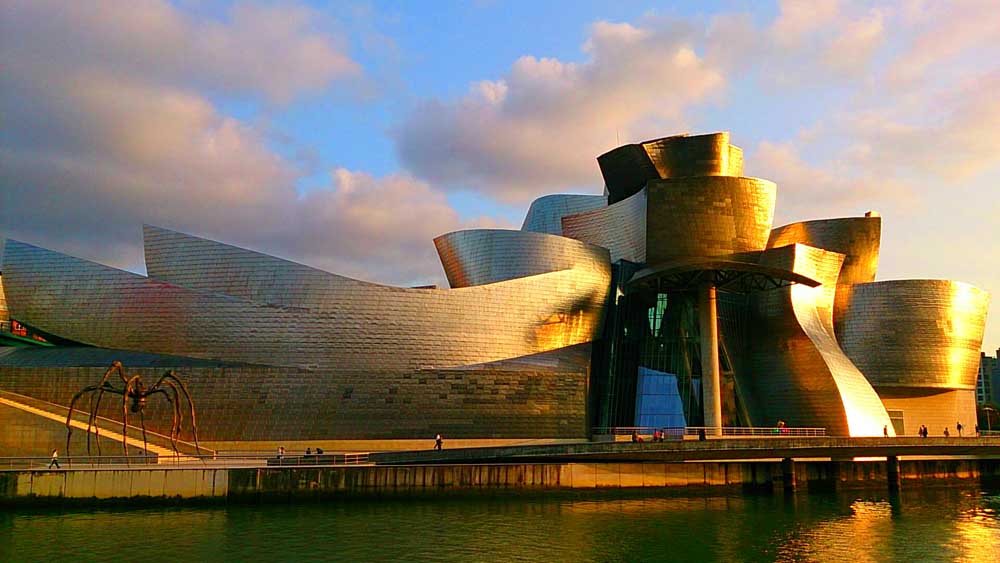 The great cultural buildings paraded before us – the Disney Concert Hall in Los Angeles, the Vitra Design Museum in Weil-am-Rhein, the Louis Vuitton Foundation in Paris, and above all the game-changing Guggenheim, Bilbao (pictured above) where Gehry persuaded the Basques to give him a site on the river: Bilbao was a depressed post-industrial town that needed a smile: Gehry told us that the building cost $100 million, brought €1.6 billion to Bilbao, and had 10 million visitors in its first decade. The design, inspired by Picasso's Cubist painting The Accordionist, was only made possible by the innovative use of computer-aided design tools created for the aerospace industry.
Though we saw the workmen who create the buildings, a major omission, sadly typical of most architectural programmes, was that we rarely saw inside them. Nor did we hear how well they work from the people who actually use them. This reviewer has visited exhibitions Gehry designed, and several of his museums, and can testify to how marvellously Bilbao does work: practical and exhilarating, a building that shows off its contents, and while making the art look as best it can, makes visitors feel good too. It would have been illuminating to hear what the musicians and audiences have to say about the Disney Concert Hall, what the apartment dwellers feel in New York, and what those business students think in Sydney.
Gehry says he has always wanted an architecture that looks like a work in progress and has movement to it
rating
Share this article