The Grand Tour, Amazon Prime |

reviews, news & interviews
The Grand Tour, Amazon Prime
The Grand Tour, Amazon Prime
Clarkson's carmageddon arrives at last
Saturday, 19 November 2016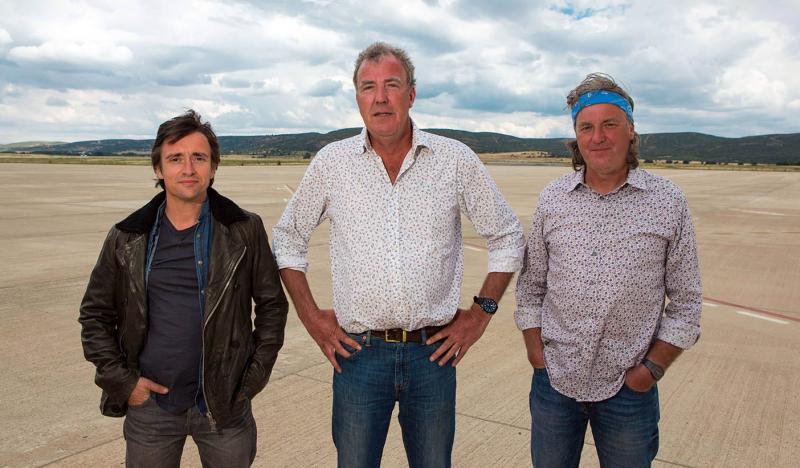 Return of the wizened road warriors: Richard Hammond, Jeremy Clarkson and James May
The Jeremy Clarkson trio must have been vastly amused by the disastrous progress of the Chris Evans version of Top Gear, which staggered across our screens in the summer and prompted the new host to fall on his sword, but they shouldn't be resting on their laurels just yet.
This long-awaited debut of their new show,
The Grand Tour
, was big, brash and lavishly budgeted – Amazon have reportedly stumped up £4.5m per show – but it flirted dangerously with bloat and bombast. Sawing off a chunk of its 70-minute running time would have been a smart move, while recruiting guest stars Armie Hammer and Jeremy Renner and then not letting them do anything was tactical suicide.
Still, the extended opening sequence of Clarkson departing a rainy London for sun-baked California, and leading a fleet of vehicles across the desert to the Grand Tour HQ like a megamix of Max Max and Independence Day, was a nifty coup de théâtre. Moreover, devotees of vintage Top Gear must have been reassured by the way this resumed from where the lads left off. Clarkson and his cohorts James May and Richard Hammond bickered, in time-honoured fashion, like a trio of ancient schoolboys planning their next practical joke, in between blasting round a racetrack in Portugal in a trio of futuristic million-pound supercars – a McLaren P1, a Porsche 918 and Ferrari's ultra-rare LaFerrari. The high-definition photography, super-slow-motion and glitzy filter effects might have come from one of those Fast & Furious street-racing movies, though the best moment was when Clarkson seemed to scare himself by losing control of the McLaren. The look of terror that crossed his face was too convincing to have been faked.
There were more larks at the trio's home-made race track in England, apparently an old RAF airfield chosen for its eccentric layout. They'd dubbed it "The Eboladrome", since its shape resembled that of the eponymous hemorrhagic virus, and it featured such novelties as the "Isn't Straight" (because it wasn't) and an unexploded wartime bomb. Instead of The Stig, they'd recruited – evidently at Amazon's insistence – a barrel-shaped American driver known as "The American" ("we went to something called... NASCAR?" explained Clarkson, as part of the running joke of winding up the American audience who'd assembled in the team's mobile studio in the California desert). The American's task was to disparage anything not flying a Confederate flag or powered by fewer than 12 cylinders, such as a BMW M2. "Where I come from this isn't a car, it's a cry for help," he snorted.
It was clearly irresistible to pick up the Top Gear legacy and take it for a boastful victory lap, but The Grand Tour will have to ring a few imaginative changes if it's to establish itself as a force in its own right. Future episodes will find the wheezy old threesome lugging their portastudio to choice spots around the globe (next week it's Johannesburg), and perhaps the ever-changing scenery will help to nudge Clarkson out of his too-cosy repertoire of verbal ticks and mannerisms. He's beginning to sound like a corroded speaking clock with an oil leak and ignition issues. Not that it seems to bother him much.
The look of terror that crossed Clarkson's face was too convincing to have been faked
rating
Explore topics
Share this article