Foyle's War, Series 9, ITV |

reviews, news & interviews
Foyle's War, Series 9, ITV
Foyle's War, Series 9, ITV
Factually-based storyline struggles to turn itself into convincing drama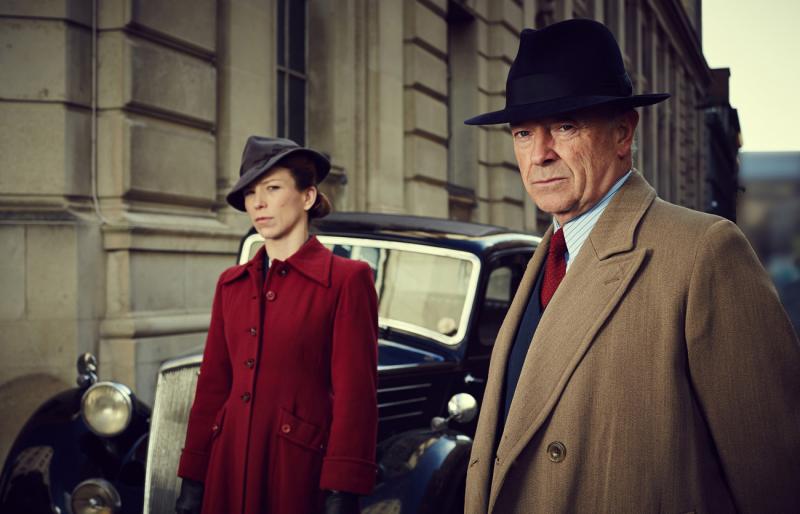 Dependable duo: on the case with Michael Kitchen and Honeysuckle Weeks
Writer Anthony Horowitz has imbued Foyle's War with longevity by anchoring it among some lesser-known and frequently shameful occurrences in the margins of World War Two, and this ninth series opener duly embroiled us in murky shenanigans involving unscrupulous oil barons and cynical German industrialists.
The former DCS Foyle is continuing in his post-war role with MI5, as the Russians continue to infiltrate remorselessly from the east while the West is still struggling to pick itself up off the cratered and rubble-strewn floor.
Horowitz had threaded the Nuremberg war trials into his story via a murdered university professor who'd been working there as a translator. One of his clients, Herman Linz, was a former employee of the German chemical conglomerate IG Farben, who manufactured the Zyklon B pesticide used in the Holocaust gas chambers and set up their own slave labour camp called Monowitz.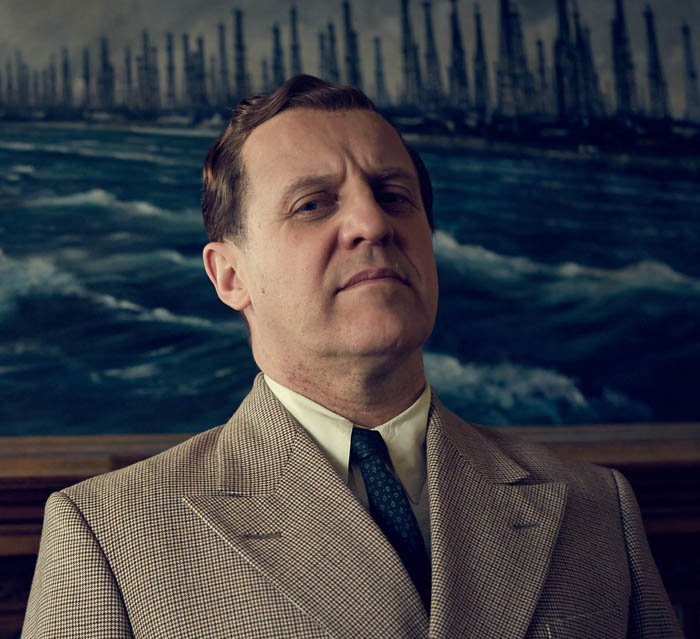 It's a fact that several of IG Farben's real-life directors were sentenced to jail terms at Nuremberg (though they showed remarkable resilience by subsequently reappearing in top jobs at other post-war companies). Also historically based was the commercial arrangement between IG Farben and US oil company Standard Oil (renamed Global American Oil in the programme), which continued after the Americans entered the war. Global's Nazi-abetting treachery gave Horowitz his dramatic punchline.
This was the kind of story that could have provided a platform for a big-budget movie, but it felt a bit rickety when expressed within the necessarily limited scope of Foyle's War. Not for the first time, the show featured a one-dimensionally despicable American tycoon – oil magnate Clayton Del Mar (Nigel Lindsay, pictured above) – who ought to have been unceremoniously strung up from a lamppost, but enjoyed the protection of a British establishment keen to exploit his influence among the Middle Eastern oil states.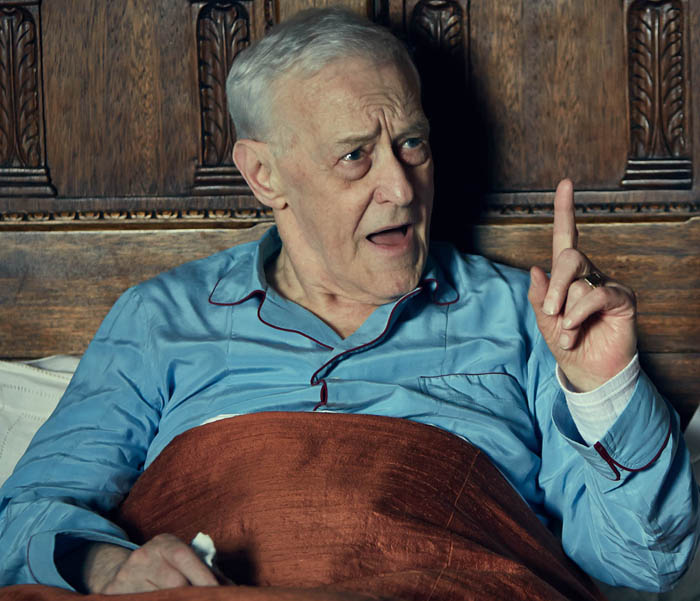 Horowitz had added an extra transatlantic twist by including a role for Del Mar's father Andrew, a staunch admirer of Hitler (a strong man who got things done etc) and played with misanthropic rancidness by John Mahoney (pictured left), best known to tellyophiles as Frasier Crane's father. However, the subplot wherein Foyle's indispensable sidekick Sam (Honeysuckle Weeks) was employed as the bedridden Del Mar Senior's companion creaked like the ancient floorboards in the family mansion. Equally deleterious to the suspension of disbelief was the fact that Foyle is now being filmed in Liverpool. This would be fine if Christopher Foyle had in fact been relocated to the Merseyside metropolis, but using it as a stand-in location for London just doesn't work.
Michael Kitchen's performance as the sceptical, world-weary Foyle was as deft and detailed as ever, but his MI5 co-workers are giving cardboard cut-outs a bad name (Rupert Vansittart's Sir Alec Meyerson is like the Colonel Blimp cartoon strip, but simplified for slow learners). One begins to appreciate what has been lost by moving Foyle out of his original setting in Hastings, which worked remarkably well because of its low-key provincial shabbiness. Let's hope we haven't passed what we might call Peak Foyle.