Spooks, Series 10 Finale, BBC One |

reviews, news & interviews
Spooks, Series 10 Finale, BBC One
Spooks, Series 10 Finale, BBC One
Thrilling climax for long-running spy saga, but a triumph for the quietest performance of all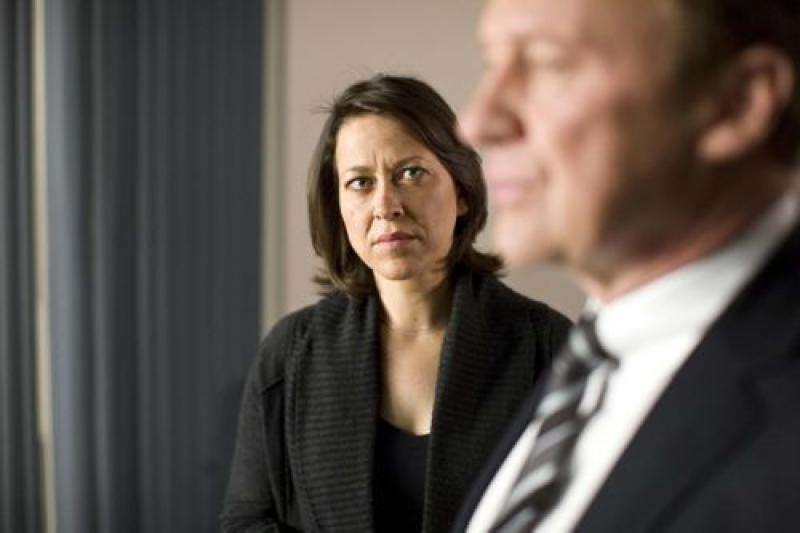 If you don't know me by now... Ruth (Nicola Walker) and Harry (Peter Firth) sign off
And now we faced the final curtain. Spooks responded with an inspired burst of hyperactivity and plots-within-plots, and even a micro-cameo from Matthew Macfadyen as Tom Quinn, the original head of Section D. Up to now this hadn't been the finest of seasons, partly because the death of Richard Armitage's Lucas North at the end of Series 9 left a void which was never successfully filled.
Lara Pulver never seemed comfortable as Erin Watts, Section D's new head, because she looked as if she'd been seconded from a modelling agency, while promoting Dimitri (Max Brown) up the batting order merely allowed him to become more faceless by the hour.
Apparently the plan was to put the will-they-won't-they relationship of Harry Pearce and Ruth Evershed at the centre of these final episodes, but since it was a clandestine kind of liaison at the best of times ("You and I are made of secrets," Ruth confided in the dying minutes of the final episode) there were never going to be any grandiose Doctor Zhivago moments. However, Simon Russell Beale as Home Secretary William Towers (pictured below) rose masterfully to the occasion, being acerbic, opaque, avuncular, devious or ruthless as required, and his fraught interactions with Peter Firth's Harry have supplied many of the most memorable scenes.
Towers was at his wits' end again for most of these last laps, with good reason. The Americans were demanding Pearce's head on a plate for his role in the death of CIA man Jim Coaver, and when his MI5 team sprung him from American custody it looked like we'd heard the last of the Special Relationship (though it must be said that the Americans guarding Harry made Johnny English look moderately competent). The last straw for Towers was when Harry insisted he get the RAF to shoot down a Russian passenger jet heading for Heathrow because it had a suicide bomber on board, then changed his mind with nine seconds to go. (Lara Pulver as Erin, pictured below).
This whole series has been about a proposed political partnership between Russia and the UK, a canny bit of plotting which is not quite ridiculous enough to be completely implausible, and also a deft inversion of the Cold War spy-drama convention where Russia means Bad. Always will for Harry, of course.
The downside was, we had far too much of the Gavrik family, who all spoke preposterous KGB English like the Compare the Market meerkats doing a vodka commercial. On the other hand, it did offer plenty of scope for a climactic unravelling of all the lies, counter-lies and betrayals that lay coiled up in Harry and Elena Gavrik's past (Alice Krige as Elena and Peter Firth as Harry, pictured below).
Behind Elena's smooth and icy exterior, it transpired, lay a bleak Siberian winter, which enabled her to plot airborne mass murder as calmly as the rest of us might butter a piece of toast. Harry had been torturing himself for the way he'd manipulated Elena into becoming a double agent decades earlier, only to discover that she'd been super-treble-manipulating him all along. He was the quarry, not the hunter. "You're 10 times the spy I ever was," Harry grudgingly conceded. Still, he must have been relieved that the morbid and petulant Sasha wasn't his son after all, as the flint-hearted Elena had led him to believe.
You couldn't say that Ruth (Nicola Walker) had the last laugh, but her dogged professionalism and instinct for a wrong'un left her miles ahead of Harry when the chips were down. Had it not been for her inspired one-minute-to-midnight intervention, everybody including the Home Secretary would have ended up in jail or at the very least on the dole. Walker's performance has been a sustained study in antisocial dowdiness, and in its quiet way a small masterpiece of TV acting.
Ruth's dogged professionalism and instinct for a wrong'un left her miles ahead of Harry when the chips were down
Explore topics
Share this article