The English Game, Netflix review - it's the toffs versus the workers in this version of sporting history |

reviews, news & interviews
The English Game, Netflix review - it's the toffs versus the workers in this version of sporting history
The English Game, Netflix review - it's the toffs versus the workers in this version of sporting history
Julian Fellowes's fanciful recreation of the birth of the Beautiful Game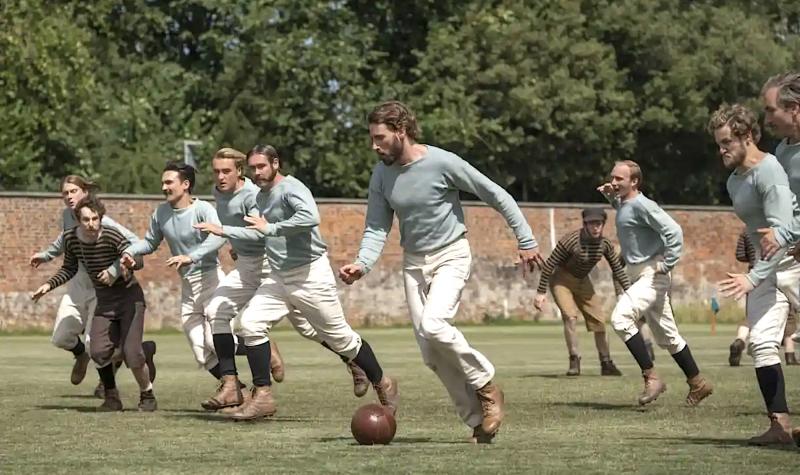 Arthur Kinnaird (Edward Holcroft) leads the Old Etonian charge
Julian Fellowes admits he knows little about football and has always hated sport in general, but this hasn't prevented him from writing a TV series (for Netflix) about football's 19th century origins.
While his other new series,
ITV
's
Belgravia
, feels sharp and skilfully crafted,
The English Game
is more like a mud bath in the Scunthorpe Wednesday Evening League.
His theme might be summed up as toffs and robbers. It's set in the 1870s, when football (largely invented in public schools) was becoming organised under rules laid down by the Football Association, comprising mostly public school alumni. Fellowes has set up a crude opposition between the leisured and moneyed ruling class (exemplified by the Old Etonians football team) and the downtrodden working folk of Lancashire, for whom football is one of their few pleasures.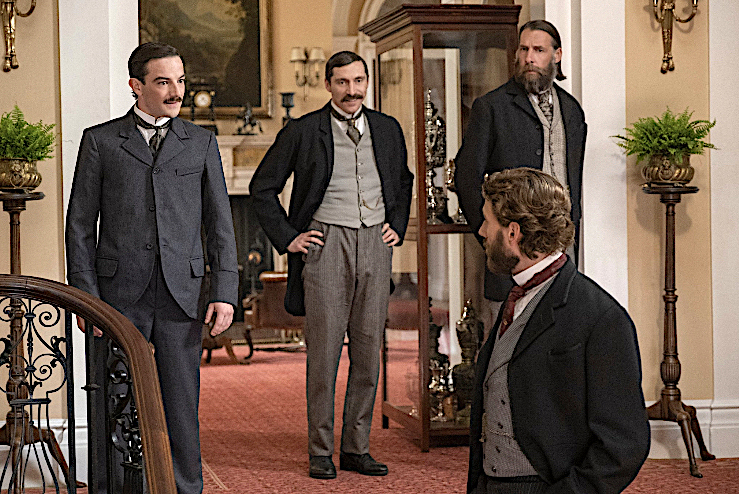 Apart from the novelty of having football at the centre of the action, The English Game has largely been compiled from a bunch of wheezy old cliches about class inequality, with the supercilious southern posh boys outraged by the notion that a team such as Blackburn, featuring professional paid players as opposed to the public school amateurs, should be challenging for the FA Cup. Fellowes uses the character of Lord Arthur Kinnaird (Edward Holcroft, pictured above with mill owners) as a device to bring about the convergence of the socially-disparate twain. The real Kinnaird (the 11th Lord) was indeed enthusiastic about bringing football to all classes, but here he's amplified into a noble crusader for social justice and women's rights, taking time away from the game to assist his wife Margaret (Charlotte Hope) in supporting victimised working-class mothers. "We should share football with the working class," Arthur declares virtuously, even volunteering to lead a breakaway faction of the FA in opposition to the vested interests of his wealthy chums.
The early focus is on the football team at Darwen, Lancashire, where blunt yet warm-hearted mill-owner James Walsh (Craig Parkinson) tries to do his best by his workers and throws his weight behind his Darwen team. When he decides to supercharge the squad by hiring a pair of talented Scottish players from Partick, Fergus Suter (Kevin Guthrie, pictured below) and Jimmy Love (James Harkness), the idea of competitive professionalism enters the game's bloodstream, for better or worse. Soon the Scottish stars are lured away by generous cash offers from ambitious mill-owner Cartwright for his Blackburn team, a foretaste of football's growth into a hugely successful global sport.
All of this comes clothed in gloopy dollops of melodrama, with romance blossoming between Jimmy Love and his landlady Doris (Kerrie Hayes), and Suter bonding with feisty single mother Martha (Niamh Walsh). Suter's embittered, drunken father, terrorising his family in their squalid Glasgow dwelling, is a hand-me-down from generations of kitchen-sink drama. Equally, it was inevitable that Anthony Andrews, as Kinnaird's father, would eventually have his judgmental patrician frostiness thawed out by his son's noble and visionary qualities. He wants to "harness the power of the game to make people's lives better," after all.
It all builds towards a climactic football match, though the primitive, rough-and-tumble action is barely recognisable as the game they show on Sky Sports. Watching chaps running around in long trousers and long-sleeved shirts has a distinct whiff of Harry Enfield about it. Of course, it's an opportunity for our protagonists to put on a heartwarming display of sportsmanlike generosity, the like of which has never been seen since.
Suter's embittered, drunken father is a hand-me-down from generations of kitchen-sink drama
rating
Explore topics
Share this article