Wonderful Town, Quick Fantastic, Opera Holland Park review - everybody's swinging it |

reviews, news & interviews
Wonderful Town, Quick Fantastic, Opera Holland Park review - everybody's swinging it
Wonderful Town, Quick Fantastic, Opera Holland Park review - everybody's swinging it
Band and singers energise the brilliant entertainment of Bernstein, Comden and Green
Why did they ever leave Ohio? Louise Dearman and Siubhan Harrison as sisters adrift in New York
It's a wonderful thing to hear a nine-piece Broadway-style band at full pelt, and to see real show dancing – the first time for me, in both cases, since early 2020.
Wonderful, too, is this sassiest of 1950s musicals, for which those great lyricists Betty Comden and Adolph Green deserve almost as much credit as
Bernstein
for his incomparable melodies – all of them winners, melded into a musical whole which keeps the interest through the picaresque adventures of two girls from Ohio in and around New York's Greenwich Village.
Let's get the big hitch over with first: you can't hear enough of the witty words in the miking of the singers; cut the reverb, and you probably would. No doubt some of the performers need to work harder on this, and can afford to spit out the consonants. But the very well-contrasted siblings, wise-cracking writer Ruth (the show is based on the original's autobiographical short stories from the mid-1930s) and willowy Eileen who aims for the stage, are beautifully taken here by Louise Dearman (pictured below with company including Ako Mitchell) and Siubhan Harrison. whose Eileen truly comes out of her shell with the lovely "It's Love" in her debut at the Village Vortex right at the end.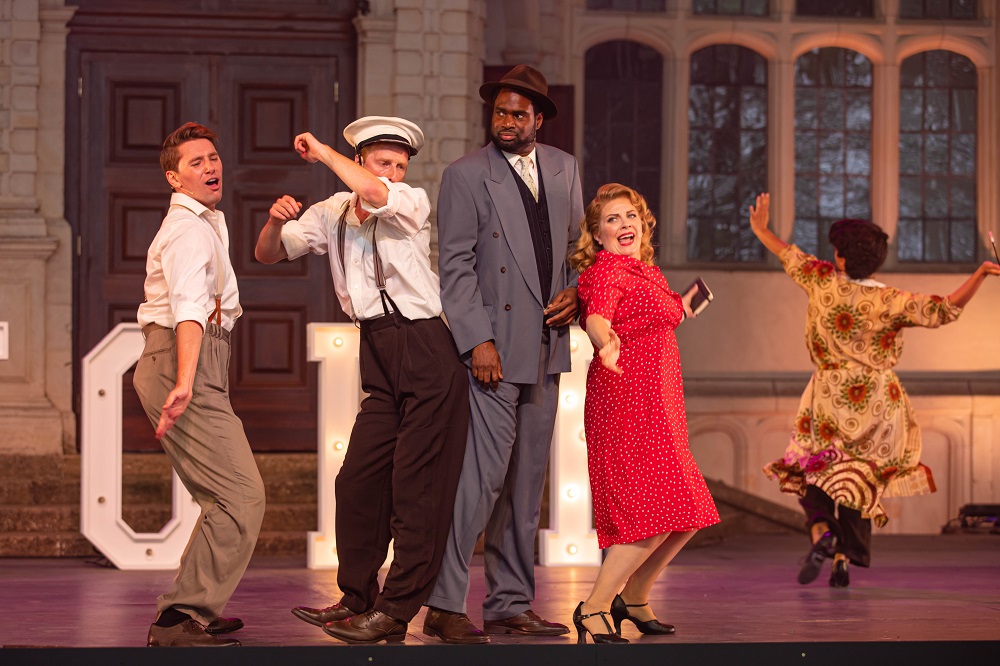 In the cases of Ako Mitchell as Ruth's wayward literary guide Bob Baker and Billy Nevers as The Wreck, living off his football-passing reputation, there's a bit of a way to go in terms of polish, but the vocal talent in both cases is promising indeed. As for the ensemble work, you wonder how they're going to do the showstoppers on that narrow strip behind the orchestra, but "Conga!", "Swing" and "Wrong Note Rag" all take off with choreography by Carrie-Anne Ingrouille that's very daring under present circumstances; it works! This is much more than what they call a "concert staging". And the band under Alex Parker makes spectacular work of Jason Carr's brilliant orchestrations (the three saxes doubling flute and clarinets for the rare wistful moments, superb solos from trombonist Jane Salmon). I only wish Quick Fantastic's show had more time to get into its stride than it does with just these three performances. It has to be seen and heard elsewhere: any offers?