Wild Honey, Hampstead Theatre |

reviews, news & interviews
Wild Honey, Hampstead Theatre
Wild Honey, Hampstead Theatre
Early Chekhov begins strongly, then falls away
Saturday, 10 December 2016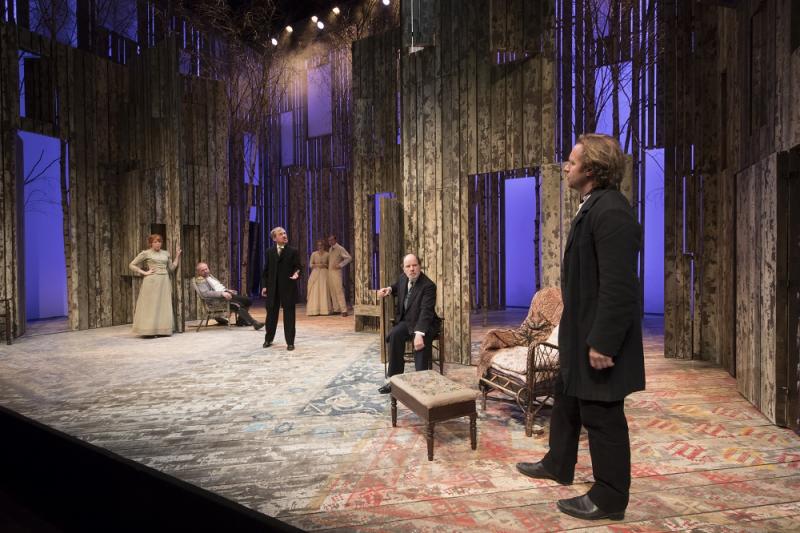 Summer loving: the company of 'Wild Honey' at Hampstead Theatre
This Chekhov-intensive year comes to a muted climax with a rare sighting of Wild Honey. Michael Frayn's reappraisal of the Russian master's untitled early text is more commonly known as Platonov. There was a scorching production of the play this summer at the National as part of a Young Chekhov trilogy. A separate Broadway Platonov, adapted by Andrew Upton under the title The Present and starring his wife Cate Blanchett, begins previews next week.
That's a lot of airings of a supposedly obscure play. It was superlatively well served on the South Bank by the director Jonathan Kent. And here Kent is again, filling in on Wild Honey for the late, great Howard Davies, who gave birth this current production before having to bow out. All kudos to Kent for stepping in, and to a gorgeous set from Rob Howell that reinvents this dramatist's birch-filled landscape as a piece of large-scale, semi-abstract art. And if the play itself this time round tends to swim in and out of focus, let's hope it isn't another 32 years before we have the opportunity to see it again.
As it happens, I carry with me memories of the 1984 National Theatre premiere of Wild Honey, which at the time coined a new authorial appellation - Fraynkov - and elicited from a gloriously rumpled Ian McKellen one of the performances of his career. (Its Broadway transfer faltered, alas, due to a notably awful supporting cast.) But one needn't have seen any other version of this play to feel perhaps that the Hampstead's Platonov, Geoffrey Streatfeild (pictured below with Sophie Rundle as Sofya), is still feeling his way in. It's an unruly play that depends upon its leading man's charisma to anchor the tricky rhythms and scattershot energies of a script veering from melodrama to farce and back again and hinting at greatness still to come. (There are elements of both Uncle Vanya and Astrov in the self-lacerating schoolmaster of the title role.)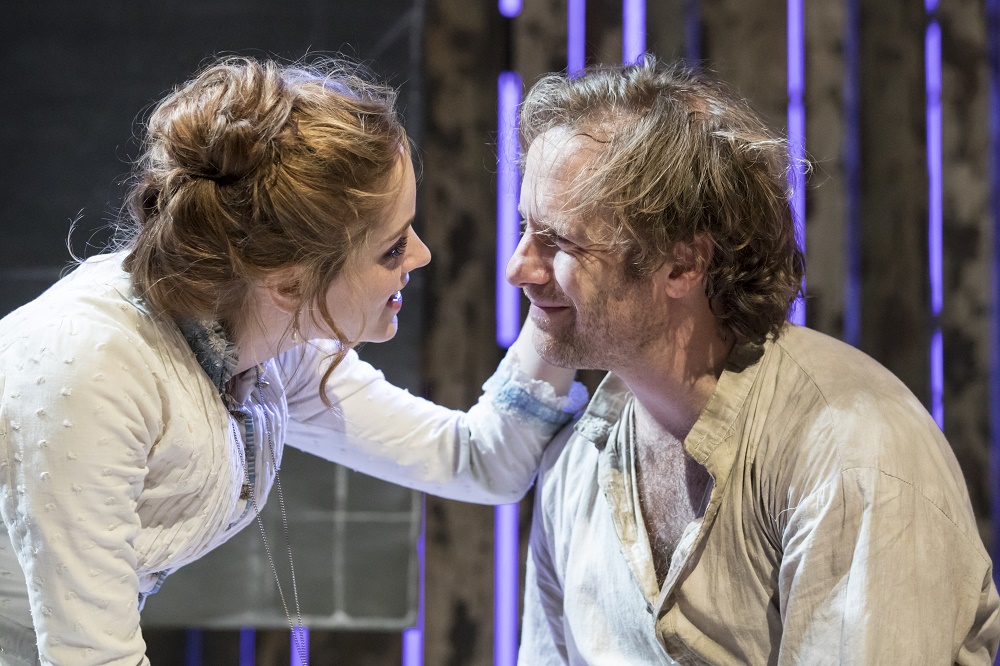 Inhabiting a sultry summer landscape where the mood changes on a dime, the characters ricochet about Howell's cunningly conceived set either in pursuit of - or on the run from - romance, one or another family member, or sometimes even the law. Platonov as the heavy-drinking epicentre of events is a so-called "second Byron", "village Savonarola", or "local Socrates" (you choose) who finds himself juggling the attentions - not always welcome - of a quartet of women, one of whom happens to be his wife: Rebecca Humphries plays that role with a visage that looks permanently flattened by neglect.
Rife with incident as opposed to actual plot, Wild Honey posits a sort of Midsummer Night's Dream-like madness populated by those across the social spectrum in which one person is declaring her affection even as another is calling out to be killed and a third, the thieving Osip (Matthew Flynn), talks of wanting to eat himself. Is love allied more to "perdition" (Platonov's word) or to nobility, or is it merely a matter of hormones? All these prospects course through the patchwork quilt of misalliances in a play that poses a serious tonal challenge: how to calibrate shifts in feeling that are as sudden and random as those experienced in life itself.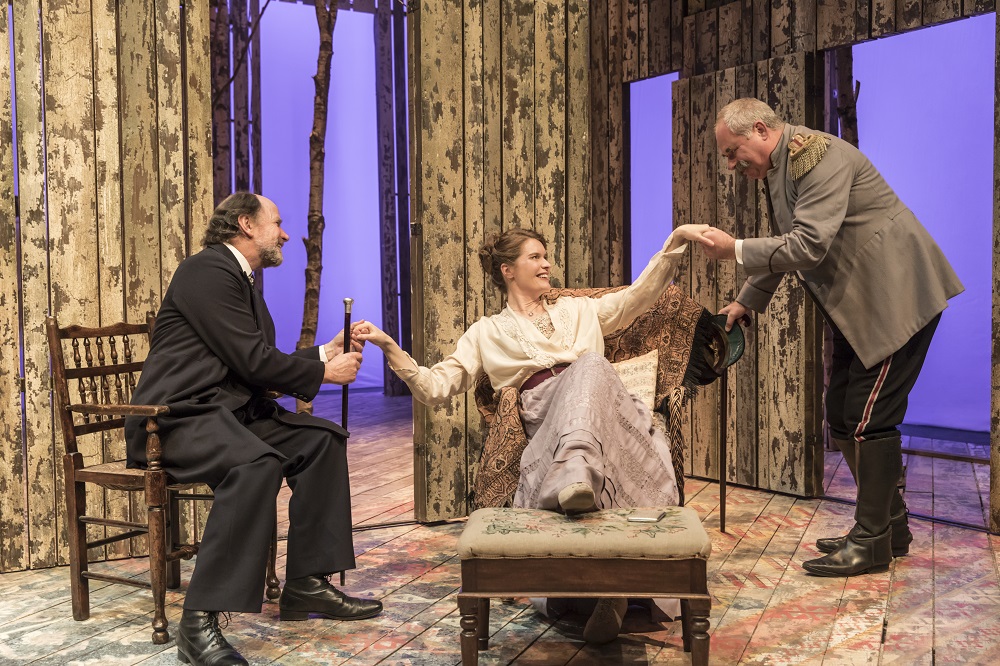 Kent's first half gets the balance exactly right - that uniquely Chekhovian sense of contradiction allowing for comedy and tragedy fully to coexist. It's only after the interval that one becomes aware of a faintly repetitive air to goings-on that need a lightness of touch - an abiding lift - not yet available to Streatfeild, who may still be wrestling with the depressive corridors of Ivanov, the Chekhovian study in despair that he played for Kent this past summer.
Among a busy, bustling cast, acting honours go to Justine Mitchell (pictured above centre), a veteran of Davies's productions in pitch-perfect form as easily the most self-possessed figure in an increasingly frenzied landscape. Announcing quite sensibly that "there's always more hope after lunch", Mitchell's Anna Petrovna stands apart from the assembly in not allowing her emotions to run riot. She pretty much alone keeps her gently erotic, commanding cool, stillness not for the first time proving the most potent presence even as the hothouse around her moves towards meltdown.
MORE CHEKHOV ON THEARTSDESK
The Cherry Orchard, National Theatre (2011). Zoë Wanamaker (pictured below) shines in Howard Davies's murky production of Chekhov
The Cherry Orchard, Sovremennik, Noël Coward Theatre (2011). Russians soar in third, and final, offering of their first-ever London season
Uncle Vanya, The Print Room (2012). Chekhov at his most tenderly intimate
A Provincial Life, National Theatre Wales (2012). Moments of visual beauty punctuate a Chekhov adaptation that struggles to find its focus
Three Sisters, Young Vic (2012) Benedict Andrews' energetic update is stronger on ensemble work than individual performances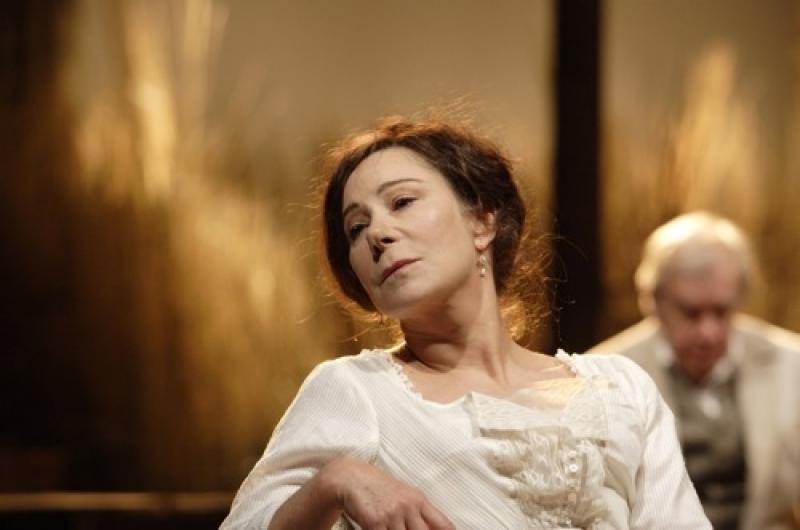 Uncle Vanya, Vakhtangov Theatre Company (2012). Anti-naturalistic Russian Chekhov buries humanity under burlesque and mannerism
Uncle Vanya, Vaudeville Theatre. Anna Friel, Laura Carmichael and Ken Stott shine bright in Lindsay Posner's production of Chekhov's drama
Longing, Hampstead Theatre (2013). William Boyd's dramatisation of two Chekhov stories with Iain Glen and Tamsin Greig is more pleasant than towering
The Cherry Orchard, Young Vic (2014). Katie Mitchell delivers Chekhov's masterpiece with devastating power

Uncle Vanya/Three Sisters, Wyndham's Theatre (2014). Quiet truth in finely observed ensemble Chekhov from the Mossovet State Academic Theatre
Winter Sleep. Turkish master Nuri Bilge Ceylan's Cannes Palme d'Or winner, based on Chekhov short stories, is huge in every sense
The Seagull, Regent's Park Open Air Theatre (2015). Strikingly staged Chekhov continues a strong season in the park
Uncle Vanya, Almeida Theatre (2016). Robert Icke's lengthy revival/reappraisal is largely a knockout
Young Chekhov, National Theatre (2016). Jonathan Kent's three-play Chekhovathon builds to a shattering climax
Justine Mitchell is in pitch-perfect form as the most self-possessed figure in an increasingly frenzied landscape
rating
Explore topics
Share this article