Cell Mates, Hampstead Theatre review - intriguing yet opaque |

reviews, news & interviews
Cell Mates, Hampstead Theatre review - intriguing yet opaque
Cell Mates, Hampstead Theatre review - intriguing yet opaque
Simon Gray play is better served by its cast this time round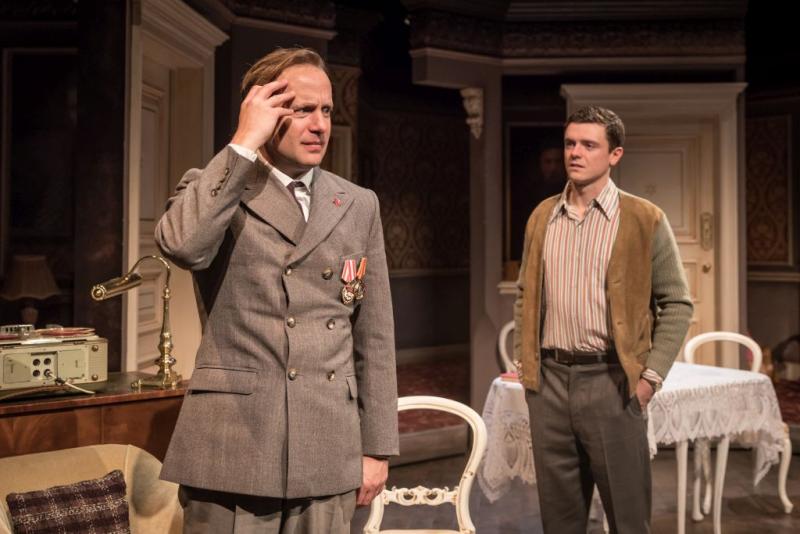 Odd couple: Geoffrey Streatfeild and Emmet Byrne in 'Cell Mates'
The play that famously got away when one of its stars (quite literally) jumped ship is back. In 1995, Stephen Fry abandoned the West End premiere of Simon Gray's espionage drama Cell Mates, leaving co-star Rik Mayall in the lurch and prompting Gray to write a particularly dyspeptic account of the bizarre goings-on called Fat Chance.
Resurfacing for a well-cast
Hampstead Theatre
revival neither of whose leading men look likely to bolt for the exit,
Cell Mates
can now be seen for the pecularity that it is: a decidedly English variant on
The Odd Couple
that seems, weirdly, to leave the actual meat of the drama out.
Indeed, it's been some while since I've seen a play where the real action would appear to have taken place during the scene changes. (That said, the new musical Everybody's Talking About Jamie makes much of a defining drag act which it then relegates to the interval.) It's as if Gray wanted to leap on to the spy-themed theatrical bandwagon that had got going in the British theatre of the time with Alan Bennett's Single Spies and Tom Stoppard's Hapgood, the second of which was thrillingly revived at this same theatre two years ago. But having found his topic, the playwright (who died in 2008) backs away from it, and there are only so many ways that director Edward Hall and his fine company can fill in the gaps.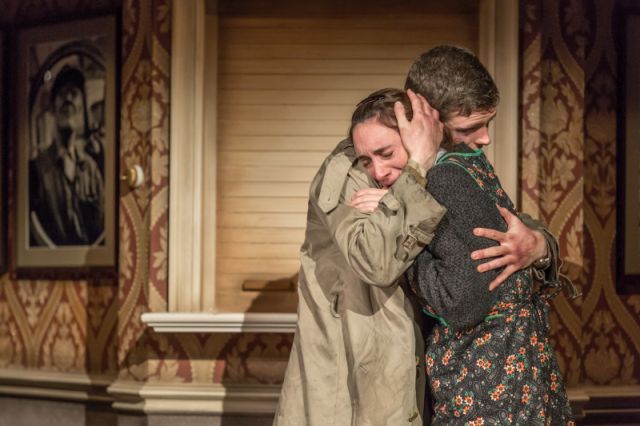 We begin with the first date, as it were, between two men whose actual affinity is never explained, even if a reference is subsequently made to the Irishman Sean Bourke (Emmet Byrne) as the de facto "wife" of the Dutch-born British double agent, George Blake (Geoffrey Streatfeild). A failed petty criminal doing time in Wormwood Scrubs in 1965, Bourke takes a shine to the stiff-backed, awkward-seeming Blake, who is next glimpsed having escaped prison only to be shuttling nervously around a dour London bedsit in his underwear: quite how Bourke sprang Blake to freedom, and why, is never made clear,
The power dynamic between the two shifts once proceedings move to Moscow, where the actual Blake, now 95, still lives. Adrift in a country and a language he doesn't know, and unsure how long this geographical displacement will last, Bourke is reduced to teaching "Danny Boy" to Blake's Russian housekeeper (Cara Horgan, pictured above with Byrne), even as Gray delineates the multiple betrayals – political, social, possibly sexual – that define what is clearly its own incarceration, albeit this time with champagne. As Blake gains in crispness and confidence across the acts, Streatfeild lays bare a wayward psyche that can be wilfully playful or arrogant one minute, pleading the next. ("Help me," Blake says at one especially plaintive moment.) The charismatic Byrne suggests an excitable younger man along for the ride and unsure quite where he is going to be let off. Danny Lee Wynter and Philip Bird (pictured above) complete the cast as two fairly cartoonishly conceived KGB operatives.
Is Gray here saying something about the subterfuge of sublimated sexuality? It's hard to be sure beyond noting the commitment both leads bring to their tasks, even when the writing lets them down. (The device of having each record his thoughts aloud, for the purposes of exposition, is hoary beyond belief.) But Michael Pavelka's period-perfect sets neatly suggest that we may change continents and capitals but something about the landscape remains the same, and Hall quite sensibly starts proceedings with a notable aural bang. It's only a shame that Gray, that perennial chronicler of Englishness, would appear somewhere in transit to Russia to have mislaid his plot.
Cell Mates at Hampstead Theatre until 20 January