Untitled F*ck M*ss S**gon Play, Young Vic review - committed and important play let down by heavy-handed writing |

reviews, news & interviews
Untitled F*ck M*ss S**gon Play, Young Vic review - committed and important play let down by heavy-handed writing
Untitled F*ck M*ss S**gon Play, Young Vic review - committed and important play let down by heavy-handed writing
Satirical comedy-drama labours its points across an uninterrupted two hours
Wednesday, 27 September 2023
Mei Mac and Tom Weston-Jones in 'Untitled F*ck M*ss S**gon Play' - the kiss of death of individuality
Seldom can a title have given so much away about the play to follow, not just in terms of the subject matter but also in terms of the sledgehammer approach to driving home its points. Kimber Lee, who won the inaugural Bruntwood Prize for Playwriting 2019, International Award, certainly does not say anything once if she can say it twice or thrice nor leaves any ambiguity about every element of her stance regarding Orientalism.
Of course, she does have a cast iron case. First up for a skewering is Madama Butterfly with its helpless/sexy Japanese girl who kills herself so her son can be saved by a white American. Next on the chopping board is South Pacific, with its helpless/sexy Polynesian girl who sacrifices herself so her son can be saved by a white American. Then on to Miss Saigon itself for another reprise and then a nod towards M*A*S*H, The King and I and The World Of Suzie Wong. It's quite the charge sheet.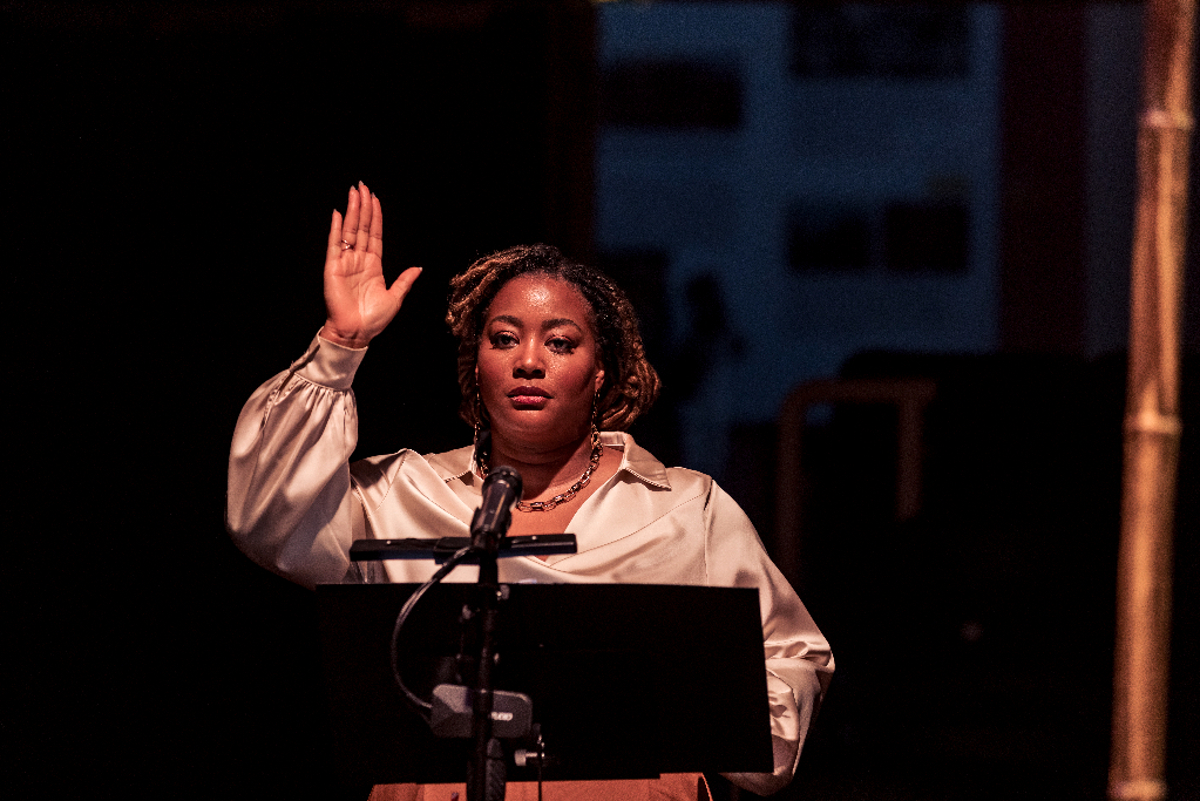 Whether it needs quite such a ferocious prosecution in London (in this venue specifically) is a more open question, but the play opened in New York and this Royal Exchange Theatre, Factory International, Young Vic Theatre and Headlong co-production arrives from Manchester where recent debates about Yellowface casting and the growing consensus that Miss Saigon's problematic portrayal of its Vietnamese characters is over the line in terms of what is acceptable for 2023, may not be quite so fresh in the mind.
But we do get this repetition of the same scene playing out in a slapsticky, satirical style, an approach that begins to feel a little like a student production so, so keen to make its point that it wears rather than stings. The pummeling we get isn't helped by a narrator (Rochelle Rose pictured above) smirking and sarcastic in their underlining of the obvious crassness of the representations we are seeing which exaggerate, only a little, the representations seen in their sources.
The justification for such a metaphorical beating about the head comes in the second half of the play (you'll be sitting down for two hours with no interval, so consider yourself warned!) We cut to a present day New York apartment in which we see Mei Mac as the 21st century Kim – all her characters in the re-enactments of the first hour are called Kim because that's what all Asian women are called in American plays, films, TV shows, right? – and she's mad as hell and not going to take it any more. She is ingrained with the image her own country has imposed on her, as though all of that stereotyping, all of that expectation of sacrifice and quiet acceptance of her fate, all of that temptress/victim characterisation, are so many rings in a tree trunk. It runs through her whether she likes it or not.
She fights back in soapy, shouty scenes against her mother (Lourdes Faberes) who had pimped her out in the earlier scenes and is more or less doing the same now in a slightly more genteel way. She fights against her husband (Tom Weston-Jones) no longer speaking cod Japanese or cod Korean by reeling off the names of film directors or foods – that first hour running joke overstays its welcome – but still wants her to calm down and do the white guy's bidding.
We also see the go-getting brother (Jeff D'Sangalang) not a peasant trying to go a tiny step beyond a subsistence level existence as he was in the firts hour, but a wealthy start-up entrepreneur with the same attitude and his fiance, Evelyn (Jennifer Kirby) still the entitled privileged woman dripping with misjudged empathy, the white saviour who is not the solution but the problem.
Kim tries to escape (here things get very multiversey) but she keeps landing back in the same narrative, the same people saying and doing the same thing, the same fate assigned to her that she should 'calm down dear' and accept it with a bit of gratitude thank you very much!
It's at this moment that one sees the payoff for the hand so overplayed in the previous 90 minutes or so. Mei Mac brings out the trauma of Kim's growing up in a culture that denies her individuality, that, almost half a century on from Edward Said's landmark book, Orientalism, let loose its corruscating cry against Occidental mythologising and demeaning of the Orient, still demands that she conform. Like the slow drip of microaggressions in a workplace or a marriage (whoops, there I go with my misplaced entitled empathy) she is trapped and damaged.
Director Roy Alexander Weise does not stint by giving us any breaks, even the complicated wheeling on and off set of the platforms that are re-configured by stage assistants (because each scene is the same really – geddit?) is exhausting to watch and there's always the narrator to intervene in that irritating way that narrators do. Is it that the cross-fourth wall physical and mental hostility grates my sensibility or the fact that I feel that Rodgers and Hammerstein and Alan Alda and co at M*A*S*H are enlightened good guys? Are they really the villains whose work is ripe for re-assessment and condemnation?
That statement, from the perspective of someone living outside Kim's world, is probably a key point Kimber Lee intends to make with her play that trades subtlety for power but will leave its audience, regardless of how much they thought they knew about the issues at its heart, with a greater understanding of them. Here I am making a perfect justification for the production with my own attitudes, which is surely exactly as intended. Political and personal theatre perhaps not absolutely at its best, but, in these "play safe" post-Covid, mid-cost of living crisis times, at its most necessary.

Mei Mac brings out the trauma of Kim's growing up in a culture that denies her individuality
rating
Explore topics
Share this article