Uncle Vanya, Vaudeville Theatre |

reviews, news & interviews
Uncle Vanya, Vaudeville Theatre
Uncle Vanya, Vaudeville Theatre
The stars shine bright in Lindsay Posner's production of Chekhov's drama
Saturday, 03 November 2012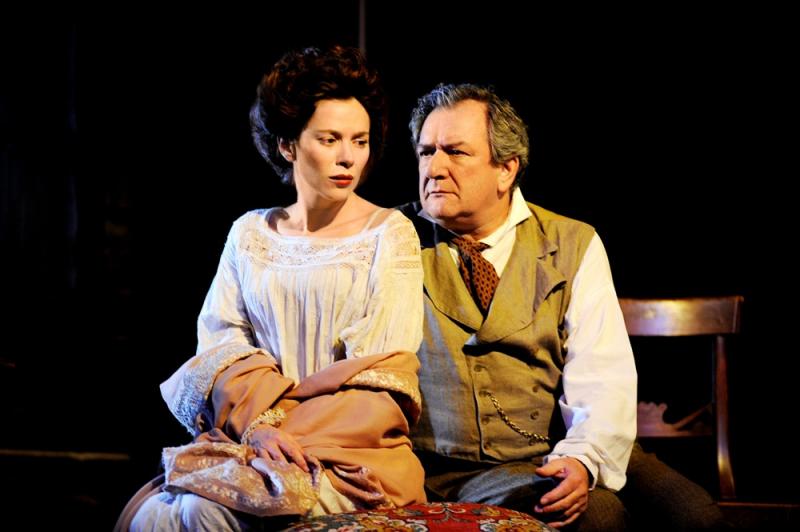 A pair in pain: Anna Friel as Yelena and Ken Stott as Vanya
The Russians are coming next week, when the Moscow company Vakhtangov bring their production of Anton Chekhov's tragi-comic drama of dissipated lives and squandered love to the West End. But first, London has Linsday Posner's staging, with a mouthwatering cast and a poised, ruefully witty translation by Christopher Hampton.
There's nothing here to startle, and in some ways that's rather to the endeavour's detriment. Christopher Oram's set, of a timbered dacha that vaguely resembles a giant Swiss cuckoo clock, is so hefty and literal that in the opening scene it seems on the verge of crushing the action, and the actors with it. And the lengthy scene changes, masked by a cloth on to which the cliched Chekhovian image of silver birches is projected, sap momentum and give the whole a distractingly dated air. It's hardly the most imaginative approach; but fine acting turns what could have been dispiritingly ordinary into a coolly penetrating lesson in the least comforting truths of life.
This is a household drained, physically and mentally, by boredom, frustration and deep discontent
Anna Friel – a shattering porcelain beauty – is Yelena, young wife of Paul Freeman's pompous, biliously bitter and ludicrously vain retired professor Serebryakov; Ken Stott is Vanya, the brother of Serebryakov's dead first wife, who was mother to Laura Carmichael's mousily squeaking Sonya. Pale, exquisite, Friel has a brow that cannot resist arching sarcastically and wears a determined social smile belied by eyes that are often bright with unshed tears. Stott's Vanya bubbles with stymied energy, twitchy, a painfully self-aware clown whose hand jiggles restlessly in his trouser-pocket, anxious to grasp at life as it slips by, but never reaching for any real achivement, as if acknowledging the cruel truth in the words of his mother (Anna Carteret), whose undisguised disappointment is matched only by her preference for her son-in-law Serebryakov over her own son: "You should have made an effort. Then you might have got somewhere." Vanya's doglike devotion to Yelena is only intensified by her appalled rejection; he feeds hungrily on the bones she tosses his way, even as they sicken him.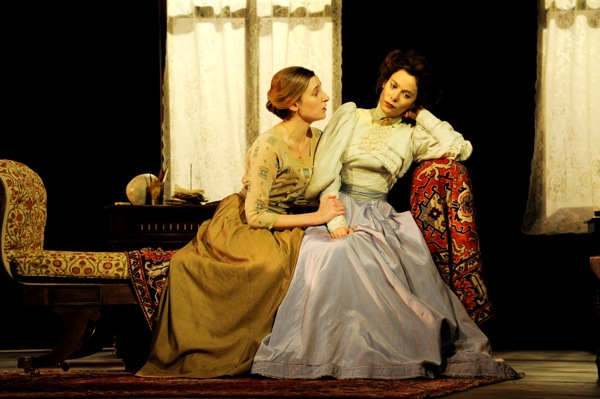 Samuel West's Doctor Astrov, meanwhile, is a masterly collision of boyish enthusiasm and sour middle-aged disappointment. He looks, when he first appears, like a man suffering mental strain. His mouth works, his lips quiver, he blinks rapidly, yet he retains an elegance and a fervour for his ecological causes that entirely credibly enslaves Carmichael's hungry-looking, almost cadaverous, hollow-cheeked Sonya (pictured above with Friel); later, alone with her and half-drunk, he stifles belches and slurs until she intimates her feelings for him, at which he brusquely shakes her hand and gracelessly dashes out. To Yelena, though, he declares, "You may eat me," and down on his knees, bares his neck to her as though she were a vampire. Friel, for her part, sometimes props her hand on her hip almost as if that gesture alone were keeping her spine straight and her body upright. And after Vanya's botched attempt to murder Serebryakov, he and Astrov sit together, helplessly and mirthlessly laughing and wiping their eyes, twin crumbling pillars of hopeless unhappiness. This is a household drained, physically and mentally, by boredom, frustration and deep discontent.
It's all very finely judged and impeccably delivered by the cast. But Posner's production is so resolutely conventional that it feels slightly stifling – and apt though that may be for Chekhov's vision of deadening provincial life, it seems an inadequate setting for performances that plumb wells of quiet human misery. The overall conception borders on bland; but, fortunately, the potency is in the detail.
MORE CHEKHOV ON THEARTSDESK
The Cherry Orchard, National Theatre (2011). Zoë Wanamaker (pictured below) shines in Howard Davies's murky production of Chekhov
The Cherry Orchard, Sovremennik, Noël Coward Theatre (2011). Russians soar in third, and final, offering of their first-ever London season
Uncle Vanya, The Print Room (2012). Iain Glen stars in a version of Chekhov at his most tenderly intimate
A Provincial Life, National Theatre Wales (2012). Moments of visual beauty punctuate a Chekhov adaptation that struggles to find its focus
Three Sisters, Young Vic (2012) Benedict Andrews' energetic update is stronger on ensemble work than individual performances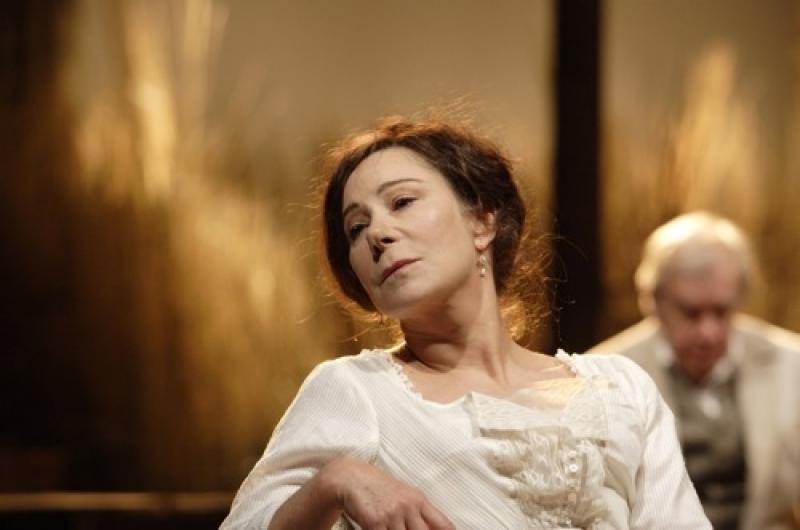 Uncle Vanya, Vakhtangov Theatre Company (2012). Anti-naturalistic Russian Chekhov buries humanity under burlesque and mannerism
Longing, Hampstead Theatre (2013). William Boyd's dramatisation of two Chekhov stories with Iain Glen and Tamsin Greig is more pleasant than towering
The Cherry Orchard, Young Vic (2014). Katie Mitchell delivers Chekhov's masterpiece with devastating power

Uncle Vanya/Three Sisters, Wyndham's Theatre (2014). Quiet truth in finely observed ensemble Chekhov from the Mossovet State Academic Theatre
Winter Sleep. Turkish master Nuri Bilge Ceylan's Cannes Palme d'Or winner, based on Chekhov short stories, is huge in every sense
The Seagull, Regent's Park Open Air Theatre (2015). Strikingly staged Chekhov continues a strong season in the park
Uncle Vanya, Almeida Theatre (2016). Robert Icke's lengthy Chekhov revival/reappraisal is largely a knockout
Young Chekhov, National Theatre (2016). Jonathan Kent's three-play Chekhovathon builds to a shattering climax
Wild Honey, Hampstead Theatre (2016). Early Chekhov begins strongly then falls away