Spamilton, Menier Chocolate Factory review - fun if overstuffed |

reviews, news & interviews
Spamilton, Menier Chocolate Factory review - fun if overstuffed
Spamilton, Menier Chocolate Factory review - fun if overstuffed
Gerard Alessandrini's latest is smart but needs streamlining
The room where it happens: Liam Tamne and Jason Denton in 'Spamilton'
If it's possible to have somewhat too much of a good thing, that would seem to be the case with the British premiere at the Menier Chocolate Factory of Spamilton.
The latest in the indefatigable catalogue of New York songwriter-satirist Gerard Alessandrini's skewering of the Broadway scene,
Spamilton
is unusual in focusing its title on a single entry,
Hamilton,
in all its manifestations, here including Tony-winner Daveed Diggs's hair. Oh, and his racial-ethnic background.
Whether that degree of detail will mean much to a local audience, however Hamilton-savvy, makes one wonder whether some refocusing and streamlining might have been in order, though there is certainly fun aplenty to be had for insiders knowledgeable enough to go along for the ride. One wonders, too, why it is that such talents (and Alessandrini alums) as Damian Humbley (pictured right) and Sophie-Louise Dann have been hired for what amounts to a series of cameos: in both instances, seeing comparatively little of these fine performers leaves you wanting more, and Humbley, in particular, would seem from his hilariously hetero George III to have secured a place in the company of Hamilton anytime he wants one.
The conceit is a clever one and finds Liam Tamne's strong-voiced (and inevitably ponytailed) Lin-Manuel Miranda surveying the Broadway that his monster hit has done so much to revitalise. "I am not going to let Broadway rot," he sings with a gusto Momma Rose might envy, only for Gypsy's famous stage mum to get a passing mention or two, alongside such reliables as Little Orphan Annie and Liza Minnelli: two females rarely mentioned in the same sentence. (Dann appears as a rap-resistant Liza as well as Elaine Paige and seems better attuned to the former than the latter; she is pictured below as the Beggar Woman from Sweeney Todd.)
Alessandrini has always worked from a place of admiration, so it's no surprise that Broadway heavyweights have welcomed his wicked wit in the nearly-40 years that he has been plying his trade. Miranda's endorsement of Spamilton isn't hard to find online and is reflected in a satirist who understands from his own deep musical learning just what it is that the composer-creator of Hamilton has created: if you'd never associated this hip-hop musical with, say, the Beatles' "Penny Lane", Alessandrini rightly makes the connection for you.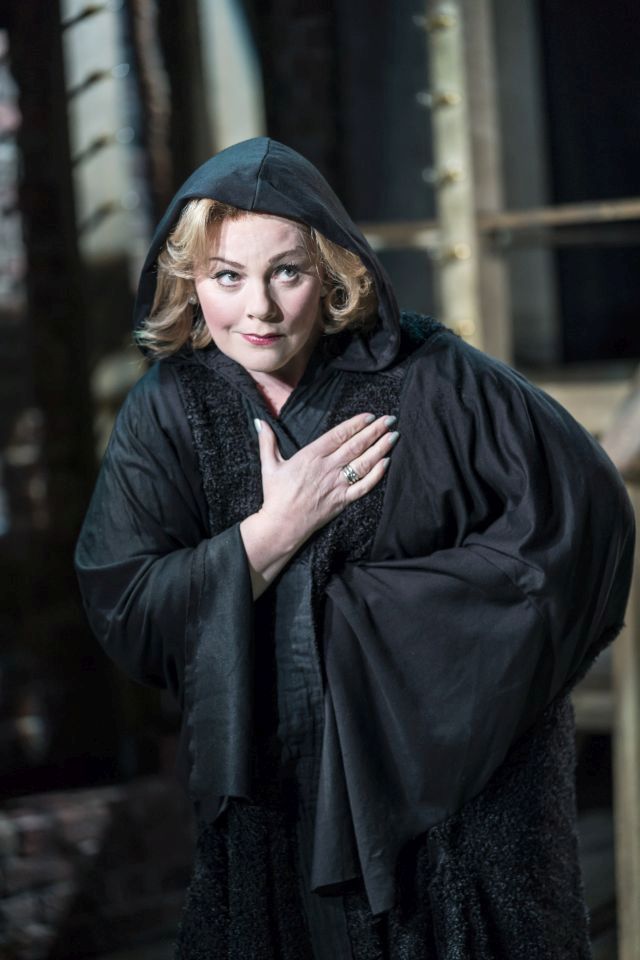 All the more reason, therefore, for Alessandrini to act as his own editor and jettison some of the also-ran moments or references (the William Ivey Long mention will surely send more curious playgoers to Google), thereby allowing the showstoppers to properly breathe. One or two comic gambits don't repay the effort that has been put their way, not least a series of titular mash-ups that includes The Lion King and I ("Shall We Roar?") and Avenue Suits ("Everyone's a Little Bit Royal") – that last-named perhaps intended to draw what there is of the Meghan Markle tourist trade.
Far better is pretty much anything involving Tamne, whose vocal confidence isn't always shared by some of his more effortful colleagues, and the sprightly Julie Yammanee, whom one can also imagine doing time at the Victoria Palace in due course. Miranda's exalted status notwithstanding, the show's resident god remains, inevitably, Stephen Sondheim, and Alessandrini knows just how to slot Company, Sweeney Todd, and Into the Woods into his ever-elastic format. (Until this show, I'd not clocked the creative link between, for instance, "Getting Married Today" and Sondheim devotee Miranda's own lyric-writing firepower.)
As one might expect from the Menier, the physical production here afforded the director in Alessandrini has a pizzazz not always available to this multi-tasker's own creations back home, as befits a decades-long sequence of shows spawned in New York supper clubs. And for all that Spamilton from its title onwards celebrates a singular and ongoing musical theatre success, the unspoken question posed by this show is what will be – or will there even be one? – the Hamilton of the future. Without which, of course, the Alessandrinis of this world are out of work and all of us who love musicals are that much poorer for it.