Pinocchio, National Theatre review - boy puppet lifts off, eventually |

reviews, news & interviews
Pinocchio, National Theatre review - boy puppet lifts off, eventually
Pinocchio, National Theatre review - boy puppet lifts off, eventually
Look no strings: long-nosed cartoon character is humanised by a magical staging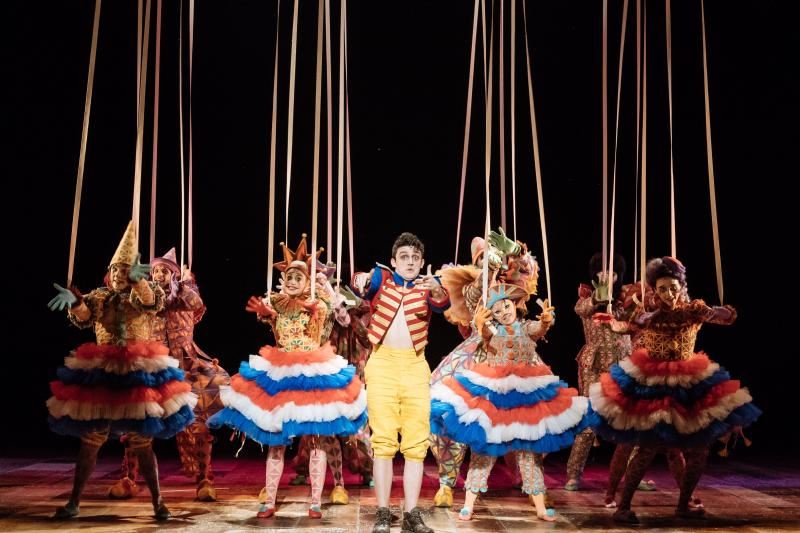 'Everything feels fully (old)-fashioned to a degree that is charming'
From Nicholas Hytner and Alan Bennett's wonderfully nostalgic version of The Wind in the Willows through Coram Boy, the international smash hit War Horse and beyond, the National Theatre has a startling track record in turning what used to be patronisingly regarded as "family<
/a> shows" into first-rate theatre. But for most of the first act of
Pinocchio
, the latest entry in the National's Christmas Hits stakes, it looks as if there's nothing worse than great expectations. Despite entrancing visuals, the uninvolving storytelling is as wooden as its central character. Mercifully, however, once exposition is dispatched, the second half takes off, both metaphorically and literally.
If there's one thing Disney knows, it's how to exploit its back catalogue. So it's no accident that Pinocchio, one of its earliest and most venerated feature-length animations, has not previously made the leap from screen to stage. The studio has clearly been wary, probably because not only was the 1940 movie initially an unexpected flop but chiefly because it's less of a story than a conceit. And it's that problem that this adaptation of Carlo Collodi's original 19th century story (mixed with elements and songs from Disney) largely fails to solve.
The opening image sets the show's tone of cunning simplicity. On designer Bob Crowley's cavernous, near-empty, black-box stage stands a tall, single tree trunk amid falling snow spectrally lit by Paule Constable. Magic is then woven in full view (no expensive but hidden special effects here) as Pinocchio, taut and buoyant Joe Idris-Roberts (main picture), is created in front of our eyes. Everything feels fully (old)-fashioned to a degree that is charming.
At this point, the production's reverse notion becomes clear: Pinocchio, the puppet who wants to be human, is played by an actor but all the other major characters are played by giant, 10-foot-tall puppets which, in the manner of War Horse, are manipulated by groups of visible puppeteers (directed and co-designed by Toby Olié). Inventive though this is, it has a considerable downside in that each of the actors voicing their puppet is detached from them. They sound – and, indeed are – at one remove with lines dangerously slowed to match movement. Speeches sound declaimed rather than spoken. The little tension provided by the plot evaporates.
Director John Tiffany (Once, Harry Potter and The Cursed Child) and writer Dennis Kelly (Matilda) reimagine characters, not least Audrey Brisson voicing a prissy, gender-switched Jiminy Cricket (pictured above), while orange-rag-coated David Langham becomes a wonderfully tall sneer of the villainous fox (pictured right). But they wrestle with the lack of subtext and not all the set-piece numbers that could cover the weaknesses manage to take wing. Steven Hoggett is a superb movement director who brings energy to characters but, despite utilising Crowley's wittily retro circus costumes and set, he fails to galvanise the ensemble in the number "I've Got No Strings" which lacks gathering excitement.
His work, and that of everyone else, comes alive in the second half in which Pinocchio is whisked off to Pleasure Island. Here, Pinocchio's Candide-like naivety is tested by the show's exploration of wickedness that masquerades as non-stop fun. With Pinocchio and a bunch of kids let loose to do whatever they want, it's as if everyone is in the pleauredome that is Pottersville in It's a Wonderful Life. Finally, predictability disappears and a degree of tension arises.
From there on, up to and including a superbly staged extended sequence in the belly of a whale – a fusion of light, sound, music, drama and even flying – you feel the entire audience capitulating to the production's considerable spell. Much of this is down not just to Tiffany but also Martin Lowe, whose deliciously tasty, unexpected and varied musical arrangements and filmic underscoring for 15-piece orchestra (with acres of harp writing) under conductor Tom Brady provide exceptionally vivid atmosphere.
This show is likely to be the first visit to the theatre for a large percentage of its audience. For eight-year-olds upwards, the arrestingly beautiful design will see them through. That, and the ultimately affecting, heart-on-sleeve message of the script that shows us love and pain and even (yes) the human condition.
Pinocchio, the puppet who wants to be human, is played by an actor but all the other major characters are played by giant puppets
rating
Share this article