Photograph 51, Noël Coward Theatre |

reviews, news & interviews
Photograph 51, Noël Coward Theatre
Photograph 51, Noël Coward Theatre
Nicole Kidman's return to the West End has been worth the wait
Tuesday, 15 September 2015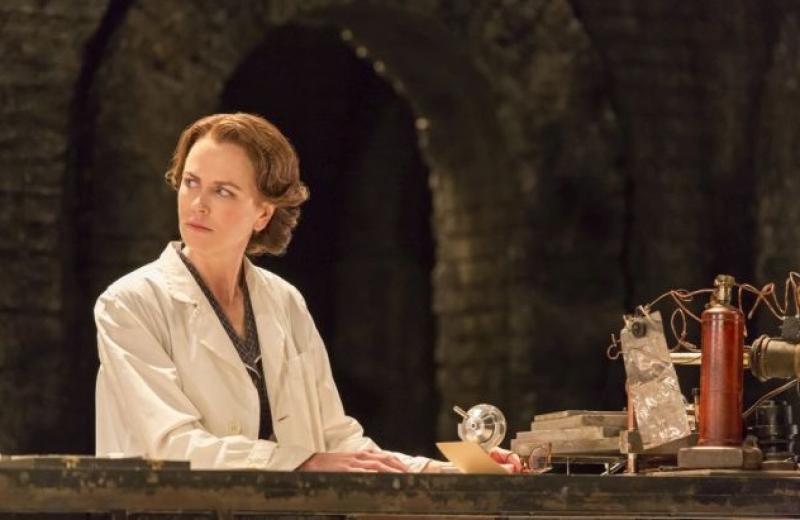 Nicole Kidman: back in the West End at last
Nicole Kidman has returned to the West End 17 years after causing an innuendo-laden sensation in The Blue Room, the David Hare play that promptly transferred from the Donmar to Broadway, where one major magazine at the time actually bothered to inform readers where best to sit for the optimal view of a stage semi-neophyte en déshabillé.
And guess what? Back on the London boards to play the erotically indrawn scientist Rosalind Franklin in Anna Ziegler's Photograph 51 under the direction of Michael Grandage, Kidman is even better communicating a life of the mind than she was all those years ago allowing the briefest glimpse possible of her body. As savvy about-faces from Oscar-winning performers go, this one is going to prove hard to top.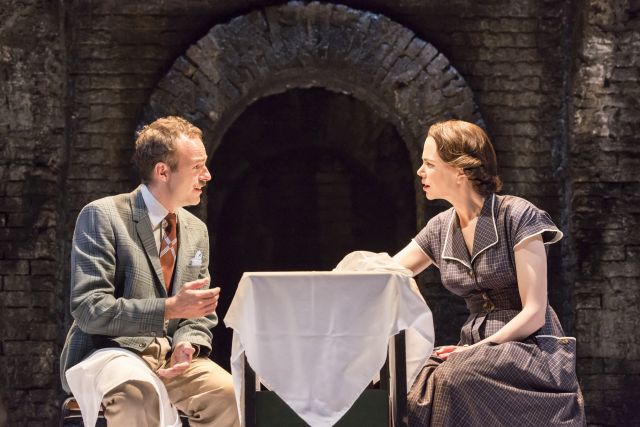 For some years, Kidman's name was fleetingly attached to an Ibsen or Chekhov revival here or a Turgenev reappraisal there, so all credit to this deeply canny actress not only for tethering her name to a new play but for using the same star wattage to anchor a work that exists to counter a gathering injustice. In the half-century-plus since Franklin died tragically before time from ovarian cancer at age 37, there's been a heightened awareness of the Anglo-Jewish chemist's pioneering contribution toward determining the helical nature of DNA. (Franklin's picture is among those adorning the front of King's College, London.)
Run precisely what she did by me again, you might well ask. But as was proven by The Theory of Everything and The Imitation Game (not to mention plays like Copenhagen that preceded both those films), the particulars of scientific enquiry can find a purchase within mainstream culture, not least on this occasion with a cooly galvanic Kidman in full, beady-eyed command. Indeed, I'd wager that it won't be long before Photograph 51 gets the big-screen treatment itself, and Ziegler hints at all sorts of additional stories (not to mention domestic circumstances alluded to but left offstage) that seem ripe for expansion, her variably lovelorn or romantically challenged colleagues among them. (Patrick Kennedy as the Yale-educated biologist and crystallographer Don Caspar, pictured with Kidman above.)
As it is, the playwright's interest lies not just in the hurtling advances of science and the casualties such quests sometimes leave in their wake but, equally, in Franklin's dual presence as a person out of step with her fellow scientists for reasons of both gender and religion. And though the temptation to sentimentalise her must have been real – one wonders, in passing, whether her exclusively male cadre was in reality quite so quietly smitten with the unabashedly starchy Franklin – our heroine wastes no time presenting herself as a driven intellect with an unyielding sense of her own correctness, albeit not so single-minded with her time that she can't slope off to the theatre to see The Winter's Tale: the Shakespeare play whose story of female rebirth exists in cruel contrast with Franklin's own diagnosis-to-come. (The creators of the forthcoming West End run of that same play, headed by Kenneth Branagh, were much in evidence among the press night audience.)
The production returns Grandage to the playhouse where this prolific talent was last represented with a five-play sequence of shows, since which time he made his first film (Genius) with none other than Kidman among the cast. And as if rejuvenated by a homecoming of sorts, Grandage and his usual collaborators – designers Christopher Oram, Neil Austin, and Adam Cork, preeminently – are here at the top of their considerable game, Cork's sound design punctuating the 95-minute piece with the pulsating beat of a thriller even as Austin's ravishing lighting shifts from the faded hues of a period photograph to shafts of blinding illumination in keeping with the more breathless passages of the text.
Ziegler could profitably fillet one or two remarks telling us how "incredibly exciting" it all is, the fevered writing there as a counterweight to a central character who is, of course, far more than the "right old hag" that she is called by James Watson (a wild-haired Will Attenborough, nailing the American accent that seems to elude Kennedy) – Watson, in turn, one of the three scientists, along with Francis Crick (Edward Bennett) and Maurice Wilkins (a bespectacled Stephen Campbell Moore), who shared a Nobel prize in 1962 some years after Franklin ceased being available to lay claim to her share. And if some of this American dramatist's observations about Englishness are too stale to bear repeating, the evening finds a visual metaphor for its unfolding power in Oram's extraordinary set (pictured above), which is at once grand and dilapidated, elegant and sepulchral, in keeping with a leading lady who locates every fibre of the thrill to be found in "see(ing) everything" alongside the terror that arrives when that preternatural gift for light goes out.