Measure for Measure, RSC, Barbican review - behind the times |

reviews, news & interviews
Measure for Measure, RSC, Barbican review - behind the times
Measure for Measure, RSC, Barbican review - behind the times
Stratford transfer makes much of contemporary resonance but fails to deliver
Tuesday, 19 November 2019
Lucy Phelps and James Cooney as Isabella and Claudio
Because he dramatised power, Shakespeare never really goes out of fashion. Treatments of his plays do though, and the RSC's Measure for Measure, a transfer from Stratford set in turn-of-the-century Vienna, feels distinctly slack.
The backdrop is supposedly a city filled with refugees, artists, political movers and shakers and members of the upper-class and demimonde. The arts and psychoanalysis are flourishing and social grey areas abound. But aside from design touches, little of this combustive social mix makes its way into the production. Psychological complexity already abounds and this hardly needs the suggestion of Freud squirrelling away in the background to add profundity.
In some kind of turmoil the Duke of Vienna (played by Antony Byrne, pictured right), having decided to leave the city in favour of a religious retreat, hands over to his trusted deputy Angelo (played by Sandy Grierson). Angelo, a chilly character, immediately enforces tough sanctions against licentiousness both mild and serious. Claudio, the brother of Isabella who is about to take vows to become a nun (respectively played by James Cooney and Lucy Phelps), is arrested on the charge of getting his beloved, Juliet (Amy Trigg), pregnant. He is sentenced to death and it is up to Isabella to plead his case that the sin and the sinner be judged separately – a petition complicated when Angelo propositions her in exchange for saving her brother's life. For a chaste virgin on the cusp of a nunnery, Isabella can sacrifice anything but her virtue: to do so would soil her and "fetter" her brother with the knowledge that by living he committed her to a fate that to her mind is worse than death. 

It's the first of many double binds in a play that ties the most virtuous, the least blameworthy and the least powerful in knots or even pits them against each other.
Above it all floats the Duke, whose return to the city in disguise as a monk means both that Claudio escapes the death his absence provoked while consigning Isabella to almost precisely the fate she sought to avoid. As the most powerful character, he sets the tumultuous events underway only to resolve them to his advantage and the detriment of practically everyone else. Convivial bluster and his powerful position mean he gets away with mostly plaudits – which hardly makes him an unfamiliar figure to a contemporary audience. But as both arch-villain and supposed hero, more could be done to undercut his behaviour. His bonhomie may pall towards the end but in director Gregory Doran's production it takes until the conclusion for his febrile egomania to really come through.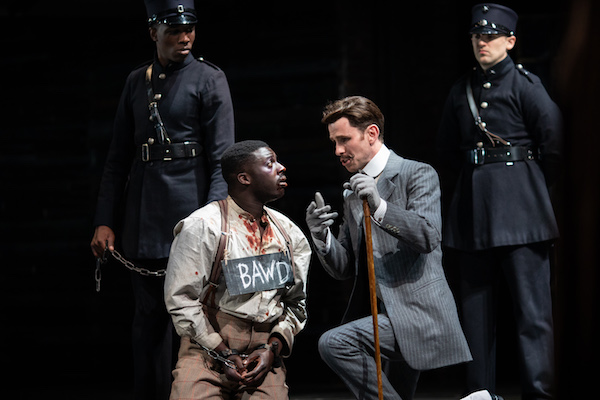 For their odd positions on whom they love or how they love, Isabella and Mariana (Sophie Khan Levy) are pleasingly weird – but they remain less fully-fleshed characters than vessels to prove plot points. Isabella's grief and desperation may be fierce but it's also cold; Mariana's desperate love of Angelo barely makes time for the ironies. Shakespeare doesn't make it easy, but the over-wrought setting hardly allows for much extra development. In this production, the two women are defined by their circumstances in ways that seems to quash any deep emotional scoring. Not so Pompey, played with aplomb by David Ajao (pictured above, with Joseph Arkley). His opportunism, gumption, and saucy asides are the true scoundrel's attire. He's a foil to the Duke and sucks attention from the core dilemma because he is so much larger than life.
Measure for Measure is one of Shakespeare's "problem" plays. Endings are ambiguous and speak to messiness. It could be brilliantly contemporary, a production that speaks beyond the environment of its writing, and the production setting. But the play-off between morals and power is hardly tested beyond a superficial level. It feels distinctly behind the times.