Jack and the Beanstalk, Birmingham Hippodrome |

reviews, news & interviews
Jack and the Beanstalk, Birmingham Hippodrome
Jack and the Beanstalk, Birmingham Hippodrome
Home of UK's biggest pantomime delivers again
Wednesday, 31 December 2014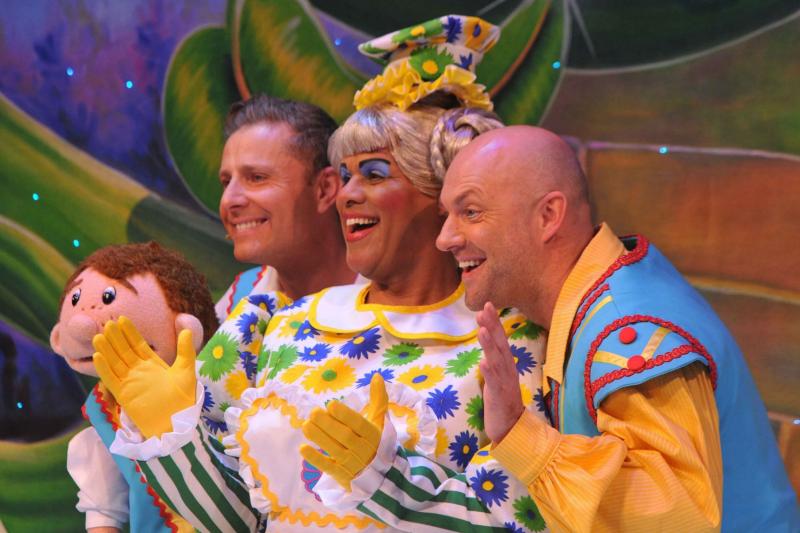 The Trots: from left, Paul Zerdin, Gary Wilmot and Matt Slack
Birmingham Hippodrome claims to stage the UK's biggest pantomime – a proud boast that highlights its productions' West End-level of investment. And this year's venture, Jack and the Beanstalk, is certainly glitzy and star-laden, while the sets and costumes are fabulous, and there's a 3D sequence as well as a live band, so the claim seems a fair one.
Gary Wilmot is Dame Trot, whose three sons Jack, Simple Simon and Silly Billy endlessly get into scrapes. Silly Billy (the excellent Matt Slack, who really connects with the youngsters in the audience) is secretly in love with Princess Apricot (Robyn Mellor). She, however, falls for Jack – a very pleasing Duncan James, who gets his kit off at every opportunity but also delivers the comedy very well. Ventriloquist Paul Zerdin (with his dummy), meanwhile, is a nicely cheeky Simple Simon, and his scenes with Slack produce a lot of laughs, as does a very well worked "Twelve Days of Christmas" performed by the Trots, minus Jack.
The huge beanstalk grows from the orchestra pit to the full height of the stage
The animatronics and special effects (by The Twins FX and Whizzbang3D) work very well. The huge beanstalk, which grows from the orchestra pit to the full height of the stage, is a magnificent sight, while the 3D scene in the Giant's kitchen is terrific fun – huge spiders and maggots in the cheese fly out into the audience and the giant's hand almost catches Jack as he runs into the auditorium. The cracking live band (under the direction of Robert Willis) add to the drama.
Chris Gascoyne (from Coronation Street) makes a nice villain, Fleshcreep, clad in black leather and positively encouraging the boos and hisses as he enters and exits, and inveigles Jack into the Giant's castle, although Jayne McDonald as a very appealing Enchantress (who can hold her own with the funnymen on stage) is underused. And while having so many gag-makers involved means that comedy – rather than singing and dancing or romance – drives the show, the bedroom scene at the Trots, where all four share the same bed and which should have offered up plenty of laughs and broad physical comedy, falls rather flat.
The unfussy narrative (written by Alan McHugh and Michael Harrison, who also directs) goes at a lick, although it may be too fast-moving for some really wee ones to keep up with. But, as ever at the Hippo, it's huge fun.
Jack and the Beanstalk is at Birmingham Hippodrome until 1 February 2015
Duncan James gets his kit off at every opportunity but also delivers the comedy very well
rating
Explore topics
Share this article