Cinderella, New Wimbledon Theatre |

reviews, news & interviews
Cinderella, New Wimbledon Theatre
Cinderella, New Wimbledon Theatre
Dallas heroine waves her wand, but the stand-up is the stand-out in classical panto
Wednesday, 10 December 2014
Serving Dallas realness: Linda Gray's Fairy Godmother and attendants
Strange world, isn't it? Yesterday morning, buoyed up by the Royal Opera's impressive Tristan und Isolde, I was listening on CD to Linda Esther Gray, a Wagnerian soprano for the ages, singing the best Liebstod I know.
In the evening, I was watching Linda "Sue Ellen" Gray declaiming the traditional couplets of Cinderella's Fairy Godmother, very musically – she always was a good actress, I reckon – if not as yet with immaculate timing (crikey, though, I've just found out she's 74).
This was pantoland as only Wimbledon does it, and if my first return visit to the genre there since as a cub I got Jimmy Tarbuck's autograph – the shame of it – was a positively baroque, multi-dimensional Dick Whittington three years ago, this was in classical style, with all the essential conservatism that implies.
It's still a huge achievement to keep panto essentially innocent, which is what Eric Potts's consummate scripts, with liberal allowance for comic ad libs, have always managed. Potts is also a great dame, even giving Edna Everage a run for her money in 2011's Dick (he's reprising his Sarah the Cook in Bristol this year). This being Ugly Sisters territory, we again got two for the price of one. Father and son Matthew Kelly and Matthew Rixon (pictured, below, with Tim Vine's Buttons) may not be quite in the same league, and of course these panto queens have us kind of against them rather than with them – there's real nastiness as they get Cinderella to tear up her party invitation – but oh, the fun with celebrity tack, and ooh, such frocks and farthingales were never seen outside RuPaul's Drag Race.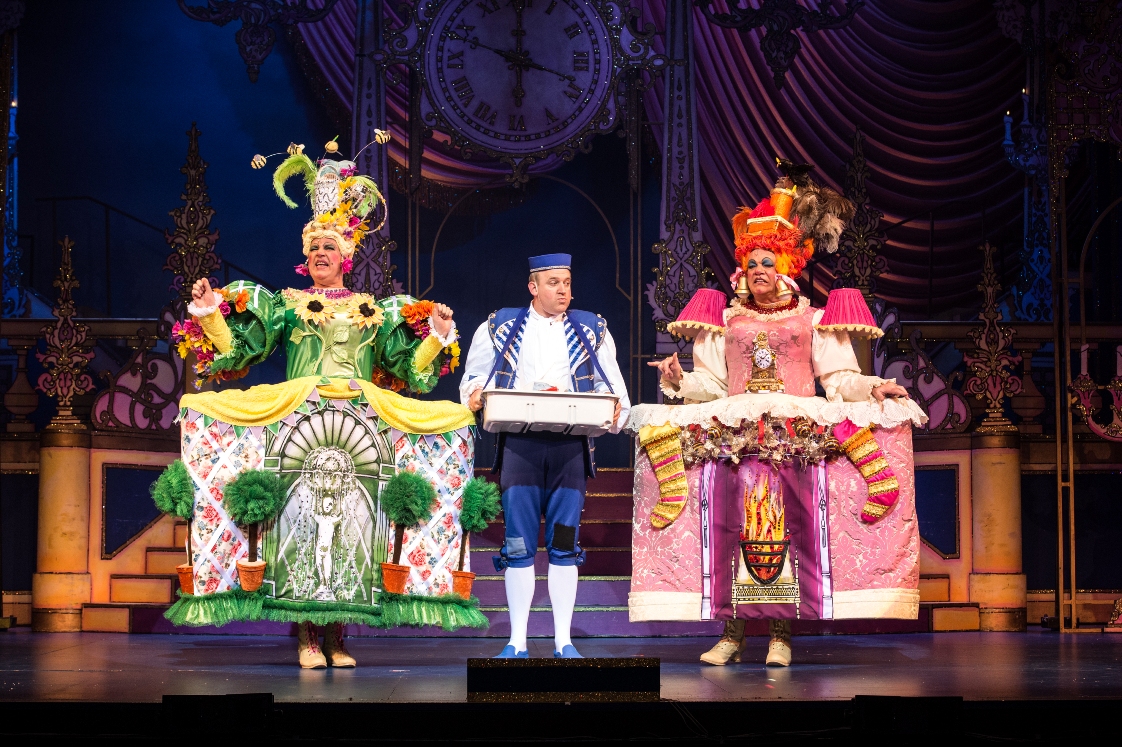 Bizarrely, the designer doesn't get a credit among the 21 "creatives" listed in the programme, but if you want traditional panto bling, it doesn't come prettier than this, with painted flats for Baron Hardup's village and an hysterically kitsch transformation for the ball. Visiting opera companies may boast Lippizaner horses; to pull Cinderella's coach we get two of Ian Luckens's Shetland ponies. Ever so sweet, though. The only bit of gritty reality is a fun film playing on the Dallas opening credits with shots of Wimbledon in the rain. There are also casual digs at crime in Tooting and unlovely Morden.
Otherwise, the formula and the look haven't been much changed since I first saw Cinderella at the London Palladium when I was four years old – Cliff Richard and the Shadows, no less, with great songs I still have on an old LP. These ones are mostly standards with unintelligible words, since the miking is so over the top, as is Wimbledon's wont. What Amy Lennox's Cinderella, fitting the bill perfectly in her prettiness, is singing about as the energetic dancers go through their stuff at curtain-up is anyone's guess. The tradition, though, is otherwise intact. James Docherty's deft Baron Hardup is, for instance, a familiar stooge to Tim Vine's Buttons; there's a very funny routine with a "magic" hat that shuts off all ambient noise when you wear it (or does it?).
Vine is just as good in the stand-up role as Kev Orkian was three years ago, rattling off a string of jokes both groan-worthy and side-splitting. His ad-libs are priceless, especially in a routine with four rather dour-seeming Wimbledon kids pulled up on stage, with names like Amelia, and clearly he was making his pals on stage laugh with spontaneous lines like "I think I'll have a little sleep". For wee Wayne as Dandini, going through the usual ropes of swapping guise with his Prince, is standing beside him. You could object that Sleep still bears a torch for the old Larry Grayson/John Inman school of camp stereotype, but I guess that's who he is, and he can still dance – just – in a fairly good tap number at the ball (pictured, above right). His size, though, is used to good comic effect as Kelly's Cheryl and Rixon's Mel tower above him in their piled-up wigs and high heels (cue a hooter for boobs in the face).
Whether the contrast between him and the supposedly butch prince is as great as the script would have us believe is debatable. Gray's Godmother makes her entrance flanked by hunks wearing only bathtowels (main picture), so when she says "it's time to see the eye-candy" and Liam Doyle appears, the crowd's anticipatory "oooh" subsides into a flat "oh". Can't we have a juve male lead with chutzpah, or is that not part of the panto shtick?
Usually in Cinderella it's downhill after the ball, but not here, with good gags in the slipper-fitting sequence (pictured, above). And the other scene other than Vine plus kids which had me on the verge of crying with laughter was the sisters' routine with Buttons in the Haunted Wood. Yes, I remember that, too, but not in 3D as, while the trio go through the "Ghostbusters" number to keep their spirits up, ghosties, spiders and other ghouls pop out their eyes or explode at the bespectacled audience with rib-tickling realism. That's the magic of panto, 21st-century-style, and yes, it's fun for all the family, probably aimed more at the kids than the adults but none the worse for that.
When Linda Gray's Fairy Godmother declares 'it's time to see the eye candy' and Liam Doyle's Prince appears, the crowd's anticipatory 'oooh' subsides into a flat 'oh'
rating
Explore topics
Share this article