I Can't Sing!, London Palladium |

reviews, news & interviews
I Can't Sing!, London Palladium
I Can't Sing!, London Palladium
Say cheese. Harry Hill's X Factor spoof is a costly but toothless inside job
Judge not lest ye be judged: Ashley Knight, Victoria Elliott and Nigel Harman in 'I Can't Sing!'
The names have been changed to protect the guilty but half the fun of I Can't Sing! - the so-called X-Factor musical - lies in the relentless spoofing of a show we love to hate and a format so unremittingly predictable that its contestants, judges, and host now read like characters from a, well, musical.
Put Harry Hill on the job and you know he's going to throw enough gags at the subject for at least a handful to stick and were this an anarchic fringe offering with a cast of six and a budget low enough to render it inventive by necessity then you'd have more chance of leaving the venue with a smile on your face and a little surplus cash in your pocket.
But this is the West End - the Palladium for heaven's sake - and when you see so much money squandered on a monumental piss-take of the biggest money-spinning franchise in the history of the world then the nausea from the pit of your stomach rises up into your throat with the realisation that it's actually Simon Cowell and his producers that are taking the piss by hoping that box office receipts as opposed to premium phone line revenues will keep money from the waning franchise rolling in. But the British public aren't that gullible, are they?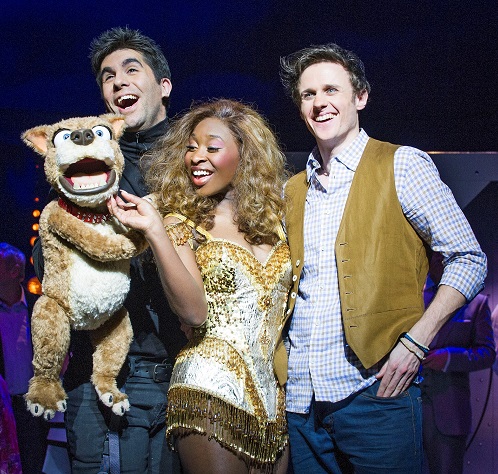 For those that are, I Can't Sing! is framed behind a monster proscenium arch (designer Es Devlin) promising and delivering a kind of X-Factor heaven where the gods of wannabe pop stars put their hapless playthings through the humiliation of terrible back stories and hard-luck tales, of sick siblings and deceased grandparents. There are those we might recognise - for Wagner read Vladimir, for Jedward read Altarboyz - there's a plumber with a ukelele called Max (likeable Alan Morrissey), there's a smoking hot black girl who doesn't know it (the fabulous Cynthia Erivo), and then there's a Hunchback (Charlie Baker) who's cast out with the suggestion that Embarrassing Bodies might be more his kind of show but refuses to go quietly. Nobody goes quietly in this musical. (Pictured above right, Simon Lipkin, Cynthia Erivo and Alan Morrissey)
It's interesting that a show which seeks to revel in camp tat needs to do so at such a huge cost. Director Sean Foley made so much of so very little with his wonderful Jeeves and Wooster spoof but here he's working with high-tec sets that don't quite connect and which are themselves the butt of certain jokes ("Mind the gap," quipped Nigel Harman at one point during this final preview). The dance routines - the one for Altarboyz turning into a leprechaun infested St Patrick's Day freak-out with a jamming click-track - are, one hopes, deliberately cheesy, the special effects - two involving Simon Cowell's high-waisted trouser-clad legs - are easy but expensive visual gags, and when one of the characters refers to "week-in, week-out plastic processed pop" he does so in the certain knowledge that composer Steve Brown unfailingly delivers just that. The biggest and best song in the show (and even that's a stinker) is the title song delivered with knee-trembling pizzazz by Erivo (what a waste) but the irony here is that the stage version of a TV show which trades in pop classics should make a running gag of "song choices" which are indeed patently awful.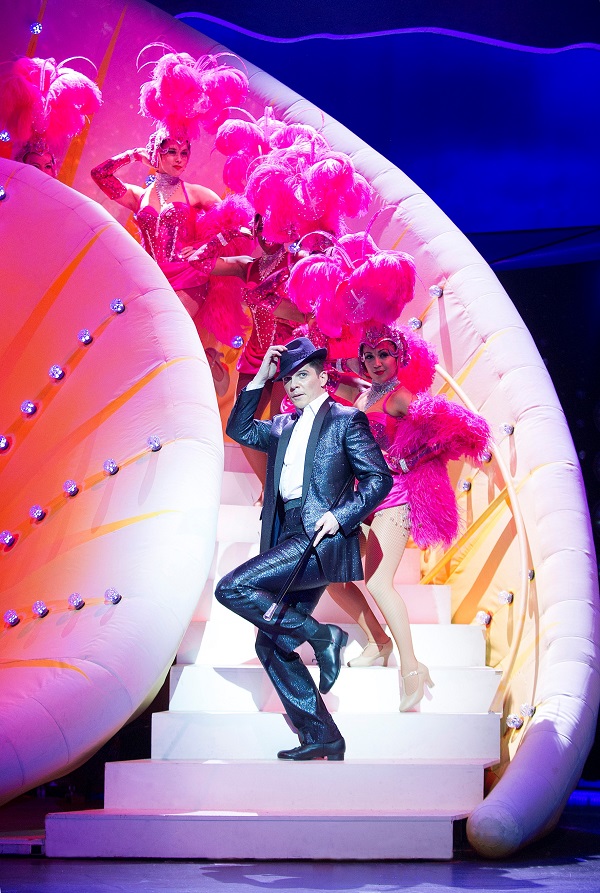 Look, I laughed like you do at bad jokes but by Act Two even the bad jokes weren't really bad enough to laugh at. Harry Hill has some fun with Jordy (Victoria Elliott) and a puppet dog called Barlow (Simon Lipkin - "Ok, it's not War Horse but I'm doing my best"): "Is that your dog, pet?" "Pet dog" "Pet dog, pet". And Harman (pictured left), who is always good value, avoids a recognisable impersonation of the god Simon (probably because he's paying his wages) while Ashley Knight as Louis does not. Best is Simon Bailey's spot-on send-up of Liam (Dermot) O'Deary whose frantic energy and nervous tics he has to a tee.
You would care less about the wasted resources if we lavished even a fraction of this kind of money on emerging musical theatre talent. As it was I Can't Sing! put me in mind of a line from the great Dolly Parton: "Do you know how much it costs to look this trashy?"
I laughed like you do at bad jokes but by Act Two even the bad jokes weren't really bad enough to laugh at
rating
Explore topics
Share this article