The X Factor Xamined |

reviews, news & interviews
The X Factor Xamined
The X Factor Xamined
Our intrepid writers circumnavigate the blockbuster talent show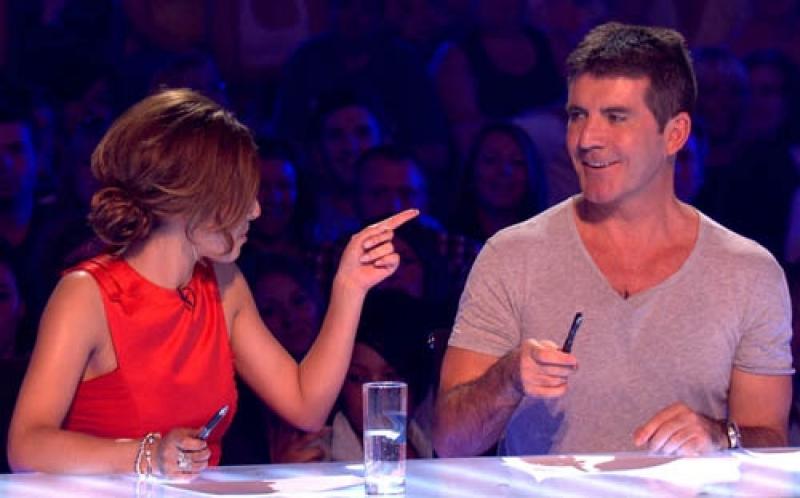 It doesn't matter who wins, Cheryl and Simon never lose
And so we reached the climax of Series 7, long awaited by cognoscenti but greeted with mounting apathy by non-believers. Though some had held out hopes for boy - infant? - band One Direction, it was live poll favourite Matt Cardle who ultimately romped home to victory.
It was hard to tell why - Cardle has the charisma of an apprentice photocopier salesman, and his performance on the night barely breached the frontiers of insipid. Hysterical supporters of Rebecca Ferguson, urged onwards by Coleen Rooney, thronged the streets of Liverpool to urge their girl on, but Rebecca's identikit soul-diva routine couldn't cut it on the night. Then again, this is a show that could even manage to make guest stars Take That look like creaking also-rans.
Our man Joe Muggs has penned a typically vivid account of the finale. Here, theartsdesk's writers offer a portfolio of perspectives on X Factor 2010.
Peter Culshaw

My current X Factor fantasy (or Fix Factor, if you will - they do keep bending the rules) is that Simon Cowell gets up and sings "Sympathy for the Devil", with Cheryl and Danii doing the "woo-woo"'s. At the end of which he announces: "It's true, I really am Satan." You didn't think he'd go around dressed in red with a fork, did you? There is, anyway, a certain whiff of sulphur about Cowell - probably the most enjoyable bit of the show. Even if not actually Lucifer per se, he has grabbed the emasculated record industry by what's left of its balls. In any other industry he would be referred to the Monopolies Commission.
What I find insidious about The X Factor is that it is, in parts, actually pretty good. My dim memories of New Faces or Opportunity Knocks (hosted by the creepiest man ever to appear on TV, Hughie Green) make it absolutely clear to me that they were undiluted garbage. Because The X Factor is so huge now, some genuinely talented singers are taking part. But they do have to make a Faustian bargain if they have any life in them in the first place. They are compelled to sing an Elton song. When they do a Beatles song, Cher does "Imagine" and Rebecca does "Yesterday" - could there have been more hackneyed choices from the Lennon/McCartney canon?
Cher Lloyd seemed to be morphing into her touchy, neurotic mentor Cheryl Cole - they even have the same hair colour now, and boast that they're like sisters. Which is a shame for Cher. Even Rebecca Ferguson and Matt Cardle, who are genuinely top-notch singers, have gone downhill since the start. Katie Waissel was at least a bit quirky before she had the individuality knocked out of her, and had to endure being condescended to by the least charismatic man on TV, Louis Walsh (Cowell's wooden Mephistopheles), declaring: "At last we've seen the real Katie."
But the point is, do we want to see the real Katie? Actually, we want to see the fantasy Katie (pictured right). You imagine, with a sickening feeling, that even such exotic talents as the young Kate Bush or Bjørk would have the fight taken out of them, week by insidious week. With so little singing on TV - and even Jools Holland's show is getting a little tired by now - I may be alone in dreaming of a talent show with interesting judges. Jarvis Cocker perhaps, Brian Eno or Thomas Adès, and I could have imagined the late Malcolm McLaren thriving on such a show. And how about the aforementioned Bjørk or Kate Bush really mentoring some talent? I know - in my dreams!
As it is, in our culture we have people like Simon Cowell running our lives, and Osborne, Clegg and Cameron in politics - all plausible, reasonably intelligent, somewhat charming, but... is that it? Download John Cage's 4'33" to get it in the charts for Christmas as a protest. Otherwise, our immortal souls may well be in peril.
Best performance: Aiden Grimshaw singing "Mad World"
Worst performance: Cher Lloyd singing "Imagine"
Who should have won: Wagner
Howard Male
Who's to say that David Bowie or Elton John wouldn't have applied for a show like The X Factor had it existed some 40 years ago? You could argue that they didn't apply for Opportunity Knocks, but Opportunity Knocks never had the credibility or extraordinary influence that The X Factor has somehow managed to acquire. I think the secret of its success is two-fold. Firstly, the public can't be fooled; the talent it uncovers through a semi-democratic process is genuine talent. And secondly, the public loves a good soap opera. Even a writer of drama as adept at generating empathy and excitement as, say, Jimmy McGovern can't give the viewer real tears, real tantrums and real tension, week after week, as real people have their talent uncovered, nurtured and finally rewarded.
What's more, Joe Public even has the option of influencing the outcome (however tenuous that influence has arguably been during this series) with phoned-in votes. But because this show is a soap, you're never going to "get it" by just dipping in for five minutes while channel-hopping. As with a sports event, you've got to care about whether the over-stylised rocker or the shy-but-blossoming soul singer gets through to the next round. During the early freak-show weeks of the programme you might spot that nerve-racked but clearly talented kid getting through their first audition. Then you'll see them gradually conquer those nerves and fulfil the promise that you - importantly, even more than the judges - had first noticed. And so by the time they are in the final 24, my God, you've invested so much emotion in their fate that they might as well be your own flesh and blood.
The X Factor is shout-at-the-telly TV of the most cathartic kind: "Come on, Rebecca! You can do it!" This season my wife and I did most of our shouting when Gamu, the spine-tinglingly good 21-year-old from Zimbabwe (pictured below), was criminally ejected for reasons that didn't seem to have much to do with her prodigious talent. Watching singers of this calibre going from strength to strength with each passing week just about makes up for the countless commercial breaks and the utterly devoid-of-content repeat-play utterances of Louis Walsh ("You're a star!! I think you're brilliant!! You're what this competition is all about!!") Who cares if Gamu and her like haven't gone through "the proper channels" (whatever they might be) to win us over?
As for Simon Cowell - of course he's not the anti-Christ; he's just a very naughty boy! There have been Simon Cowells in the music business since Sir Cliff was still in diapers, in the sense that there's no real difference between One Direction and the Bay City Rollers or even The Monkees. Even Malcolm McLaren was only a Cowell with street credibility. And the strange-haired, frozen-browed one is certainly the only judge on the show who ever says anything either vaguely perceptive or entertainingly brutal about the contestants.
But the bottom line is that The X Factor at least gives teenagers (presumably the show's biggest audience) some exposure to pop's great back catalogue in a post Top of the Pops world. Not only that but - unlike most reality TV - it also exposes them to the idea that perseverance, hard work, strength of character and a professional attitude are just as important as raw talent (see Alexandra Burke). In an industry where the Real has always been an illusion, and the manufactured sheen of the Unreal has always sold the most records, X Factor pop stars – as boy or girl-next-door as they might be - have as much right to be taken seriously as the latest bunch of lank-haired indie rockers or ridiculous post-glam princesses.
Favourite performance: Any of Gamu's heart-stopping auditions which - almost too intelligently - showed a different side to her abilities. Let's hope she's back next year.
Least favourite performance: Wagner's week-after-week exhibitions of kitsch which – given how jaw-droppingly awful they were - perhaps revealed that there are plenty of sophisticated, anarchically minded viewers out there bent on sabotaging Cowell's vision of the perfect pop star.
Who should have won: Why, Gamu of course. The idiosyncratic soul/jazz vocals of coy Rebecca were fine, but there was still an undertow of nerves in many of her performances which made you too frightened for her to fully enjoy them.
Ismene Brown
Sorry, Peter, but it's got nothing to do with the music industry. The X Factor is a banker with two accounts, the TV show and the winners' future careers, one vastly bigger than the other. We're led to believe by the judges' comments ("We're looking for a recording artist") that it's about finding a music industry star. I don't think so. This weekend's final alone will have brought in some £25-30 million in advertising and phone votes. Next spring's X-Factor Live tour could gross £15 million in ticket sales. By comparison, Leona Lewis, The X-Factor's one megastar, is worth £11 million after three years of Number Ones.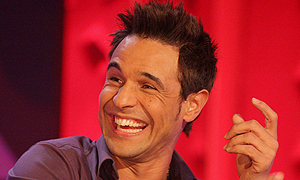 So, from the accountant's point of view, the need to make good TV over a four-month series and keep the advertising tills ringing at maximum decibels must surely override the presumption always to pick the better singer over the more TV-attractive performer. The producers must be hoping to see Wagner, Jedward and Same Difference outvoting decent but non-winner-type singers like Aiden Grimshaw, Lucie Jones or redhead dinner lady Niki Evans.
I suspect it was Sharon Osbourne and her smart cherishing of Chico (pictured right) who woke people up to the ratings value of the cheeky chappie who can't sing but is game for a laugh for TV. This is about television more than about music, and Simon wouldn't be hurt if a joker like Wagner did actually win the (not very large, really) million-pound record contract. Think what it would do for the global X Factor brand to have a result like that.
And in 2010 it has all been about 7-10 hours of primetime TV exposure each weekend (The X Factor, X Factor Results and Xtra Factor for each show - all repeated on Friday with ITV+1 repeats). And on the back of that, about the imminent X Factor USA (a lot of American guest judges this year, weren't there? Auditioning for Simon, perhaps?).
Last year's dreary final between Joe McElderry and Olly Murs drew 19.7 million viewers and 10 million phone votes were cast. This year's final, a far higher-quality affair, is expected to top both those figures. Saturday night's final part one contained 48 commercials, from the major supermarket food chains, electronics, perfume, confectionery and movie distributors - each 30-second slot said to be costing £200-£300,000. The Xtra Factor had another 40 or so commercials at £100-£200,000. Last night's part two would have done even better than that, making some £25 million advertising gross for the final. If half the 20 million-plus viewers also phone to vote, that will tally another £4 million.
That's only the final. There are the nine previous live shows of this series, and the audition shows, and their advertising income and phone-vote income piling in tens of millions of pounds more. Add in the TV series sponsorship by TalkTalk, who according to Mediaweek agreed a £20 million three-year sponsorship: that's another £7 million chalked up for this year.
Then the X Factor Live tour: a 32-date tour to huge arenas around the UK with seats mainly priced at £32.50. With 12,000-20,000 seats a night in the largest arenas, this could make £300-£600,000 per night totalling £10-£15 million. Merchandise - DVDs of the series, video games, karaoke machines - adds many more millions.


Against this TV income the winner's bank account - or what SyCo and partners can make by managing the X Factor acts' subsequent careers - pales in comparison. Leona Lewis (pictured left, winning the 2006 final) is the exception to the usual 15 seconds of fame, though Alexandra Burke and her 2008 runners-up JLS have done very well too. Winner Matt Cardle's earnings next year are being predicted at some £5 million, including modelling and commercial deals as well as record sales.
However, as other winners have vanished without trace (Steve Brookstein, Leon Jackson) or made muted impact (Shayne Ward, Joe McElderry), The X Factor has cleverly evolved to spread its bets among several performers. This year Cowell is said to be ready to give million-pound contracts to all four finalists plus Mary Byrne, the Tesco lady. They don't have to have platinum-selling records to make Cowell money: Jedward, Diana Vickers, Journey South, Ruth Lorenzo and Niki Evans all now have showbiz careers thanks to The X Factor. Instead of aiming one winner into the marketplace to attract all buyers, Cowell's strategy now aims to supply all the disparate X Factor audience strands with a tempting album to their taste. Cher for the street and Tube audience, One Direction for the little girls and kids' TV, Mary for the supermarkets, Rebecca and Matt for the grown-up music industry (assuming they can find good songwriters wanting to write for them).
So targeting Simon for ruining pop music is entirely beside the point - he is making compulsive family TV and making a fortune from that. Whether most viewers, or even voters, in The X Factor actually change their taste for pop music from "real" music to the supposed "fake" music that Cowell-loathers claim he produces is a dodgy leap of logic. What's more illuminating is how "street" pop icons like Rihanna and Jamiroquai are now as happy to turn up on X Factor as family favourites like Kylie and Robbie Williams.
And YouTube is a major straw in the wind - Cher Lloyd's audition tube has had more than 20 million viewings. It indicates that a new Top of the Pops format for music on commercial TV is long overdue - and indeed it's rumoured that is exactly what Cowell intends to do next.
The public vote revealed: Matt won every single live show vote except for one in which he was second; Rebecca was second in five of them; Mary was second in two, and won the first live show (Matt second). One Direction (who came third in the final) never appeared in the top two public votes.
The judges' predictions at boot camp: Two losers headed their predictions: Aiden and Gamu.
What Leona Lewis is worth now since winning X Factor 2006: approx £11 million (according to this year's Sunday Times Rich List)
What Wagner Carrilho is worth since competing in X Factor 2010: £14 or £7 a ticket for his show this coming Wednesday headlining at Southampton's 90 Degrees club, with Paije Richardson, his fellow competitor in support.
What Leon Jackson is doing since winning X Factor 2007: his website says "Sorry, there are no upcoming live dates"
Who I'd pay most money to see in five years: Rebecca Ferguson, if she gets that extraordinary but wayward voice under control
Least favourite performance: the unspeakable pair of girls, Ablisa, whose ugliness in singing, behaviour and attitude shames the X Factor producers who gave them airtime in a September audition show
Fisun Güner
Evidently critically challenged, the judges were each reliant on their limited armoury of stock phrases. In the last, limp few weeks, you could usually rely on Louis to pipe up with "You're in the final! And you deserve to be in the final!" while excitedly yo-yoing in his seat. Simon, by contrast, would usually affect the look of a hanging judge when he liked someone. "Look, I'll be honest with you," he'd say, sternly, before cracking into a slow, sly grin and, phew, there'd be relief and cheers all round. Meanwhile, Dannii earnestly stuck to her admiration of the contestant's work ethic, while Cheryl, when she wasn't brimming with tears, was perpetually swelling with Geordie pride ("I am so proud of you," she'd whine, week after week).
But the fact that this series of The X Factor was as predictable as it was dull wasn't, of course, all down to the dullard mutterings of the judges. Partly it was to do with the meagre pickings of a line-up that veered from so-so to so bad. Surely, for instance, the Wagner joke had worn thin weeks before this incomprehensible Brazilian received his marching orders? And those little boys (One Direction, pictured above)… OK, I know I'm not a 12-year-old girl, but really, those youngsters with their Justin Bieber bouffant comb-overs just gave me the creeps.
And the good acts were short-changed. Classic Club night was perky, but how many dreary ballads can you listen to before falling into a coma?
Mostly, though, I blame the big production: all the fireworks and stage pyrotechnics and outside broadcasts of screaming fans and hyperventilating presenters. It did the reverse of what it was meant to: it absolutely killed stone dead any build-up of tension.
Favourite performance: Rebecca on Club Classics night with "You Got to Show me Love". She even managed to look a bit animated. Anyway, it was good.
Least favourite performance: All the performances of talentless camp duo Diva Fever. Did anyone think that being gay made them in the least bit interesting?
Who should have won: Rebecca. Though after sitting through two hours of a protracted drum-roll last night, I wasn't really that bothered in the end. Matt, I suppose, wasn't a bad choice.
The X Factor Live Tour is from 19 February to 9 April ,2011, visiting Birmingham, Belfast, Sheffield, London, Liverpool, Manchester, Brighton, Nottingham, Newcastle, Aberdeen, Glasgow and Cardiff
The X Factor is shout-at-the-telly TV of the most cathartic kind: "Come on, Rebecca – you can do it!"
Explore topics
Share this article