Hymn, Almeida Theatre online review - highs and lows of a soulful brother bonding |

reviews, news & interviews
Hymn, Almeida Theatre online review - highs and lows of a soulful brother bonding
Hymn, Almeida Theatre online review - highs and lows of a soulful brother bonding
Adrian Lester and Danny Sapani in their skins in Lolita Chakrabarti's new play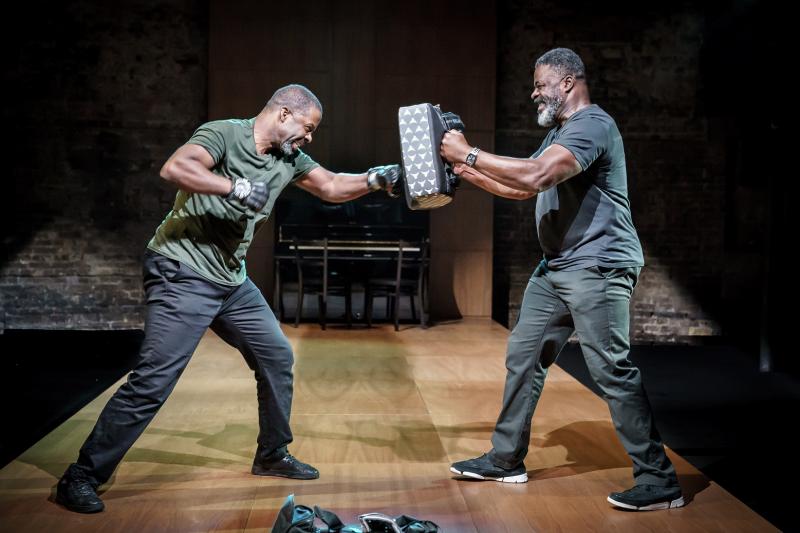 Sparring partners: Adrian Lester and Danny Sapani
Contact without touch: among the many readjustments that the pandemic has brought to theatre, its demands that restrict direct contact almost to nothing must be among the most testing. We have learnt much about how rigorously any new production – for now, only live-streamed – must be prepared: the regular testing in rehearsals, the two-metre distancing, the repeated cleaning of props.
But what can it actually be like, once the process is finally rolling, to be performing without some of the most elemental physical resources of theatre, like embracing?
There are moments in Lolita Chakrabarti's new play Hymn, live-streamed over the coming days from the Almeida, where that tension feels almost palpable. After all, it's a two-hander – performed here without hands at all, as it were – whose two characters, apparently very different, come to learn connection; a play about initial diffidence, even suspicion that grows into closeness. Yet it's a closeness that, in time, will pass away, though it leaves a lasting imprint in its wake. Chakrabarti charts that emotional dynamic with considerable subtlety in a loosely structured work of a dozen or so scenes, in which music and dancing play a considerable role.
Which makes one particular phrase from her play – "sympathetic resonance" – particularly appropriate for the interaction between its two characters, Gil (Adrian Lester) and Benny (Danny Sapani). It's a musical term, used to express how something passive – such as a tuning fork – responds to vibrations from outside. In the context of their first encounter, at the end of the funeral service for his father at which Gil has delivered the confident closing tribute, Sapani's character is very much the passive one. Director Blanche McIntyre has concentrated the camera attention in the opening scene on two objects on stage, a bible and whisky bottle, and there's no doubt which has been Benny's friend.
He approaches reluctantly, a stranger with a revelation of the most intimate nature: that the two men are brothers, that the father, Gus, whom Gil has just eulogised as a dedicated patriarch who overcame the trials of immigration to become a builder of commerce, had had a relationship with another woman, before he rejected contact with her and their newly-born son. Success has followed Gil's family, his three elder sisters such high-achievers that he seems in awe of them, while he himself has taken over the business. Benny's history, by contrast, has been one defined by that initial rejection, his solitary childhood lived in the shadow of his mother's mental health issues.
Chakrabarti has created a piece that resonates in recollection
The progression of the two men's relationship – once the DNA tests have confirmed their fraternity – is a hesitant getting-to-know-you, one that widens to include the members of the two families (their presence very much felt, though they remain offstage), a process that is beneficial, even healing, for all. It's a male bonding – Chakrabarti has spoken of it in terms of sibling love and friendship, that undefinably close combination surely referenced in the play's title – that takes in different stages, starting with a scene of sparring in the gym, its parried blows the closest there is to direct physical contact (main picture), in which Benny feels in his physical element, teaching something he knows to the brother whose world is very different (the other is more used to luxury spas). Gil can assert confidently, "I'm not backing down", Benny speaks of his "sinking feeling".
But then a natural affection grows between the two men, most clearly in the scene that follows, an impromptu 50th birthday celebration for Benny that Gil initiates in the former's attic as the two men rummage through boxes, dressing up in old outfits and enjoying the sounds of their youth in a karaoke singalong that takes in the likes of "Rapper's Delight" and Toots and the Maytals. It ends with a bravura riff of "I Could Have Danced All Night", an unexpected motif for two black men embarking on their sixth decade, just back from a retro club night. It's a moment of rather magical chemistry.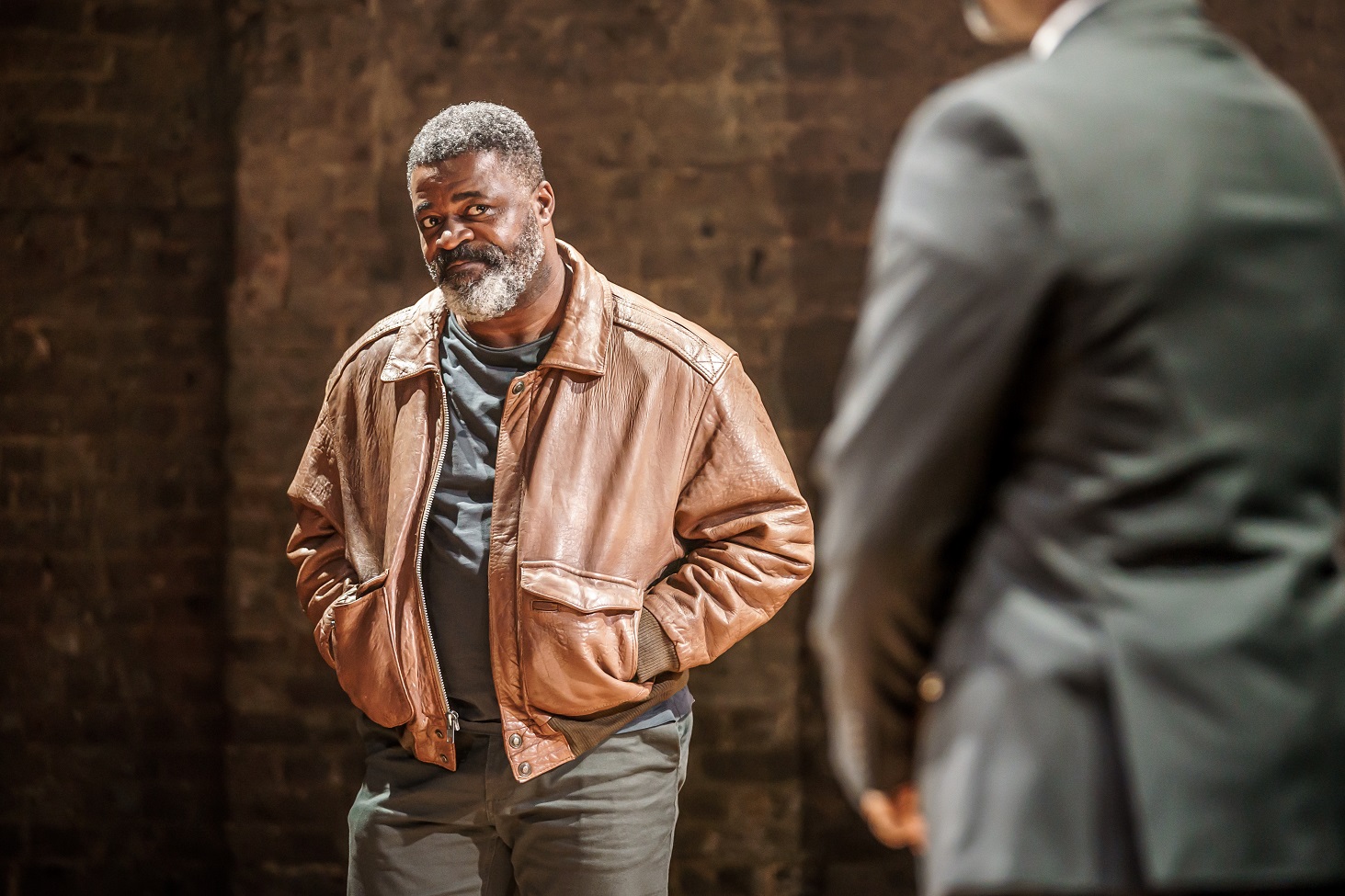 Dramatically, Chakrabarti initially works in free development mode before, over the second half of Hymn's 90 minutes, the element of a narrative arc that we are somehow expecting emerges. Gil's ambitions to expand in business have been humming away, and he's developing a grand plan for what he terms "creative expansion with vision", a new venture to be shared with Benny – they will become "Jones Brothers", their familiar bond crystallised into a traditional family firm, a step up for both. Gil juggles the marketing speak behind their proposed retail outlet "Officeworld Leisurewear" with confidence: though it's an unknown world for Benny, his trust is enough for him to put up his own (modest) nest egg and resign his job.
We somehow sense that a crisis is looming, that nemesis awaits – though there has been precious little hubris to date, only a daring-to-dream that has nevertheless seemed on solid enough ground. I don't think that we quite foresee how Chakrabarti will resolve her story, though the manner of that resolution doesn't exactly surprise either (is there an echo, even, of Arthur Miller in how business bolts from the blue can wreak absolute personal destruction?). There's a satisfying, and not overly programmatic, element to how this cyclical reversal of fortune hits home, as we see roles reversed, confidence gone where once it was plentiful, confidence newly grown where once it was absent, the dramatic identikit resemblance of the last scene to the first enforcing a genuinely moving conclusion. And all the time there is the music, though the beautifully joined voices of opening soul classic "Lean on Me" are swapped for the heartbreaking isolation of George Benson's "Down Here on the Ground", the pairing of these sometime "two halves of one beat" reduced again to singularity.
Chakrabarti has created a piece that resonates in recollection. At the same time, Hymn is firmly grounded in contemporary London, the London of the last year of street protests that turn violent and reconsideration of historical honours accorded by plinth recognition (to one "who built the library and a couple of theatres"). The antecedents of these lives lies in the Windrush generation, and there's a piercing recollection of racially-inspired road antagonism (Chakrabarti has spoken of how it occurred to her and Lester, her partner, in real life) that proves such past strife is very far from resolved. Yet would her story of fraternal bonding, of the struggle to place oneself and one's family in society, work in some completely different foreign context? I think so.
There's an almost lapidary concision to McIntyre's production, defined as it is by supreme performances from Lester and Sapani, who are simply in the skins in their roles, their contrasts of character as striking as their congruences as they assay the highs and lows, the elation and sorrows that confront them (no surprise that the playwright wrote the roles with these two actors in mind). Miriam Buether's set is minimal, defined mainly by the limited props that such distanced staging allows, while lighting by Prema Mehta and the soundscape by Gregory Clarke allow Chakrabarti's scenes to segue seamlessly into one another – except for the single moment where an abrupt cut is powerfully shocking. The more than skilful camerawork and real-time editing, which appears to be uncredited, become a resource of their own. Hymn was conceived as a show for the "traditional" live audience – and we'll surely see it in that form again before long – yet its power is in no way diminished for the fact that it reaches us live-streamed.
It was conceived as a show for the 'traditional' live audience yet its power is in no way diminished for the fact that it reaches us live-streamed
rating
Share this article