Othello, National Theatre |

reviews, news & interviews
Othello, National Theatre
Othello, National Theatre
Adrian Lester and Rory Kinnear are enormously compelling in Nicholas Hytner's absorbing production of Shakespeare's tragedy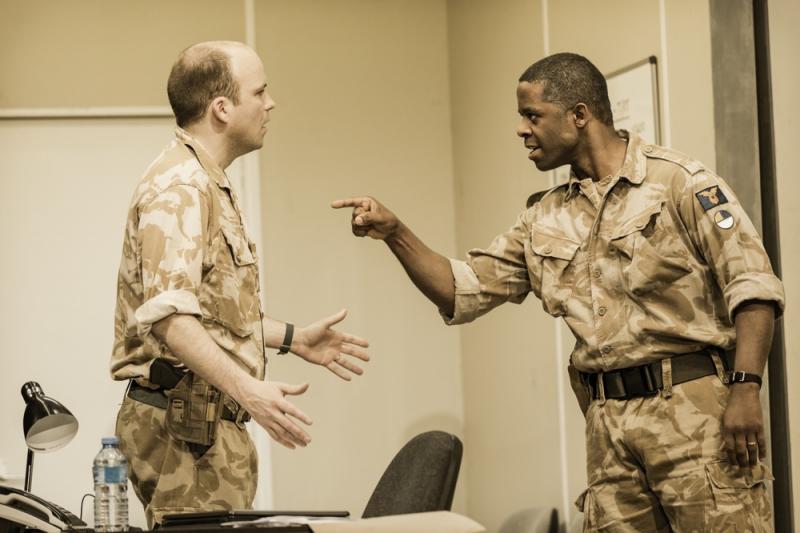 In the line of fire: Rory Kinnear as Iago and Adrian Lester as Othello
It's apt that a drama set among soldiers should be presented with military precision; but corruption, cruelty and perversion can lurk amid the human innards of the machine of war, and in Nicholas Hytner's well-oiled, impeccably paced production of Shakespeare's tragedy, the chainlink and concrete of an army base house scenes of cruel humiliation.
Hytner's inaugural 2003 season as artistic director of the National included his staging of Henry V, coinciding with the Iraq War and starring Adrian Lester. Now Lester takes on the titular Moor, opposite Rory Kinnear, whom Hytner directed as Hamlet in 2010, as Iago. They prove a riveting partnership, together forming the twisted guts of a production whose smooth, stark, strip-lit efficiency is undercut by mental breakdown and barely reasoning animal rage and hatred.
Vicki Mortimer's designs deliver a series of gliding stone edifices and high windows that give way to the comfortless environs of a combat zone. Shakespeare's settings are Venice and Cyprus; here, we are at the site of an unspecified 21st-century conflict. The sound of circling helicopters overhead slices the air and Nick Powell's score of thrusting rock music adds to the atmosphere of menace and aggression. There are women among the khaki-clad squaddies, but this is still a macho milieu, with bikini-clad pin-up girls in the rec room and ruinous drinking games (pictured below).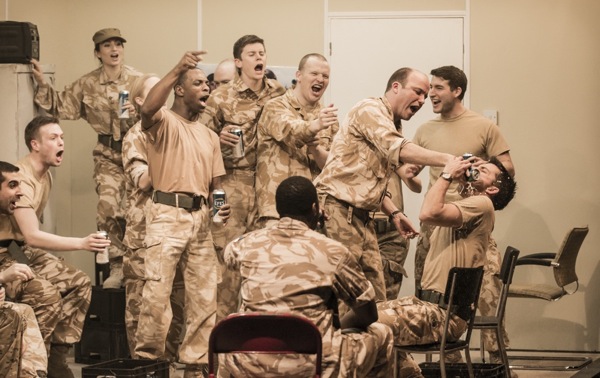 Kinnear's Iago is, from the outset, both a repellant thug and a sophisticated sadist. Lurking in the shadows while Tom Robertson's twerpish Made in Chelsea-type Roderigo rouses Desdemona's father Brabantio with the news of her marriage, he's both slyly manipulative and delicately protective of his own skin. His bravado and the false comradeship he offers are those of a football hooligan; his banter fails to conceal a festering misogyny. There's a nimbleness to the performance that makes him disturbingly funny as well as horrifying; he's a psychotic disguised as an ordinary bloke, a drinking buddy who'd spike the beer. His flat London vowels contrast strikingly with Lester's silky delivery, as Othello reveals, with warmth, yet with the oratorical skill of a persuasive politician, how he wooed Desdemona with exotic tales. The blatantly racist Brabantio (William Chubb) doesn't attempt to conceal his disgust; but his attitudes, while Iago more discreetly shares them, are here a shameful and archaic anomaly, rather than the norm.
But as the steady drip-drip of Iago's poison begins to act, the violence that is part of the weaponry of a general who has been a soldier since childhood, and that he puts to focused and controlled use in combat, possesses him in his private torment. Lester charges over furniture to pin Kinnear against a wall by the throat on hearing his first toxic hints. His interrogation of Olivia Vinall's pale, delicate, mothlike Desdemona about the loss of the fateful handkerchief resembles a kind of tender torture that leaves her trembling in terror and confusion. If Vinall has a fragile femininity, Lyndsey Marshal as Iago's wife Emilia, diminutive yet tough in her fatigues, is a woman working hard to be one of the boys. As the tragic conclusion looms, she and Vinall share an intimate exchange, over cans of lager, in which Emilia's jokes about the ill-treatment of women by men grow so savagely bitter that Desdemona recoils in shock. It's not difficult to imagine this Emilia taking a beating from her husband – and refusing ever to tell a soul. And the eavesdropping arranged by Iago to prove Desdemona's adultery, with Jonathan Bailey's young, likable, open-faced Cassio, sees Othello vomiting and hiding, degradingly, in a toilet cubicle, before collapsing on the floor in a fit while Kinnear stands over him, watching and calmly sipping from a glass of water.
It's a moment of mingled hatred and satisfaction as contained as it is chilling – emblematic of a fascinating, double-sided production of intense emotion and cool restraint.
There are women among the khaki-clad squaddies, but this is still a macho milieu, with bikini-clad pin-up girls in the rec room and ruinous drinking games
rating
Explore topics
Share this article