Othello, Shakespeare's Globe review - André Holland shines, Mark Rylance pursues laughs |

reviews, news & interviews
Othello, Shakespeare's Globe review - André Holland shines, Mark Rylance pursues laughs
Othello, Shakespeare's Globe review - André Holland shines, Mark Rylance pursues laughs
Claire van Kampen's production is big and bold, but her husband's Iago misses the mark
Born to deliver iambic pentameter: André Holland as Othello
Claire van Kampen has a history of providing roles for her husband, Mark Rylance. He starred in her critically acclaimed Farinelli and the King three years ago, and now she directs him as Iago in the Globe's production of Othello, with Moonlight actor André Holland as the eponymous general.
Rylance (pictured below) has much more Globe experience, but Holland's Shakespearen pedigree is strong too – he's a veteran of New York's Shakespeare in the Park, so very much at home delivering iambic pentameter in the open air. His soft Alabama accent serves to separate him from the rest of the cast, elevating him to a position of wisdom and virtuous strength – a heady height from which to fall. His nationality is also played up in one of Jonathan Fensom's gorgeous costumes: he sails into the theatre at the beginning of Act Two in a World War Two flying jacket and jaunty red cap, every inch the American G.I. swooping in to save Cyprus from the Turkish fleet.
There's still just about a case to be made for casting Othello as the only actor who isn't white, but van Kampen's programme notes highlight the production's focus on the multiculturality of 1560s Venice – and by extension that of 2010s London. Having Cassio (Aaron Pierre, making a remarkable professional debut) played by an actor of colour holds particular significance, as his drunken rage foreshadows Othello's own descent into violence. Othello's dressing-down of Cassio is one of the highlights of the production: Holland and Pierre capture perfectly the poignancy and dramatic irony of the moment. Do not be what they expect you to be, Holland's eyes seem to say, with all the resigned authority of a modern African-American father instructing his son in how to behave around white police officers.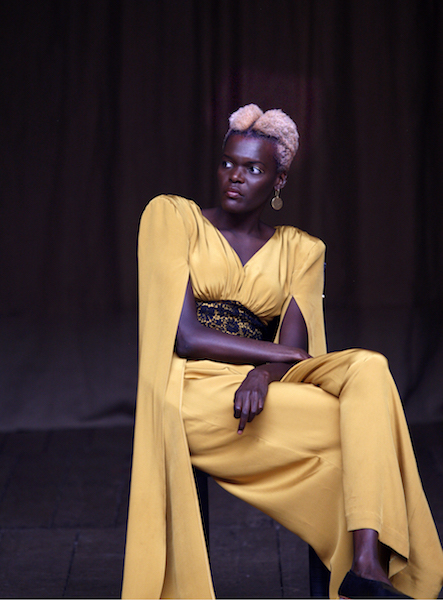 There are weak links in the cast – some start off inaudible and somehow manage to get quieter, and Jessica Warbeck's Desdemona seems to hit a plateau by the interval. But the ensemble have great energy, which van Kampen puts to good use in the revelling scene in Act Two. Her score is excellent, by turns bouncy and melancholy; her version of the willow song is hauntingly beautiful. Sheila Atim (pictured right, last seen playing Shakespeare in Phyllida Lloyd's all-female trilogy at the Donmar), full of plain-speaking loveliness in the first half, bursts into life here as she rails against the sexism of what society thinks about infidelity. Emilia is a tough role to nail, but Atim makes it look easy: soft and yet fierce, silk over a core of steel.
The problem is Rylance's Iago – he just isn't menacing enough. He's a funny little man in a red hat and a big moustache; when he takes off his military jacket, he resembles nothing so much as Mario the plumber. If Iago is played comically, there has to be a moment where it stops being funny, and that moment never comes. Whether van Kampen or her husband is responsible is up for debate, but Rylance's lines were eliciting titters from the crowd right up until the last five minutes. Ultimately, this production can't decide whether it wants to be a tragedy or a comedy. A knees-up at the end is all well and good in the latter – and pretty much guaranteed, from the Globe – but the audience needs time to digest what's just happened, and ending Othello on a celebratory note is one of a few puzzling choices by van Kampen in an otherwise pitch-perfect production.
If Iago is played comically, there has to be a moment where it stops being funny, and that moment never comes
rating
Explore topics
Share this article