Red Velvet, Tricycle Theatre |

reviews, news & interviews
Red Velvet, Tricycle Theatre
Red Velvet, Tricycle Theatre
Adrian Lester excels in this imperfect recreation of Regency theatre history
Wednesday, 17 October 2012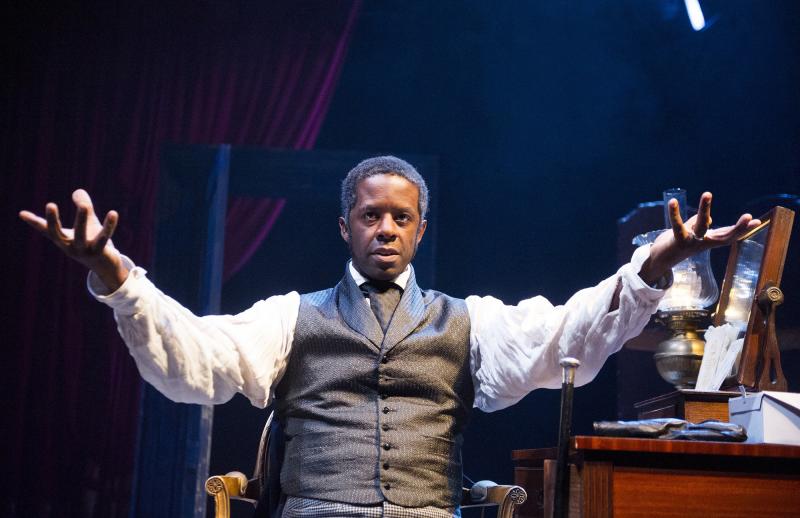 Embracing passionate life: Adrian Lester in 'Red Velvet'
Wow, what a lot of debuts. Adrian Lester (Hustle, Bonekickers, Merlin) makes his Tricycle Theatre debut in this new play about a black actor in Regency London, and it's written by his wife, the actress Lolita Chakrabarti. The play is her first substantial piece, and it's also the opener in the new regime of incoming artistic director Indhu Rubasingham, who directs.
But is the play, which premiered last night, as redolent of greasepaint and plush curtains as its title implies?
The story is certainly a revelation. I had assumed that the few black people in Britain in the early 19th century were mainly freed slaves or in service. I hadn't realised that the expatriate black American actor Ira Aldridge, brilliantly embodied by Lester, not only toured provincial theatres, but also took to the stage at the Theatre Royal Covent Garden after Edmund Kean collapsed one night in 1833. The play? You guessed: it was Othello.
As well as pleasure there is an awful lot of pain
Chakrabarti tells the story of what happened when Aldridge took over the title role following Kean's terminal illness with remarkable economy in less than a handful of scenes. And she bookends this London episode with a glimpse of Aldridge at the end of his career in 1867, as he tours Europe, this time playing King Lear. He has effectively been exiled from London; he is now holed up in Poland. Seeing him as a 60-year-old man transformed into the bearded king of Shakespeare's play is Chakrabarti's memorable and indeed haunting final image.
But the best scenes are those set in 1833, when Aldridge was 26 years old. Lester dominates the stage, conveying all of his character's passion, intelligence and radicalism. For Aldridge had, in this version of the story, a vision of acting as a much more naturalistic enterprise than the artificial and melodramatic gestures which were traditionally used for epic productions of the bard. The scenes in which he and the historical Ellen Tree, playing Desdemona, rehearse are fascinating for all who love the art of acting.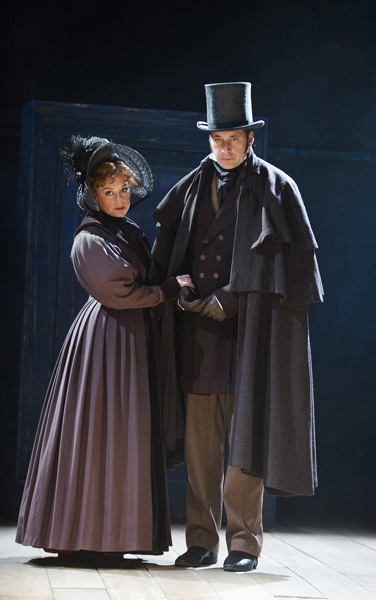 But as well as pleasure there is a lot of pain. By stepping into the king-size shoes of Kean, Aldridge exposed himself both to enormous condescension and to brutal racism. It's a grim reminder of the iniquities of the past. In the acting company, Kean's son Charles was the fiancé of Tree and openly contemptuous of Aldridge's suitability to play Shakespeare. A similar shocked, and shocking, racism affected other members of the company, although the manager, the Frenchman Pierre, at first comes across as much less prejudiced.
In the background there are riots in the streets as Parliament debates the abolition of slavery in Britain, and Chakrabarti mentions these momentous events in passing. Sadly, however, her play is not quite as compelling as it could be. The language is spattered with modern idioms which sit uneasily in an historical setting and the plot is episodic rather than dynamic. By the end, there's a sense of deflated depression which acknowledges the power of prejudice, but I longed for a more uplifting message. For me, the evening ends rather too sadly.
Still, on the way Lester gives a really stirring performance, striding the stage and radiating sincerity and emotional warmth. His scenes with the company of actors, with Charlotte Lucas playing Ellen Tree while Ryan Kiggell makes a perfectly stiff Charles (both pictured above right) and Eugene O'Hare a convincing Pierre, are alive with passion. Also worth mentioning are Rachel Finnegan who plays three roles — Aldridge's wife, a young Polish journalist and another actress — and Natasha Gordon as a West Indian servant with a crystal-clear worldview.
Despite the interest of the subject matter and the fine acting, it's not the best play in the world and Rubasingham's production often looks rather static, with messy stage pictures and only the barest use of props. It feels as if she is still getting used to the Tricycle's stage. But if Red Velvet is a creature of moments rather than a fully developed drama, Rubasingham packs enough true feeling into a couple of scenes to repay the interest aroused by its main themes. I look forward not only to Lester's next stage appearance, but also to Chakrabarti's next play.
Lester dominates the stage, conveying all of his character's passion, intelligence and radicalism
rating
Explore topics
Share this article