Edinburgh Fringe 2022 reviews: Temping / Work txt |

reviews, news & interviews
Edinburgh Fringe 2022 reviews: Temping / Work.txt
Edinburgh Fringe 2022 reviews: Temping / Work.txt
Two performer-less shows on the theme of work set the audience to - well, work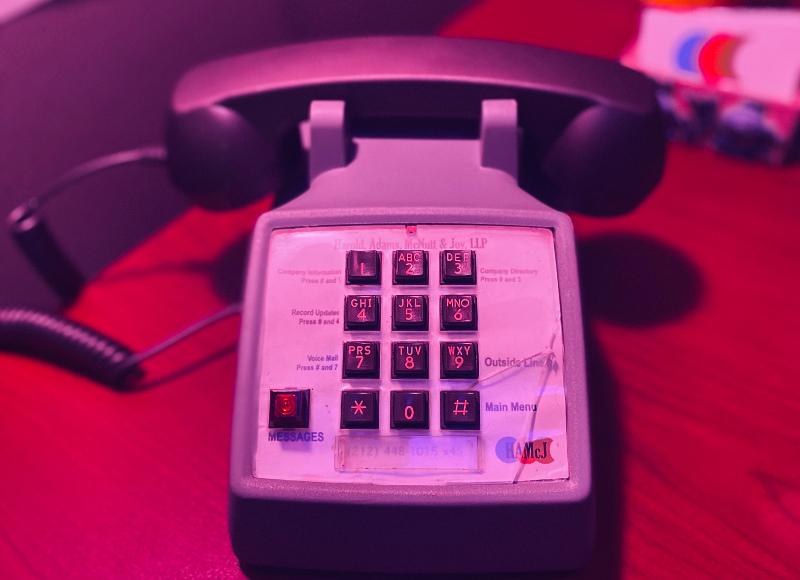 Don't miss those all-important voicemails: Temping
Temping, Assembly George Square Studios ★★★★

Sarah Jane is away in Hawaii. But don't worry – she's left plenty of instructions for your day temping in the actuaries' office, checking voicemails, answering emails, updating spreadsheets. After all, it's just numbers – it's not like you'll be dealing with people's lives or anything.
New York-based Dutch Kills Theater's immersive, one-audience-member, performer-less show ushers you into a lovingly recreated workspace, all stress balls and cute family photos, and then sets you to work. To say more would spoil the surprise, but it's a remarkably convincing recreation of an unremarkable office day. Apart from the printer spewing unlikely messages, that is, and the alarming emails about the company's performance – perhaps leading to some extreme measures.
Temping is a jewel-like show, elegantly paced with a constant flow of 'work', and, of course, slowly dawning revelations about office life, unexpected relationships, petty squabbles. But behind the mundane trivia of work lurk real lives and hopes – too easily snuffed out by your own complicity, and even by murkier activities that are only hinted at. There's a limit to how far Dutch Kills can go before shattering the illusion they've so carefully created, so in many ways Temping is full of ideas that could be far more fully developed in an alternative format. Nonetheless, it's a quietly moving, slightly unsettling, miniature masterpiece of a show.
Work.txt, Summerhall ★★★★
In a similar vein, don't expect any conventional performers in Nathan Ellis's very clever Work.txt (pictured above, picture by Guy Sanders) at Summerhall, but do expect to be doing quite a bit of a show's work yourself. That might involve a bit of group reading, some solo microphone work, a few gentle construction activities, even a bit of lying on the floor.
It's a far more abstract show than Temping, one that considers the inescapable prevalence of work in all our lives, the expectations that we'll be busy, progressing and achieving at all times and all ages, and goes on to wonder what might happen if we simply stopped. Ellis cleverly shines a light on his audience/performers with subtle inquiries about who's an optimist (surprisingly many), who works in the arts (almost everyone – well, this is the Edinburgh Fringe), and who earns over £30K (well, you can guess). And he harnesses, of course, our inbuilt, pre-programmed (or is it?) compulsion to act, work and be involved into the show's very essence. As Work.txt's all-knowing, all-instructing screen admits partway through, if the audience itself took the action that's discussed in the show – well, there would be no show at all.
Work.txt might stray off the rails slightly in a later section, which seems to locate incessant activity within a luxury holiday cruise – though its closing reel projecting work and achievement billions of years into the future has a Caryl Churchill-like dark surrealism. It's an entertaining, thought-provoking hour that makes you realise just how deeply burnt some issues are in the psyche.
'Temping' ushers you into a lovingly recreated workspace, all stress balls and cute family photos, and then sets you to work
Share this article