The Double Dealer, Orange Tree Theatre review - high spirits and low morals |

reviews, news & interviews
The Double Dealer, Orange Tree Theatre review - high spirits and low morals
The Double Dealer, Orange Tree Theatre review - high spirits and low morals
Congreve's Restoration-era rarity is boisterous to a fault
Wednesday, 12 December 2018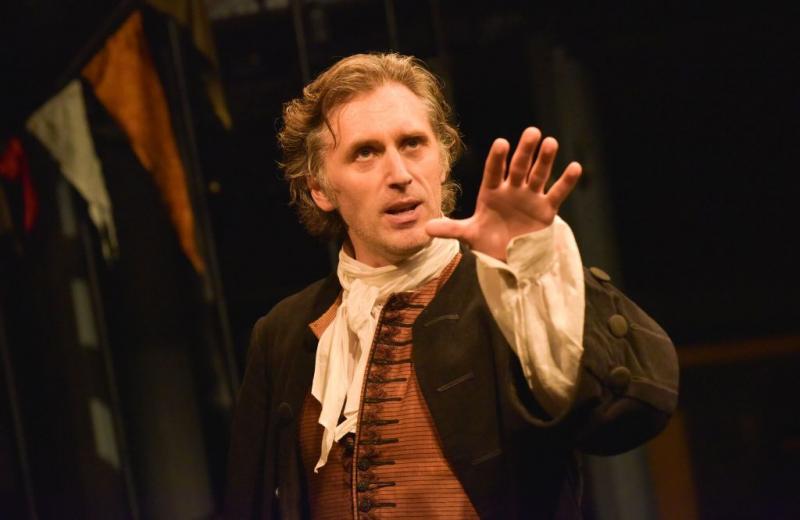 Masked man: Edward MacLiam in 'The Double Dealer'
It's been 40 years since The Double Dealer last had a major airing (indeed, perhaps any airing) in London, so on the basis of novelty value alone, the Orange Tree's end-of-year offering is worth our attention. But as always with Restoration comedy, Congreve's 1693 story of romantic skulduggery and misalliance poses a basic problem: how do you make sense of a byzantine plot characteristic of the genre? Selina Cadell, the fine actress here turning once again to directing, meets the matter head-on with a newly added prologue telling us not to fret it and by then ramping up the physicality and pace so as to let sheer energy carry the day.
And guess what: by and large the approach works, and even when it doesn't, the cast has generated so much good will that their own breathlessness prevails. Sure, purists may chafe at so much playing to the gallery (or, in the case of this wonderfully intimate venue, sometimes playing in the gallery). But once the Machiavellian cross-currents hit their stride, you stop asking why and give yourself over to wondering what japery this notably name-heavy ensemble will get up to next.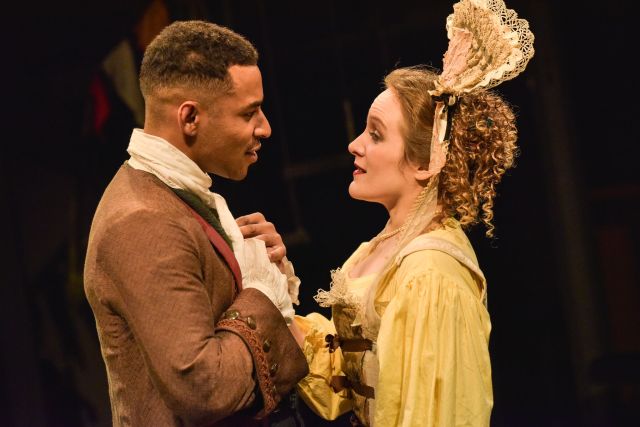 The duplicitous predator of the title is the aptly-named Maskwell (Edward MacLiam in the part taken by Robert Stephens at the National way back when), a sort of zestier Iago who fields the bulk of the set-piece soliloquies, often aiming them at a particular spectator: not in some while have I been singled out as "nice, scrupulous [and] conscientious," but I suppose I have Congreve to thank for that. Prone to deep bows that look as if his chin may hit the floor, MacLiam's likably animated anti-hero is nothing but trouble to his supposed friend, Mellefont (Lloyd Everitt), whose courtship of the demure Cynthia (Zoe Waites) is the motor of a busy, bustling narrative that more than once echoes Les Liaisons Dangereuses, but with a male innocent at its centre, not a female one. (Everitt and Waites pictured above)
"Where am I?", a dizzy Mellefont quite understandably asks midway through. Good question: it's this guileless suitor's misfortune to have become the unwitting object of a swirling intrigue that finds him both lusted after and loathed by an apparent nutter, Lady Touchwood (Waites again, doubling roles for no discernible reason). Small wonder that when Maskwell catches her in an embrace, it's not entirely clear whether he's going to ravish or strangle this onetime bedmate, or perhaps both. She's got a husband – the always-wonderful Jonathan Coy – disinclined to believe the fake news gathering around Mellefont, who happens to be his nephew. Still, even Lord Touchwood needs a moment or two to take a breather from the plot, on press night seeking relief in a front-row seat next to the actor Oliver Ford Davies.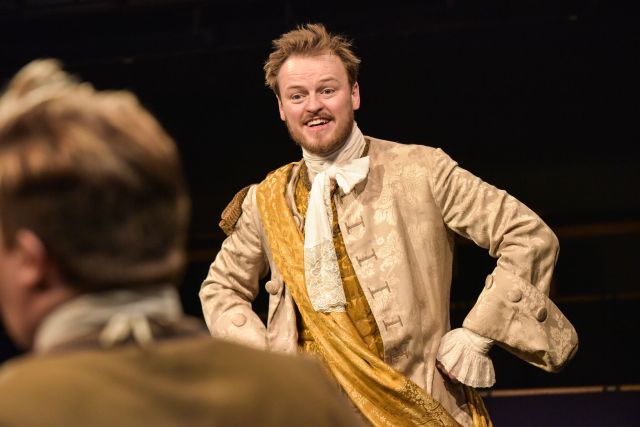 As ever with this genre, the characters' names tell pretty much all. And so we have Hannah Stokely in delicious form as a literary aspirant, Lady Froth, who all but browbeats her husband to go see their (offstage) young daughter. (Her magnum opus goes by the title, Syllabub.) Paul Reid's Lord Froth, in turn, is a grinning narcissist (pictured above) forever lapsing into song and, almost as frequently, French: "Allons," he says, before advising, "that's a bit of French there". The tendency is for grand entrances and almost as grand exits, Jenny Rainsford's swaggering Lady Plyant getting a round of applause as this verbal dominatrix disappears from view. ("I don't doubt that you have very good skin," she remarks to Dharmesh Patel's Careless, Mellefont's chum who is pretty much the only one in this erotic roundelay to show much – skin, that is.)
Cadell to her credit knows when to angle the impetus of the play toward one consideration or another of human malignancy, and one clocks all manner of resonances to the modern day in Maskwell's assertion that you can tear down in an instant what it takes ages to re-build. Lady Plyant, too, would seem to speak for the collective when she renounces humanity as "feeble" before collapsing grandiloquently to the floor. This Double Dealer gives you facial tics and breakneck moments – Jonathan Broadbent's inevitably-named Brisk at one point all but tears across the stage – but beneath the hi-jinks you can just about hear the ominous sound of a society waiting to go snap.
Even Jonathan Coy's Lord Touchwood needs a moment to take a breather from the plot, seeking relief in a front-row seat
rating
Explore topics
Share this article