Dear England, National Theatre review - filtering the national narrative through sport |

reviews, news & interviews
Dear England, National Theatre review - filtering the national narrative through sport
Dear England, National Theatre review - filtering the national narrative through sport
James Graham's life-affirming new play locates hope and feeling amid the ravages of defeat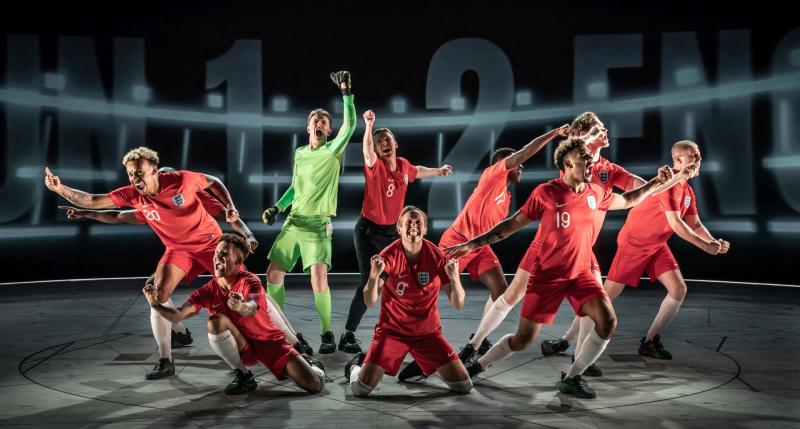 Teamwork: the cast of 'Dear England'
"Is everything loss?" the great Oliver Ford Davies once asked on the National's Olivier stage, in the closing moment of David Hare's masterful Racing Demon. That question informs another masterful play, James Graham's Dear England, newly opened in the same space.
This stirring portrait of Gareth Southgate (the remarkable Joseph Fiennes) and the England squad that he continues to lead takes the national temperature and finds it wedded to defeat; what's most remarkable is that the three-hour drama then dares to go the distance and insist upon hope because, well, what other choice have we?
The result is that actual rarity – a feel-good play that comes by its uplift naturally, with an aural assist, sure, from "Sweet Caroline" to chivvy things along in much the same way that The Motive and the Cue in the auditorium next door knows when to crank up the Handel. Like the Jack Thorne play, Graham filters real events that might be thought the province of a specific coterie and here finds in the religion that is football a universal appeal for us to simply be the best that we can. As Rupert Goold's exhilarating production doesn't quite put it, how you play the game is what matters most, not to mention how you lose, though of course actually winning is never a bad thing.
Southgate's failure to accomplish precisely that at the Euro 1996 penalty shot against Germany underscores the play – it's the psychic block that the team manager must push through so as to find a way forward. The arc of the play moves from Fiennes's indrawn Southgate, his anxiety writ large, to the inspirational figure who pens the 2021 letter to the players that gives the play its title. Not for nothing does Goold's freewheeling direction allow the likes of Boris Johnson, Theresa May, and Liz Truss to take (very funny) shootout kicks of their own. You leave both energised and moved by an experience that spills into the audience – we become the fans – and wondering whether Southgate might some day transfer his salvific way of being to politics.
Graham has always specialised in historical flashpoints and the makers and shapers of history, whether they be Rupert Murdoch shaking up English journalism in Ink or the adversarial pundits (Gore Vidal and William F Buckley Jr) of Best of Enemies, whose televised fractiousness devolved over time into the binary chaos that is the norm today. It's no surprise when this play picks up Southgate as his country is being rent asunder by Brexit. Perhaps, the play suggests, such fissures can find an embryonic healing in an England team knit together by deliveries of muffins for all, and a newfound emphasis on – shock horror! – shared emotions: that latter aspect is facilitated by the arrival in the team's midst of a psychologist, Pippa Grange, whom Gina McKee (pictured above) plays with a galvanising calm that stills the house.
Graham, too, likes plays about community: the politicos swarming the intrigue-filled corridors of This House or the believers, or otherwise, who form part of the orbit of Tammy Faye Bakker, the subject of his most recent stage collaboration with Goold. You don't get a more intricately bonded assemblage than the footballers on view here, each of whom is richly individuated in ways that go beyond a surface appreciation of their vocal qualities or the like. (Adam Hugill's instantly winning Harry Maguire is remarked upon for his height.) The actual sport is conveyed via expert mime and movement with not a single football in sight: all credit to movement directors Ellen Kane and Hannes Langolf.
The narrative finds Wayne Rooney being shown the door only to allow entrance to Harry Kane, whom the comedian Will Close plays with a wondrous ability to have you both laughing with the character and joining by proxy in the group hug that the players eventually allow themselves: if there is a breakout performer on view, it's the lanky, supremely likable Close, who by play's end has pretty well scooped up the entire house in his warmth and wit. I especially love the moment when he pauses to check whether the British did in fact win at Waterloo. (Um, yes.)
We hear a physio's report early on regarding the players' arrogance and note the sea change that takes place – a fatherless Marcus Rashford (the excellent Darragh Hand) explaining his superstitions to a keen auditor in Pippa, or Dele Alli (Lewis Shepherd) losing his rag at a moment of self-revelation and wondering whether he might have a possible career with only one name. Pippa hands out notebooks so the players can keep a journal, even as Gareth insists on being called by his own name and not "boss". Their symbiosis is seen to fray as Southgate's masculinity is derided and he is told to "man up" – though not before he fields a fatherhood joke, in conversation with the physio, that scores big. Racism isn't ignored (and, arguably, could be made more of), nor is the achievement of the Lionesses while the men, by contrast, languish.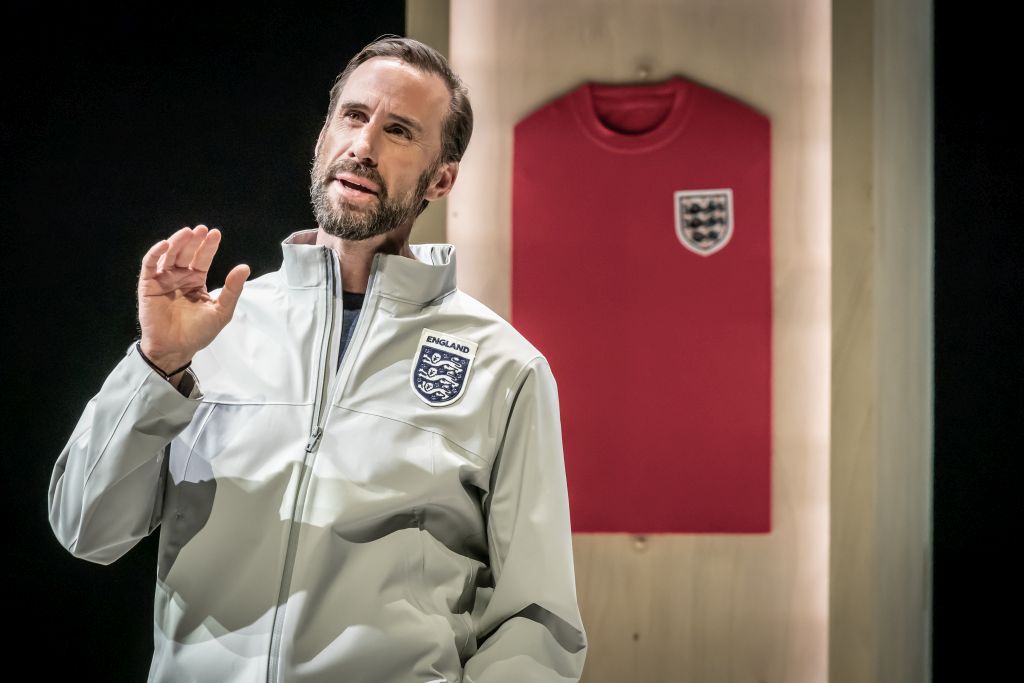 Es Devlin's haloed set consists of interlocking turntables that prompted a stumble or two on opening night but that sends lockers whooshing on and off, along with a dizzying area of characters including a sweary Greg Dyke (Tony Turner), the BBC supremo and former FA chairman, and "big Sam" (Sean Gilder), as in Allardyce: the interim manager whose negativity ("we've lost the will to win") encapsulates the prevailing mood against which Southgate must contend. (The real Greg Dyke was seated directly to my right and was quick to leap to his feet at the standing ovation.)
The invaluable Fiennes hasn't graced this stage since Trevor Nunn's production of Love's Labour's Lost twenty years ago, and his performance is going to be hard to better come year-end awards. It's not just that he looks so much like Southgate that you blink to make sure you're not seeing the man himself. More than that, he finds a quiet grandeur in the role well before we get a Shakespearean paraphrase about the "heavy ... head that wears the crown" to make the connection for us. Graham's research lists, to wounding effect, the numerous matches that England has lost in penalties, which is nothing against the loss of nerve that a single misplaced kick can wreak upon the psyche forever. Fiennes seems to understand this character to his very core and looked as moved by the press night response as we were by him.
The world is indeed a mysterious thing, as this quasi-shamanistic Southgate seems somehow to intuit. "Come fix England," he asks Pippa upon first meeting. The play's extraordinary achievement is to suggest that this impossibly tall order may in fact lie within reach.
The invaluable Joseph Fiennes finds a quiet grandeur in the role well before we get a Shakespearean paraphrase to make the connection for us
rating
Share this article