10 Questions for Playwright James Graham |

reviews, news & interviews
10 Questions for Playwright James Graham
10 Questions for Playwright James Graham
The author of This House on the arcane world of Parliamentary whips
Tuesday, 29 November 2016
James Graham: 'I'm aware that I look basically 14 years old. I think that disarmed them'
Coalitions make for drama, and for comedy. We know that from, respectively, Borgen and the final series of The Thick of It. It is little wonder therefore that soon after the 2010 election delivered a hung Parliament, the National Theatre commissioned a play. And yet the drama that emerged was not about deals struck in back rooms by the Cameron-Clegg government.
Instead,
This House
spirits its audience back to 1974, the year Labour embarked on five years' of horse-trading as it sought to govern the country with an overall majority of three.
James Graham was born in 1982, the year of the Falklands War. But his work so far suggests a fascination with post-war political history: he has written plays about Ted Heath's sexuality, Margaret Thatcher's youth, the Suez Crisis and the Winter of Discontent. For two nights only at the Donmar, as the nation went to the polls in 2015, his play The Vote portrayed a day in the life of a polling station. Last summer his play Privacy starred Daniel Radcliffe in New York. The germ for This House was a 2009 radio play about the vote of no-confidence which finally sank James Callaghan's government in 1979. Graham revisits its climactic moment in This House, when the Tory deputy chief whip Bernard "Jack" Weatherall (who later became Speaker) made his opposite number Walter Harrison an extraordinary offer: to pair up with a Labour MP who was too ill to attend the House. Had Harrison accepted, Labour would have survived the vote. As it was they lost by one.
In Graham's telling, an air of febrile desperation hangs over the entire Parliament
This House tells the story of the intense dramatics of the 1974-79 Parliament through the machinations of the two whips offices. The newly installed Labour whips have a battle on their hands to keep the party in line and also lure Liberal, Scottish, Welsh and Irish MPs – the so-called odds and sods - into the fold. Meanwhile the patrician, pinstriped Tories are just as adept at Machiavellian skulduggery. In Graham's telling (and as staged by director Jeremy Herrin), an air of febrile desperation hangs over the entire Parliament. Labour's John Stonehouse faked his own death and went to prison for fraud. Michael Heseltine in the midst of a heated inter-party dust-up infamously swung the mace after Labour were deemed to have cheated. The system of pairing was suspended, requiring doddery MPs to be wheeled and sometimes ambulanced in to vote. No fewer than 19 MPs died, while all three main parties changed their leaders, Jeremy Thorpe was tried for murder and, to cap it all, Big Ben ceased ticking for the first time in its history. By 1979, Old Labour's heart had stopped beating too and the Conservative Party had had a makeover.
For anyone intrigued by the cut and thrust and intensity of political drama, This House is richly rewarding evening in the theatre: it's nail-biting, jaw-dropping and, with Graham as ventriloquist, wonderfully funny. Its first outing was in the claustrophobic intensity of the Cottesloe in 2012 before it moved to the wide-open spaces of the Olivier. In 2016 the same production, with some of the National cast, has been on tour and it now arrives at the Garrick in the West End. James Graham tells theartsdesk how This House was built.
JASPER REES: The amount of research is hugely impressive. How much talking did you do and to whom, and for how long?
JAMES GRAHAM: To start off it took about a year, while writing the first draft, to get all the anecdotes, all the facts, all the research. It wasn't that easy, to be honest. In the end it was like bowling pins. Once the first one went down they all started going. As a lot of people know they have this code of secrecy and of honour whereby no whips publish memoirs, no one talks about the events that happen in that cabal. It's all about camaraderie and absolute secrecy. Because if you don't have absolute secrecy then you can't have trust (pictured below, Malcolm Sinclair as Humphrey Atkins)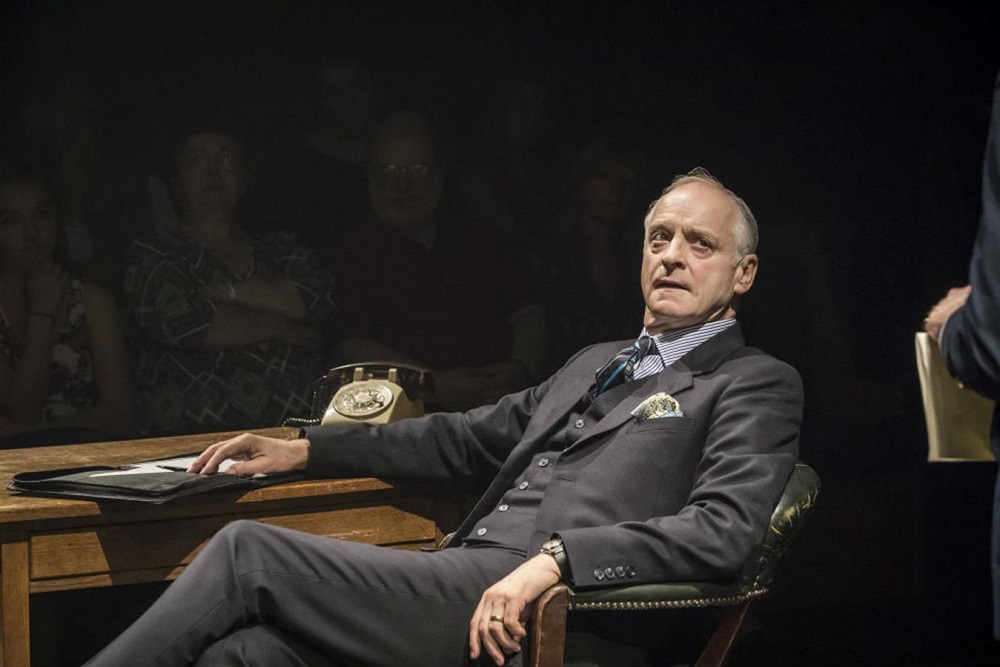 I spoke to junior members before I sort of hit the heart of it which was Walter Harrison. I built up a picture in my head of Walter, this legend. People spoke about him in Parliament as being the greatest deputy whip there has ever been and he became this figure for me that I was a little bit about anxious about finally meeting because I'd started writing the play. Once I spoke to him more followed. I spoke to Ann Taylor (pictured below, Lauren O'Neil as Ann Taylor in the Labour whips office) who is one of the very few characters alive from the Labour whips office and she was baffled about how I had got people to talk so openly. The truth is I don't know how I did it. My guess is it's nothing to do with my skill as a researcher. I think it's that period is far enough away now for people to start talking about it. She was great. She came in, saw a preview, and [came to] rehearsals in the Olivier and she just gave us a sense of atmosphere and tone and wherever possible encouraged us to be tougher and harder, to not worry too much about making people sympathetic because she couldn't stress enough how hard these men were and what a tough world it was.
I'm aware that I look basically 14 years old and I think that sort of disarmed them a bit. They weren't patronising me but it felt like they wanted to teach me and help me learn about the period, not like a schoolchild, but they started to find it exciting that I was interested and wanted to tell their story.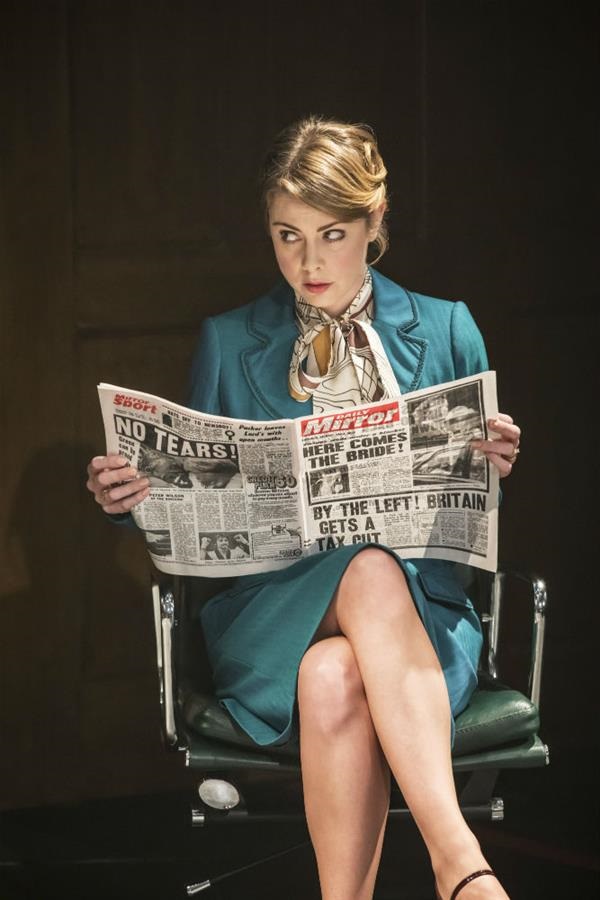 To what extent was the genesis of the play powered by the result of 2010 election?
Obviously a little bit, but not as much as I think people would assume. I had this play in my head for a couple of years. I'd come across the stories of how intense and pressurised that five-year Parliament was and I'd always thought that if you wanted to look at that building - Westminster - and if you wanted to test our system of Parliamentary democracy that we take for granted then this was the Parliament to do it in. Hopefully my aim was always to write a play that was more timeless and universal than just a response to this particular election. But it was only about two weeks after the election that I plucked up the confidence to knock on the National's door. I assumed they who would have a queue of the great and good British playwrights far more famous, older and more successful queuing up to respond in some way to the fact that we had a coalition government. I just wanted to chuck my hat in the ring in a way that was more interesting than just a piece of responsive theatre. For me it's just a no-brainer: if you want to get to the heart of people in politics then it's the whips office. It's where policies and the boring side of politics doesn't matter. It becomes about people with problems and flaws and weaknesses. And that's what drama is.
It could be argued that the play has less sympathy for the Tory whips than their Labour counterparts. How do you respond to that?
I am aware that people either assume my politics are to the left because the Labour whips in this story arguably are seen as the underdogs and heroes, maybe, that we're meant to root for. But I was so keen and passionate to try and make the Conservatives - in a way that you don't always see, especially in modern plays by young writers - more empathetic and engaging and human and it was a very conscious choice to make Jack Weatherall portray that decent honourable side to old-fashioned patriarchal Conservatism as a way in. I am aware that I have lots of fun and I don't apologise for it with the class boundaries that I think very truthfully did exist in the Seventies in Parliament far more than they do now. So conceivably yes, it might feel like I'm taking the piss out of lots of eccentric silver-tongued toffs. But some of the most enjoyable and most tender moments hopefully come with the Conservatives.
When did it become clear to you that you were writing a political bromance?
By the time I'd got to the third draft I realised that's what my story is. The hardest thing when you're trying to dramatise five years of trying to and often not passing legislation is what's your story? What's your spine? I was always aware that the two deputies, the Labour and the Tory, Walter and Jack, were the emotional arc of the play. The story about the pairing which is completely true only really came to light a few years ago and I got to speak to Walter Harrison about it before he died [in the autumn of 2012]. All around his house there were photos of him and Jack and the letters they wrote to each other following that day. Without getting sentimental I thought there was something touching and moving about two men from completely different backgrounds who managed to somehow connect over this divide. (Pictured above: Steffan Rhodri as Walter Harrison and Nathaniel Parker as Jack Weatherall.)
You make a point of saying that the climactic story - in which Weatherall offers to pair up with a dying Labour MP who cannot attend the vote - is completely true. That said, clearly the standard dramatic technique of conflating events and conversations was necessary. How much did you feel you needed to invent?
What you have are events and recorded moments but then in terms of dialogue, in terms of characters, in terms of how scenes play out, you have to invent that stuff. What I know is that Michael Heseltine grabbed the mace and swung it round his head and then the chamber exploded and people left. That's all I know so then you have to invent your characters' response to that. It's not even artistic licence because there's no choice. It's not recorded what people said. But to be honest it was just a writer's gift. I couldn't believe, the more I researched, how history itself had almost perfectly constructed a Hollywood structure to this Parliament. Everything from right in the middle, at one of the biggest crisis points, the clock flipping stopping and that being a symbol of how nuts and crazy this Parliament was. I couldn't believe it. You just think, come on, come on, this is too good. Certainly structurally I had to move very little around to make the story of survival work.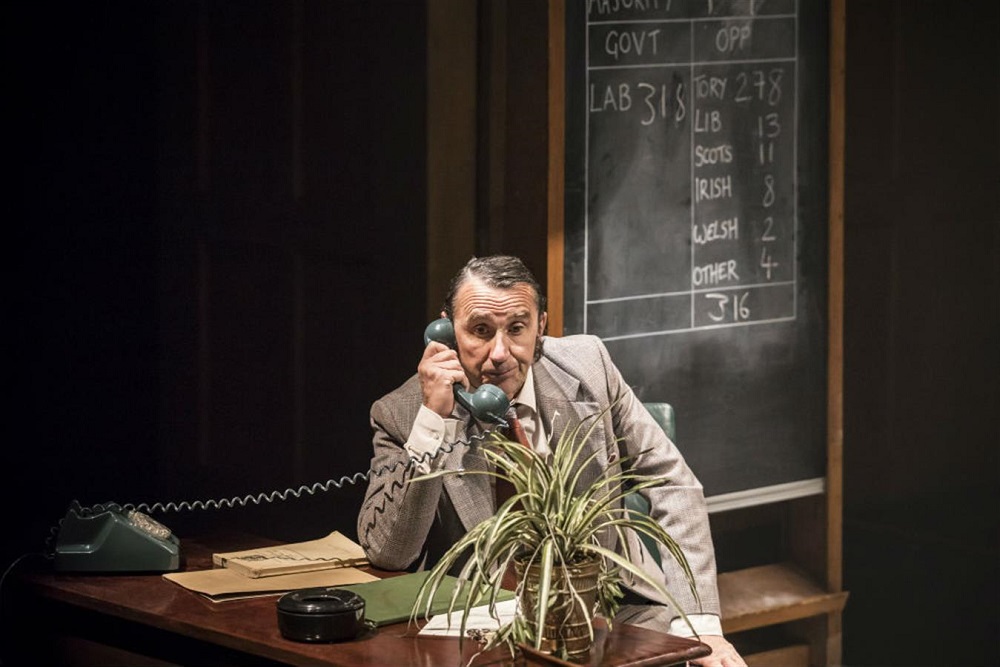 What was it about this particular Parliament that made you think that the five-year arc of this story was tailor-made – no pun intended (Weatherall being from a family of Savile Row tailors) – for dramatisation?
I think it's because it's both Britain but also Parliament at a crossroads. I joked about this a lot in the rehearsal room; we started to think of this as the prequel like in the Star Wars trilogy. We know our modern story from 1979 onwards. How did we get to that point? It's five years of a country and system ripping itself apart and questioning itself and just asking, who are we and does this work? For that reason the last five years of the Seventies represent a brilliant opportunity to tell really dramatic stories against the backdrop of a country with an identity crisis. (Pictured above, Phil Daniels as Labour Chief Whip Bob Mellish.)
The Parliament happened to coincide with a musical revolution. The play journeys from prog to punk. Could you talk about the musical choices and why you went for full performances of two David Bowie songs from Ziggy Stardust – "Rock'n'Roll Suicide" and the song with the gift of a title, "Five Years"?
You see people trying to work out who's who. I've never wanted it to be a guessing game
I do believe it's the responsibility of the playwright to imagine the whole package from imagery to music to audience experience, so I wanted the music of the period to infuse those dusty old corridors whereby it feels deliberately jarring to hear those guitar sounds where you're looking at a panelled, hermetically sealed world of privilege. There used to be far more – there were songs and snippets of things everywhere - and in the end it was the director Jeremy Herrin who focused it down to two particular moments. I'm not going to lie, they happened to be two of my favourite songs of all time so I feel a bit self-indulgent forcing people to listen to them every night. But again it's a gift. What was happening culturally and musically in the country feeds into this idea of a nation bursting at the seams and trying to break away for its past and ask where it's going in the future.
One of the pleasures of the play is that it celebrates the anonymity of the MPs, very few of whom are ever named. Instead you identify them by their constituency. That presumably is standard practice among whips. But was it also a dramatic device that you found pleasing too?
It actually was the starting point. When we were trying to work out what form to choose to tell this massive story, that was one of my very first decisions. I enjoyed the idea of an anonymous chorus of people where you just hear these names of these ancient villages and towns from across Britain. It feels like it creates a landscape of a very old country and speaks to the system which I know doesn't quite work as well as it should and certainly not at the moment, but there is something I find beautifully simple about the idea that every town, every village, every city, sends one member to represent them and they all come into this building. There was something about that I just wanted to represent through this device.
Also equally I felt as a writer I had a bit more freedom to ratchet them up, to free myself from the constraints of everyone going, "Oh that's him, oh that's her." You see people whispering to each other, trying to work out who's who. I don't mind that. But I've never wanted it to be a guessing game. Almost the opposite. I wanted a 16-year-old who knew nothing about politics to come in and almost feel liberated. You don't have to know that that's Ken Clarke. You just have to know that that's the member for Rushcliffe. In the Sixties that was one person. In the Seventies it's someone else. Rushcliffe will always be there but the people who hold that post will change. I didn't want people to care too much about the personalities.
There is a brief moment in the play where the two deputies compare the size of the notebooks they carry around with them everywhere. That is the only allusion in the play to the infamous tactic of keeping a dossier of members' secrets which they apparently deploy in order to whip mavericks into line. Why did you leave it out?
There used to be a big scene at the beginning where the chief whip shows all the different books. Quite notoriously there are books of peccadilloes and habits and weaknesses and little notepads outlining your enemies' hobbies and fantasies that you can use to bribe with. But it became clear that that feels quite familiar to people who have heard of the whips and know how they operate. Also that's not really what my particular story is about. That stuff is for when your whips and Parliament are operating quite normally and this is particular Parliament is like politics on acid and the rules go out the window. It becomes more direct and pastoral: you're face to face with people and more exposed and rawer than that. So I deliberately took out the more familiar stuff to replace it with more specific, crazy 1974-79 shit.
Did Walter Harrison (pictured above) manage to see the play?
He read a couple of drafts but unfortunately it was only about a week after we pressed that he passed away. This might be the family being kind to me, but they did say he had all the reviews spread out on the hospital bed and he was thrilled with them and some of the images that he saw of Philip Glenister [in the original National staging] marching around being him. So I hope that made him feel chuffed.
This House is at the Garrick Theatre until 25 February 2017
I couldn't believe, the more I researched, how history itself had almost perfectly constructed a Hollywood structure to this Parliament
Explore topics
Share this article