Cinderella, London Palladium |

reviews, news & interviews
Cinderella, London Palladium
Cinderella, London Palladium
Welcome return of pantomime to this iconic venue
Thursday, 15 December 2016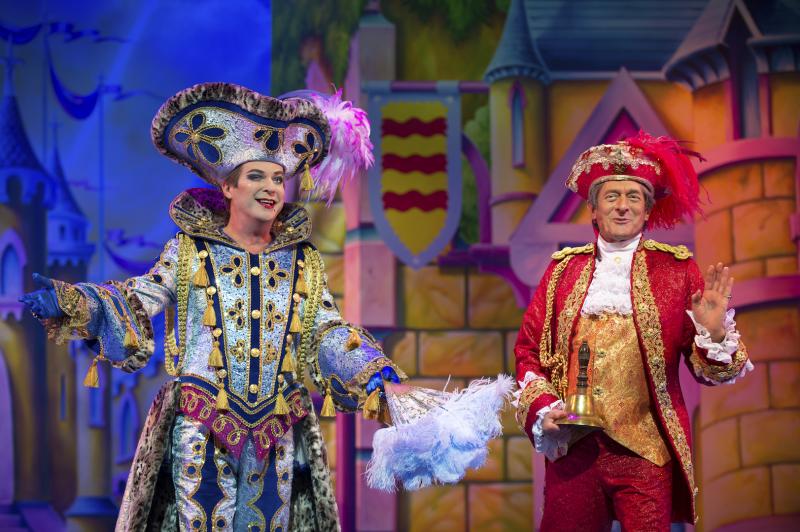 Julian Clary as Dandini and Nigel Havers as the Lord Chamberlain
What a joy it is to have pantomime back at the Palladium, the first at this glorious theatre in 29 years. And the producers of Cinderella have pulled out the stops; a star-studded cast, a large ensemble, fabulous costumes and a live orchestra make for a magnificent three-hour entertainment.
The creatives (writers Alan McHugh and David McGillivray, director Michael Harrison and choreographer Andrew Wright) have shown a similar lack of restraint in producing their pantomime story, stuffing it with more characters than it really needs – in order to accommodate, one presumes, their embarrassment of stars – and casting actresses rather than actors as the Ugly Sisters (maybe because in the leads Paul O'Grady and Julian Clary there was already enough gender fluidity going on).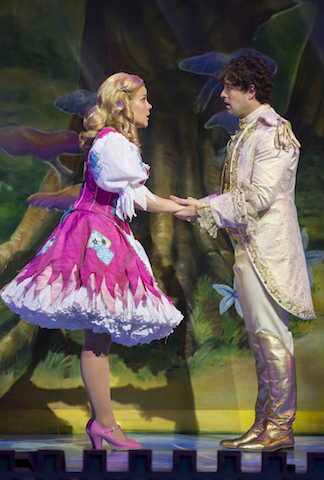 They have also dispensed with much of the forest scene – Amanda Holden's Fairy Godmother doesn't appear disguised as a poor old woman looking for firewood – and written a witty, self-referential script laden with nods to other pantos and West End shows. But, most of the time, this assemblage works mightily well.
The stars of the show are O'Grady, deliciously giving it the evils as Baroness Hardup, and Clary, in an array of outlandish sparkly and feathered costumes, as Dandini.
Their scenes together are a joy - but stretching our suspension of disbelief, the story is that Dandini and the Baroness were once sweethearts before he left her. If there's a dirty joke to be made, they'll make it. "I joined the RSC," Dandini tells the Baroness. "I did Two Gentlemen of Verona. They said they were from Verona, anyway..." Among the groaning puns for the children in the audience, there is much talk of balls and rings, and the fourth wall is constantly broken - and one senses the ad-libs have already started.
The stunningly dressed O'Grady might loosen out his proverbial stays as the run continues (although he gave his big musical number some welly last night), but Clary is already up for it (ooh er), riding into the audience in a flying Vespa and taking part in one of the knackering comedy set-pieces.
Lee Mead and Natasha J Barnes (pictured above) make a lovely couple as Prince Charming and Cinderella, and I wish they had more stage time together. Mead sings sweetly while Barnes brings some light and shade to her role; the scene where Baroness Hardup cruelly makes her tear up her invitation to the ball is genuinely moving.
Ventriloquist Paul Zerdin (with puppet Sam) gets the laughs as Buttons while handling all the audience interaction elements with aplomb. Nigel Havers as the Lord Chamberlain, meanwhile, steals every scene he's in, and the running gag involving him pathetically begging for more stage time is nicely played.
Not everything works; the transformation scene is rather clumsy and a let-down despite the animatronic flying horses (marvellous special effects by The Twins FX) pulling Cinderella's carriage, and some of the dance numbers are underwhelming, as are the Ugly Sisters (Suzie Chard and Wendy Somerville), while Count Arthur Strong (pictured above left with Paul O'Grady) is wastefully miscast as Baron Hardup.
This is not pantomime for purists, but if you like innuendo-laden camp humour (and I really do), it's a winner.
Cinderella is at London Palladium until 15 January