Michael Grade's History of the Pantomime Dame, BBC Four |

reviews, news & interviews
Michael Grade's History of the Pantomime Dame, BBC Four
Michael Grade's History of the Pantomime Dame, BBC Four
An affectionate history of the queens of misrule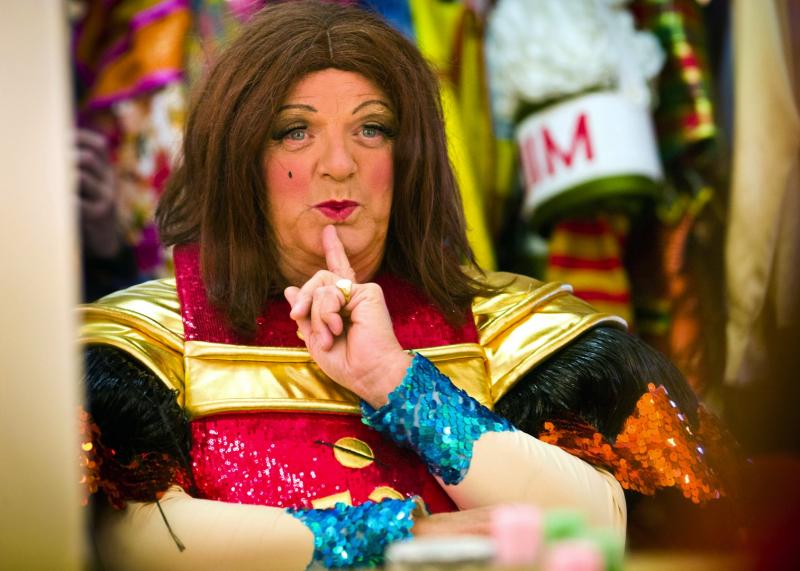 Ooh er missus: Michael Grade in frock and slap
There's nothing like a dame, as any panto fan knows.
Michael Grade's enjoyable history of the
pantomime
Dame was shot through with affection as well as a deep knowledge of the subject, as befits a member of one of variety's most influential families and someone who fell in love with the artform at his first pantomime, in which his aunt Kathy was performing as principal boy, when he was just a young lad.
Pantomime has a rich history of its own, with commedia dell'arte among its antecedents, and even if there are those who despise its popularity and commercial success, they should remember that David Garrick produced and performed in it, while Joseph Grimaldi was central to its development as comedic theatre. I'm sure this snobbery is something to do with the cross-dressing, in outrageous frocks and OTT make-up, which gives panto an air of the seaside postcard; Grade entered into the spirit of things by dressing up in Dame's garb (pictured as himself, below) and, as more than one contributor noticed, he was a natural playing a woman.
Grade gave a decent overview of panto's origins, and the part played in its development by Garrick, John Rich at Covent Garden and his great rival Augustus Harris at Drury Lane Theatre Royal, just around the corner. Rich was aptly named; he made an enormous success of his productions, and in the mid 18th century panto was raking in 10 times as much as Shakespeare for his theatre.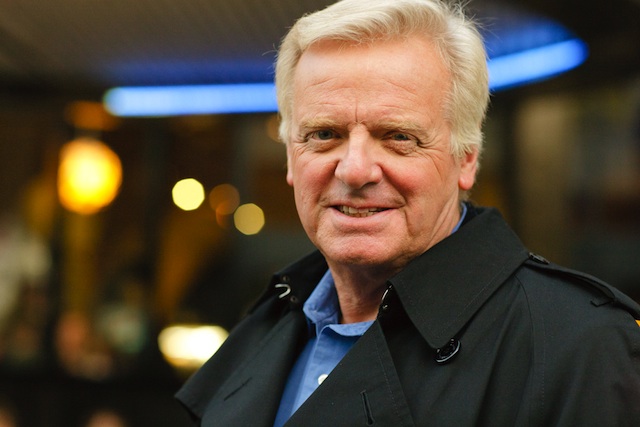 But it was Dan Leno - "the model for all Dames since" - who invented the Dame, or something very like the character we know today. An 1861 photograph showed that his Widow Twankey (originally Twankay, a cheap kind of tea) was quite plain in make-up and costume by comparison to today's Dames, but the basic elements of the character - naughty, knowing, queen of misrule - were already there.
Over the years the importance of the role has grown and Grade had good archive material of some great 20th-century Dames - including Terry Scott, Arthur Askey, Douglas Byng, Billy Dainty and Jack Tripp - talking about their craft, and some very knowledgeable talking heads (Gyles Brandreth, Matthew Kelly) on panto's history and significance in our culture.
They all made the point that the audience must always know that the Dame is a man and there was an interesting section about Danny La Rue, a female impersonator, who started playing her as a glamourpuss in sparkling frocks in the famous London Palladium pantos of the 1960s and 70s. Some Dames were not happy about him joining their number because they felt he was too much like a woman - or a heightened drag version of one, at least. It was lovely to see footage of the star-filled Palladium pantos, as sadly the last one was performed there in 1986.
There was a strangely brief contribution from Richard Briers, who told us only that he didn't llike playing the Dame at the height of his TV fame (celebrity casting has been a constant, way back to Garrick), and there were curious omissions - Roy Hudd, once a terrific Dame, a prolific writer of pantos and a noted historian of the form, and Christopher Biggins, a wonderful Dame still donning his false bosoms, I'm glad to say. There was, though, an extended contribution from Berwick Kaler, now in his 34th panto at York Theatre Royal, without doubt one of the greatest Dames of all, who spoke with unalloyed affection for pantomime.
This is perhaps too large a subject to be shoehorned into an hour, but Grade's unbounded enthusiasm and insider anecdotes made it great fun