Cinderella, Gillian Lynne Theatre review - a spectacular show that hits and misses |

reviews, news & interviews
Cinderella, Gillian Lynne Theatre review - a spectacular show that hits and misses
Cinderella, Gillian Lynne Theatre review - a spectacular show that hits and misses
A good night out, but with unrealised ambition to be rather more than that
Carrie Hope Fletcher and Victoria Hamilton-Barritt at loggerheads in 'Cinderella'
Belleville has lost its Prince Charming and, when his statue is graffitied, it loses its long held title as the most beautiful town, too. Its people fear the impact on their livelihoods and soon identify the gobby, gothy girl as the culprit – they go after Cinderella with actual pitchforks!
Her only friend is another misfit, Prince Sebastian, Charming's brother, who must now be married off in an extravaganza of a royal wedding in order to provide a circus to go with the hunky baker's bread.
And so, Cinderella, Andrew Lloyd Webber's new musical at the Gillian Lynne Theatre, gives the tale a makeover for 2021.
So far, so Cinders, but soon Emerald Fennel's book cracks open the mythos of the familiar story, though she never quite puts all the pieces back together again – the tone lurches, now-redundant plot devices hang in the air, characters change their minds back and forth. That said, Lloyd Webber's music and David Zippel's snappy lyrics smooth over the gaps in the plot's crazy paving and there's never less than a spectacular sight for wide-open eyes too long narrowed by squinting at a small screen, with Gabriela Tylesova's costumes a torrent of taffeta for the women with muscle-enhancing minimalism the look for the men. Elsa Schiaparelli meets Jean Paul Gaultier in pre-revolutionary France? Yes, please.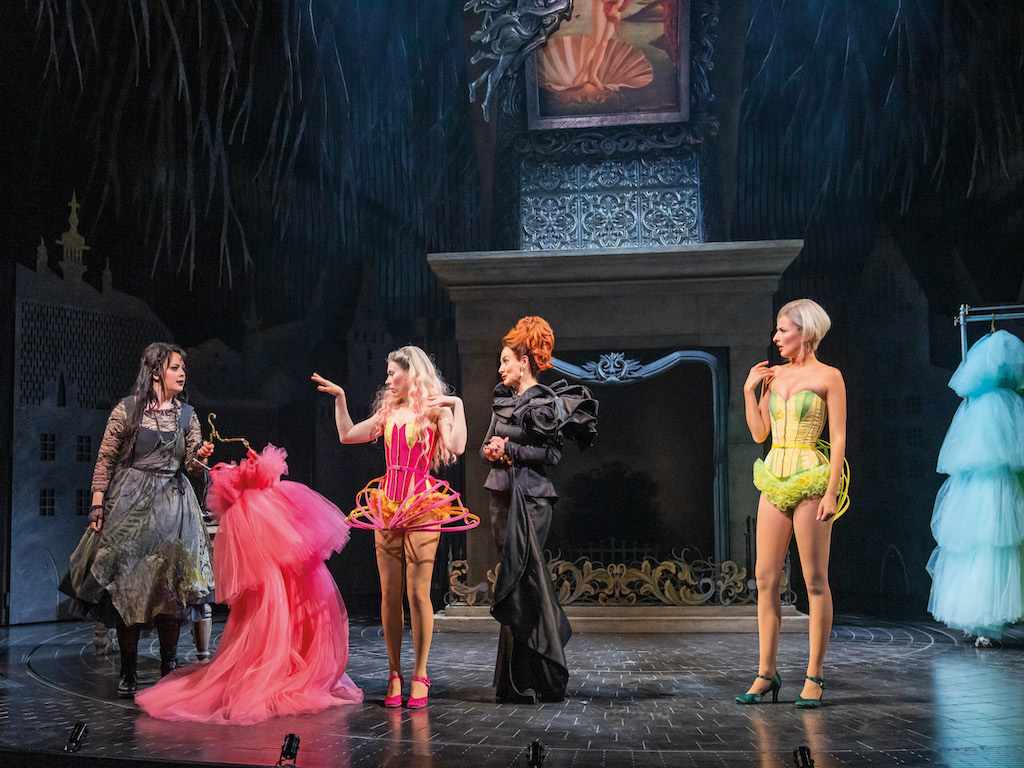 The story hinges the internal and external dynamics of three couples, how they attract and repel each other like toy magnets, whether they will stick or be rent apart forever. These sisters are beautiful, but only on the outside, their vanity, entitlement and cruelty showing that ugliness resides in the heart not the mirror. Laura Baldwin and Georgina Castle have the instagrammable looks and outfits and the mean girls vibe, and there's just enough pain shown in realisation that one sister (at least) will be rejected as a bride to suggest that there's more going on inside their heads than mere rampant egoism. It's a shame that interior life is little more than a hint, because they're left, as they are too often in pantomimes, as caricatures rather than damaged individuals.
This gruesome twosome of The Stepmother and The Queen get all the best lines and land every one
Much of the fun – and there's plenty – is generated by The Stepmother and The Queen, bravura turns from Victoria Hamilton-Barritt and Rebecca Trehearn. Older members of the audience will delight in the artifice of Hamilton-Barritt deep growly voice – it will remind of Mrs Thatcher in her more condescending tones, the voice adopted on the PR man's advice in order to placate voters turned off by her natural shrillness. Trehearn has more than a touch of Miranda Richardson's unforgettable Queenie from Blackadder II, the smug smile hovering on the decision as to whether she'd prefer to listen to herself a little more or listen to you a little less, so pleased is she with the power of her throne. This gruesome twosome get all the best lines and land every one. (Pictured above: Carrie Hope Fletcher, Laura Baldwin, Victoria Hamilton-Barritt, Georgina Castle)

They also come together for a perfect musical duel in "I Know You", a Parisian boulevardier's chanson that explores their shared past in the Pigalle and how the stepmother can use that knowledge to blackmail the queen into ensuring that one of her favoured daughters wins the hand of Prince Sebastian. Though they're both played broad (subtle this production is not) and the duo would not be out of place in pantoland, it's all done so well and with such charisma that the excesses are forgiven. And, it has to be said, both these (older) women certainly know how to get the absolute maximum from the gowns, Treheane terribly funny throwing about her red silk train when she stomps about in anger.
The central duo are Cinderella and Sebastian, Carrie Hope Fletcher and newcomer Ivano Turco. They have to do most of the book's heavy lifting in its re-imagining of the fairytale and it doesn't all work. They sing well, Hope Fletcher belting out the emotion on her showstoppers, "Bad Cinderella" and "Far Too Late", while Turco's more fragile voice perfectly matches the sentiment of "Only You, Lonely You". Neither can compete with the musical highlight of the show though, Laurence Connor directing the spectacular coup de théâtre that opens the second act, Lloyd Webber's gorgeous waltz superbly orchestrated, a luscious warm bath of a scene that may send more than just your head spinning (the ensemble, pictured above).
But this critical relationship never takes flight. Hope Fletcher and Turco generate no real chemistry, but they're never really given much of a chance, as Cinderella declares that marriage is not for her (until it is) and that looks matter only to the most shallow of individuals (until they do). Sebastian has to be simultaneously both a sappy milquetoast and a romantic hero and Turco (understandably) can't find it. These changes do not grow out of existential crises or the slow burn of enlightenment, they just happen and then co-exist with the previous personality that keeps butting in. Ultimately, we can't believe in their relationship because we can't believe in them. It doesn't help that the iconic glass slipper is retained but has no role in bringing them together (Sebastian just visits Cinders' house to find her), its crucial tension tossed away.
There's a couple of fine cameos from Gloria Onitiri as a magical plastic surgeon of a Godmother – though the whole point of the Cinderella character is that she stays true to the same dowdy, spiky awkward sod she always was – and Caleb Roberts, who proves that two men kissing on stage can still elicit whoops of transgressive delight from a audience, even though you can see it in plenty of tube carriages on the way home. It is 2021, after all. He insists that even royals "Marry For Love" – though the British press appear to be taking a contrary view re Harry and Meghan.
There will be plenty of punters who will wallow in the spectacle, enjoy the music and singing, and have the bloody good night on the town that is clearly the show's primary objective. But the ambition in taking on one of the most loved fairytales of all, one we're pretty much born knowing, and reconstructing it for the 21st century, is lost in a book that cannot resolve the contradictions inherent in its avowed iconoclasm. In that sense at least, the shoe doesn't fit.
Plenty of punters will wallow in the spectacle, enjoy the music and singing and have the bloody good night on the town that is clearly the show's primary objective
rating
Explore topics
Share this article