Carmen Disruption, Almeida Theatre |

reviews, news & interviews
Carmen Disruption, Almeida Theatre
Carmen Disruption, Almeida Theatre
Simon Stephens's new deconstruction of Bizet's opera is strangely, feverishly beautiful
Singer plays Carmen: Sharon Small in 'Carmen Disruption'
Playwright Simon Stephens has made a long journey. Starting off as a young in-yer-face writer, then pausing to mellow over slices of life, then winning awards with state-of-the-nation family dramas and teen plays, he has ended up by brilliantly adapting The Curious Incident of the Dog in the Night-Time. And yet.
Ever since his
Three Kingdoms
was staged here in 2012, in his heart has been the desire to be a Continental playwright – and Continental playwrights love to mess with, sorry deconstruct, the classics. So his latest,
Carmen Disruption
, is a free adaptation, billed as a re-imagination, of Georges Bizet's 1875 opera.
What's he done? Well, he's taken the original, put it on a wooden table and smashed it with a hammer into a hundred pieces. Then, after talking over four days with the mezzo-soprano Rinat Shaham (who has played the role of Carmen 400 times in more than 40 productions worldwide), he has taken bits of Bizet's original, smeared them with petrol, and then with lubricant, and built a small pyramid that smells of the contemporary, while gleaming with the deep darkness of an iPhone screen.
A great mash-up of a classic perfect for the age of the selfie
The resulting play has five solitary characters, whose names will be familiar to opera lovers, but whose lives are very different. Carmen is a rent boy; Don José is a female cab driver with a dodgy sideline in crime; Micaëla is a lost teen who feels suicidal; Escamillo is a global trader; and the Singer is an opera star who sings one role so often that she has almost become a globe-trotting robot. The setting is an anonymous European city, which looks the same as anywhere else, and the time is now.
Music is provided by mezzo-soprano Viktoria Vizin and two cellists, Jamie Cameron and Harry Napier, and Bizet's familiar tunes are given new lyrics and relayed in snatches. Just occasionally, a few lines of the original are sung (with translations popping up as surtitles). Centre stage, designed by Lizzie Clachan, lies a life-sized dying bull (pictured below), whose huge body gently rises and falls with his breathing. This is definitely a disrupted, a fractured Carmen.
Its central theme is loneliness. Although the characters bump into each other as they speed around the city, their paths cross, but they connect only momentarily. Each person is trapped in their skins; each attempts to reach out; each fails. Because of this, they narrate their stories directly to the audience, barely interacting, telling rather than showing. At its best, Stephens's text pulses with urban rhythms, its images and sounds glowing like neon. Emotion meshes perfectly with story and sense. It's a love letter to the city break.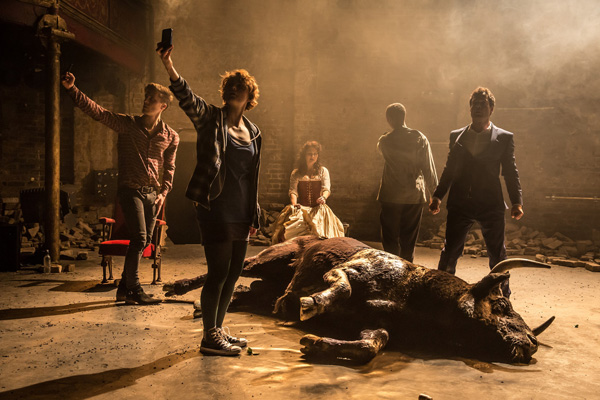 Some moments – as when Don José suddenly feels that she is known and understood when the person she is having tea with pours just the right amount of sugar into her cup – have a hallucinatory intensity. There is a description of a motorbike accident that is horrifically vivid. And, in Michael Longhurst's superb production, there are passages – the glitterball, Roy Orbison singing "It's Over" while the words roll by as surtitles, John Light's Escamillo giving out a spine-chilling roar – when the music, words and story blend in a kind of strange and powerful perfection. "Lonely sunsets after all..." Indeed.
At its worst, the text is occasionally a touch too declamatory and its piling up of contemporary references to the digital world can feel predictable, banal and déjà vu. Surely it's possible to have an alienated relationship today that doesn't involve internet sex. Isn't it? There's also something dark and disturbing about spending 90 minutes in the presence of five characters who are almost blatantly unsympathetic, but perhaps that is the point.
As far as adaptations are concerned, I have often bemoaned the timidity of British theatres – and advocated a much more radical attack on original texts. This deconstruction is so thorough and so extreme that it feels like my prayers have been answered (and, talking about Continental theatre, I was not surprised to see that this project had originated at the Deutsche Schauspielhaus in Hamburg last year). With a hard-working and convincing cast that includes Sharon Small (Singer), Jack Farthing (Carmen), Noma Dumezweni (Don José) and Katie West (Micaëla), this is a great mash-up of a classic which feels perfect for the age of the selfie.
Stephens's text pulses with urban rhythms, its images and sounds glowing like neon
rating
Explore topics
Share this article