10 Questions for Playwright Simon Stephens |

reviews, news & interviews
10 Questions for Playwright Simon Stephens
10 Questions for Playwright Simon Stephens
The celebrated dramatist on adapting his idol Chekhov's seminal work
Thursday, 16 October 2014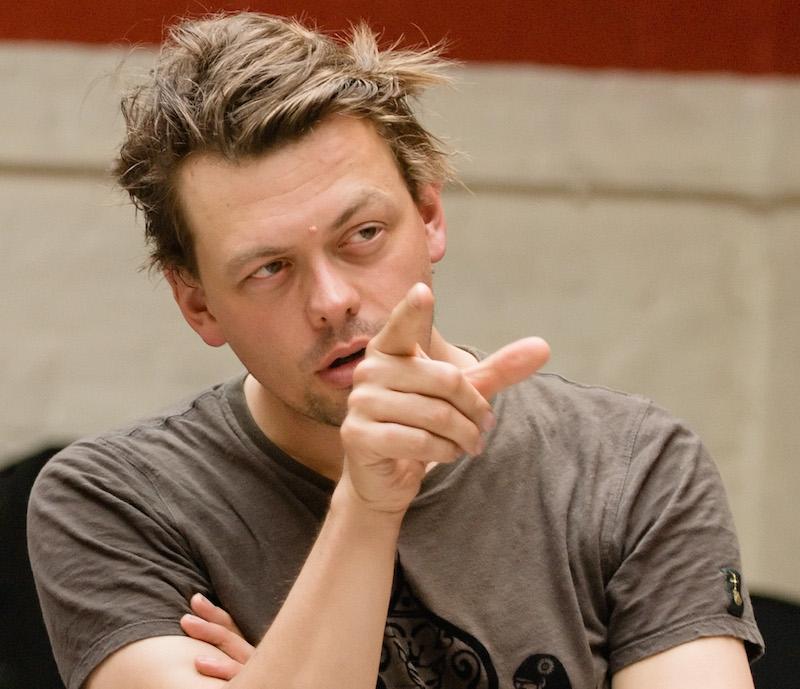 The write stuff: Simon Stephens conveys his vision
Fresh from global domination with The Curious Incident of the Dog in the Night-time, currently garnering rapturous reviews on Broadway, inexhaustible playwright and adaptor Simon Stephens has swapped Mark Haddon for Anton Chekhov and a new version of The Cherry Orchard, now previewing at the Young Vic.
It's not his first time bringing late-19
th
-century work to the venue, having enjoyed enormous success with
A Doll's House
in 2012, but it is his first time tackling Chekhov, who he readily professes is his all-time writing hero. No pressure, then.
Stockport-born Stephens, whose playwriting began alongside his history studies at the University of York, isn't just renowned for astute adaptations. Equally celebrated are his impassioned, cutting-edge original plays, from debut Bluebird (1998) to provocative work like Motortown (2006), Pornography (2007), Punk Rock (2009), The Trial of Ubu (2012) and this year's Birdland, which made a literal splash in Carrie Cracknell's Royal Court production. The latter is indicative of a career defined by inventive collaborations with trailblazing directors, and he reunites with one of them, Katie Mitchell, for The Cherry Orchard (the company in rehearsal pictured below by Stephen Cummiskey).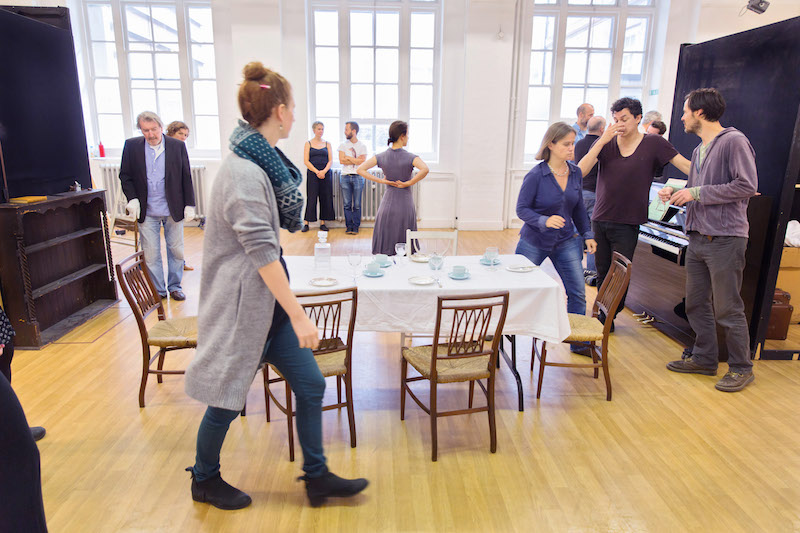 MARIANKA SWAIN: What was your first experience of Chekhov?
SIMON STEPHENS: I actually read Chekhov long before I saw any of his plays. I didn't really have a theatrical background, either as a child or in my twenties; I came to theatre fairly late. So my first experience of him was reading Raymond Carver's A New Path to the Waterfall – it's an anthology of poems and excerpts of other people's writing, including some of Chekhov's stories, selected as part of Carver's consideration of life and death. It's an extraordinarily moving collection.
That got me started, and then I must have read about 150 Chekhov short stories. In Russia, he's still to this day venerated as much for those as his plays, and it's easy to see why – they're shattering distillations of what it means to be human. I reread a load of them before embarking on The Cherry Orchard, particularly the ones he was working on around that time, like "The Black Monk" and "My Life". They're brilliantly funny, and completely devastating. My relationship with Chekhov is like Leonard Cohen's "Tower of Song", where he talks about this mythical tower in which every songwriter who's ever written resides – "Hank Williams hasn't answered yet/But I hear him coughing all night long/A hundred floors above me/In the Tower of Song". Playwrights choose their own tower of playwriting, making heroes of Shakespeare or Brecht. I sit at the foot of Chekhov's tower, a hundred floors below him – he's everything that I want to be as a writer.
How has your response to his work changed over time? Do some themes have more resonance?
Absolutely. I've lived through things like marriage, parenting, becoming more aware of mortality. I'm 43 now, so not far off the age Chekhov was when he died [he died at 44] – when he talks about ageing, that's something I have a more direct relationship with now. The same with marriage and love: I understand the gravitas of those things in a way I didn't before. He writes so perceptively about the mess and contradiction of life, and that really strikes me now, whereas when I was in my twenties, my life hadn't properly started yet. Returning to those stories and plays now, I'm even more in awe of him.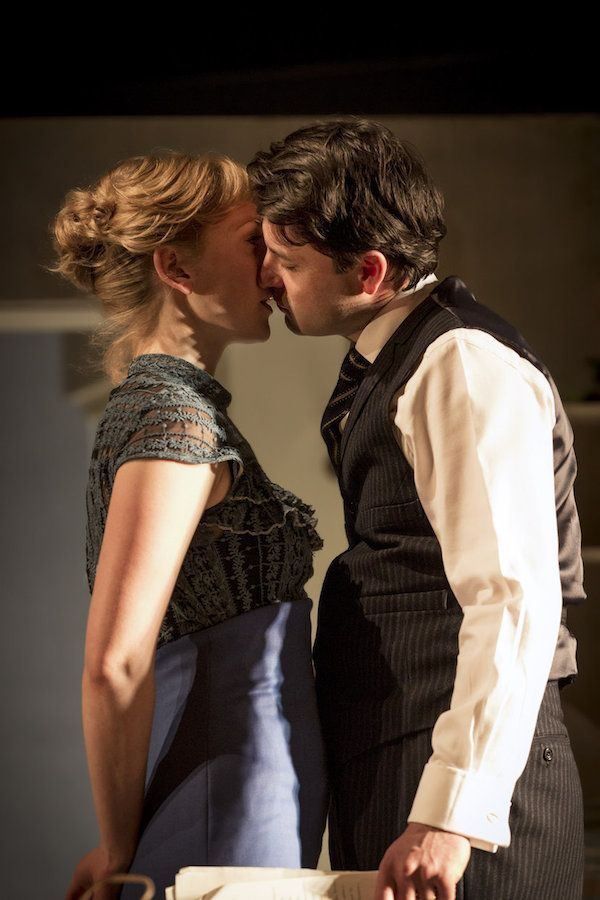 Is it intimidating to adapt the work of someone you admire so much?
Massively intimidating! Actually when Katie [Mitchell] first asked me to take this on, I said no – I'm not good enough, old enough, skilled enough, wise enough. I still think that. But turning it down was even more unthinkable. What's amazing when you adapt is that you get an experience playwrights rarely have, but directors get all the time. Sean Holmes, artistic director of the Lyric Hammersmith, told me what he loves about directing is living in someone's else's imagination – getting to enter the writer's world – and of course, actors do it for a living. Usually, as a playwright, you're very isolated, just wandering around in the loneliness of your own imagination, but when you adapt, you get to understand the choices that great writers have made, like when I worked on A Doll's House (pictured left by Johan Persson) I was able to glimpse the route Ibsen took. Taking on The Cherry Orchard, I've come to understand the brilliance of Chekhov's decisions. Making art is making a series of decisions, and his are just flawless. It's still daunting, and really I'm left with a sense of how much my own work suffers by comparison!
Did you look at other adaptations of the play?
I did for A Doll's House, but actually not for A Cherry Orchard. In my twenties and thirties, I lived with two magnificent incarnations of it: one by Jean-Claude van Itallie – he's an American writer who did wonderful adaptations in the 1970s – and a great version by David Lan, who, ironically enough, is now the Young Vic's artistic director, so he commissioned me to do this one! Pretty intimidating. I didn't really need to return to them, though, as it's a work that's hugely ingrained in me. Actually, there's a new production of my old play Christmas coming up at the White Bear pub theatre, which is basically The Cherry Orchard in late-1990s east London. I've lived with it for so long. But I did read Tom Stoppard's Ivanov, John Donnelly's The Seagull – that was a massive inspiration – and Christopher Hampton's Three Sisters and Uncle Vanya, so that I could get a sense of how the great adaptors made their versions.
Is there an intrinsic Chekhovian voice you try to retain – pattern of speech, rhythm?
I don't have Russian, so I can't approach it like Michael Frayn, who's an incredible Russian linguist – that's just not an option open to me, engaging with the language in that way. So I worked from Helen Rappaport's brilliant literal translation, and basically went through line by line trying to make it actable, or speakable. But my loyalty to Chekhov runs deep, so at every corner, I checked in with what he was doing, writing, thinking, to try to honour his intention – that's far more crucial than the literal turn of phrase.
Was fidelity to Chekhov important to you?
Definitely, and Katie was tremendously keen to maintain that fidelity in rehearsal, but it's also unapologetically my version. It's like with A Doll's House: I didn't change the structure, or story, or characters – they're as true in my adaptation as in the literal translation – and I've done the same with The Cherry Orchard (the company in rehearsal pictured above by Stephen Cummiskey). But I also wanted to translate the spirit of the play, and articulate what he did to me with it. There's no such thing as totally objective adaptation; you have to honour the subjective spirit of the work. What we think of as the truth is actually assimilation – people assimilate to communicate.
I took the play and communicated it with as much clarity and economy as I could. It's shorter than the original, because we live in a different theatrical culture. In Chekhov's time, plays would go on for several hours, you'd have 45-minute intervals after every act for people to go off and have dinner and a bottle of wine, and critics would publish reviews between acts. A night at the theatre was a very different experience. That meant lots of repetition and exposition, to remind the audience of what's happened in case they've forgotten. I took loads of that exposition out, and our production comes in at just one hour 50. It also helps that contemporary audiences are very speedy at reading what's going on, so they don't need all that signposting and reminding. We've made it as lean and economical as we can, while retaining what we perceive as the spirit of the play.
One of the big debates in mounting Chekhov's work is whether it's meant to be comedy or tragedy. What was your approach?
It's a really key question: why does he describe it as comedy? We've had lots of lively responses to that one. David Lan is very interesting about this. He talks about how Chekhov had an Aristotelian definition of comedy, so a play isn't a comedy because it's funny, but because the characters fail to understand the gravity of the situation and the truth of it in the way the audience does. Most of the characters in The Cherry Orchard remain in profound denial, which for us is agonising and heartbreaking, but in that Aristotelian sense, it's comic.
I talked about it a lot with Katie, and we agreed on the version we wanted to create. Finding comedy, in the sense of it making you laugh, was definitely key, and when I was writing I realised that it is tremendously funny. But we were also struck by the meaningful role of children in the play, and the impact of the loss of a child, which I've returned to in my own work – recoverability from grief. That's something that really interested Katie, which spurred me on to give it a lot of thought. I've always felt I'm working for her, writing a play for Katie, and articulating her vision as much as Chekhov's.
How much of the adaptation process took place during rehearsal?
Well, I wrote and delivered my version, and Katie (pictured left in rehearsal by Stephen Cummiskey) was tremendously happy with it, very supportive. But then we kept working – it wasn't just "Job done". Katie's a genius of many things, and one of them is thoroughness. Her notes on the text were incredibly thorough, and she would push back at me on word and line choices right through the rehearsal period, making sure it was alive, lean, active. I found that totally thrilling – she's a truly exceptional director, and it was a rigorous creative experience from start to finish.
Did you consider the context of Chekhov's work, or focus more on the context you're writing in today?
I definitely thought about the fact that The Cherry Orchard is written just 10 years before the First World War breaks out, and 13 years before the Russian Revolution, so it's a culture on the cusp of a catastrophe that it couldn't understand or foresee. I actually think there are major resonances between that culture and our culture now – we're living in a period of tremendous futility. I haven't yet lived through the defining catastrophe of my lifetime in the ways playwrights who lived through the First World War did, but with all these political tensions, terrorism, disease, something awful is about to happen. The Cherry Orchard was written in that same culture, on the brink of something world-altering. That idea really became our central investigation of the text.
What have you learned from adapting Chekhov that you'll take forward into your work?
Trusting silence. What's masterful in the play is that there are all these ideas bubbling away under the surface, and yet Chekhov never articulates them – they exist in the spaces between what people say to one another. When I look at my own plays, what I now realise is that they have far too many words in them! I aspire to that economy of language. I want to hold my nerve and let my ideas be dramatised in the gaps between lines rather than me articulating them in speech. I believe that's the source of Chekhov's enduring power.
There's no such thing as totally objective adaptation; you have to honour the subjective spirit of the work
Explore topics
Share this article