First Person: Simon Stephens - the contemplation of kindness |

reviews, news & interviews
First Person: Simon Stephens - the contemplation of kindness
First Person: Simon Stephens - the contemplation of kindness
A journey to the North, into the playwright's past, provides the genesis for 'Light Falls', opening at the Royal Exchange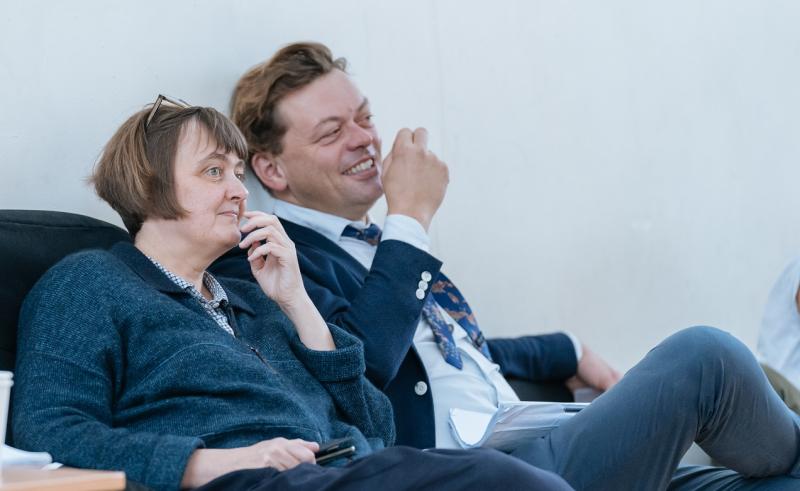 Sarah Frankcom and Simon Stephens in rehearsal for 'Light Falls'
Light Falls is the sixth play that I have written for the Royal Exchange theatre in Manchester and the fourth that its outgoing Artistic Director, Sarah Frankcom, will direct.
She directed On the Shore of the Wide World, Punk Rock and Blindsided. In many ways Light Falls marks a culmination of a collaboration that has informed my working life and a return to ideas I have been interrogating in that collaboration.
I was born in Stockport and lived there until I went to university when I was 18. I live in London now and have done for 25 years. The relationship between the two places continues to define my imagination and my understanding of England. In the aftermath of the London Olympics in 2012, an event that electrified the East End of the city where I have raised my children, I was haunted by the sense that the differences between the financially inflated capital and the rest of the country were becoming pronounced.
With that investment, the financial ruptures of the economic crash of 2008 barely seemed to touch our neighbourhood. Instead we saw a handful of new cafes and pubs and restaurants and shops pop up around us. But the more I travelled outside London the more the heft of that collapse seemed legible and the more that economic disparity seemed oddly brutal.
That oddness and that brutality seemed like it might be the start of a play.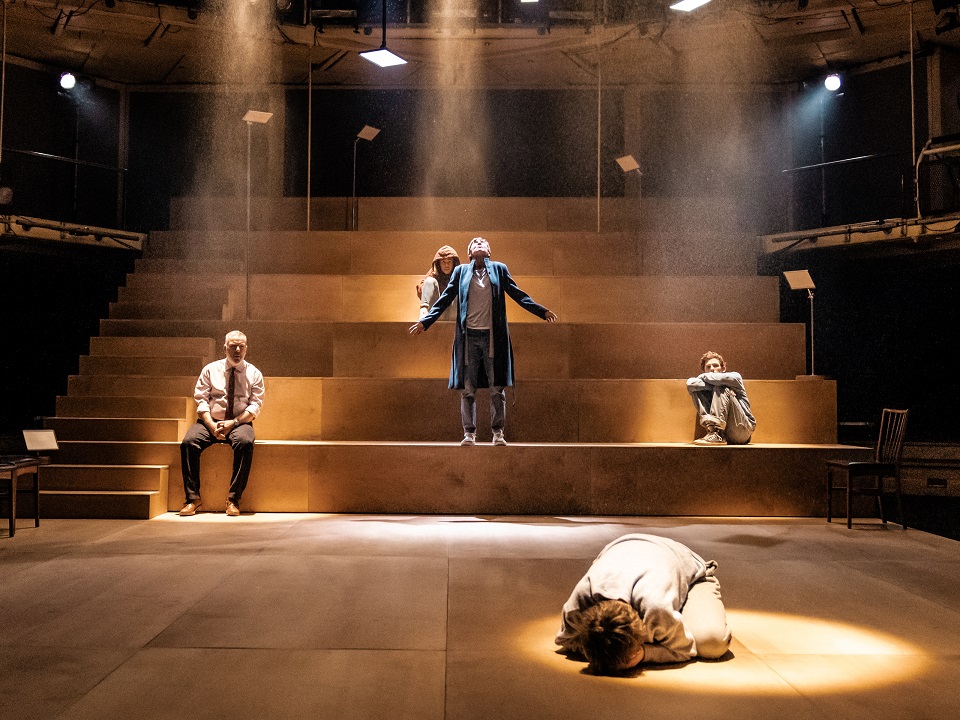 In that it would be a play that explored the North and in that it would be a play built around the characteristics of humanness best served by the Royal Exchange's round, it felt right to me that it might be a play that I would write for Sarah and for her theatre. I went to speak to her about it. I told her that I wanted to go on a road trip.
I wanted to go to five places across the north of England that I had never been to but that in some way made me the person that I am.
My grandparents met at the Winter Gardens of Blackpool Tower. My mother was raised, by my grandmother, in Ulverston in Cumbria. My Dad worked for much of his life as a salesman in Warrington. Later he worked, and became quite ill through his use of alcohol, in Doncaster. My Uncle became the first person in our family to go to university when he studied law at Durham. I wanted to go to all five places.
And I told Sarah that I wanted her to come too.
So she did.
We went to each of those places together and in each of the places we set up meetings with people whose lives in some way echoed the lives from my life before I was born. We met a young couple, newly married in Blackpool. I met a couple of single mothers in Ulverston. I met a businessman in a hotel in a business park in Warrington. We went to a remarkable community in Doncaster – a dry housing estate, especially committed to working with people recovering from alcoholism. We went to Durham University and met students at the law school there.
We went on the journey in Spring 2017. It was the first year since the referendum decision to leave the European Union and that tear in the fabric of the country felt fresh then. It was also a country that felt, in the high streets of Doncaster and Blackpool and the farms of Ulverston and the closed shops and bars of Warrington and Durham, to be heaving under the weight of half a decade of austerity.
This political context was fundamental to Light Falls.
It seems that suspicion and mockery are the default political discourses now
The conversations that Sarah and I had on the journey defined my thinking. We talked about the shows we had made together. Light Falls is infused by all them. We talked about my re-reading of Ted Hughes's Tales from Ovid because I had a hunch there might be something in them for me to use. We talked about the Terence Davies films I had been re-watching and Paul Morley's mesmeric The North that I had been plundering.
And we talked often about my increasing fascination with kindness.
If Light Falls marks a continuation of a collaboration with Sarah and a commitment to a theatre that has defined my working life it is in its consideration of kindness that it may mark some kind of progression in my work.
In many of my plays I have used drama as a means of exploring the human capacity for savagery. It strikes me that one of theatre's most humane functions is that it might allow a shared space for such exploration, to better equip us for dealing with such savagery in our lives, as a means of exercising our empathy. For me theatre is a machine for empathy.
In the past five years I think something has happened with kindness in this country. It seems that suspicion and mockery are the default political discourses now. Kindness has, in a way that has taken me completely by surprise, become a politically radical position. And yet, again and again, I found kindness defining the lives of all of the people that I met on our trip. Light Falls an attempt to dramatise the bravery of that.
In the past five years I think something has happened with kindness in this country
Share this article