The Busy World Is Hushed, Finborough Theatre review - new play puts the G-word centre stage |

reviews, news & interviews
The Busy World Is Hushed, Finborough Theatre review - new play puts the G-word centre stage
The Busy World Is Hushed, Finborough Theatre review - new play puts the G-word centre stage
Religious faith, family tragedy and gay love make an unholy trinity in this European premiere
Opposites attract: Mateo Oxley and Michael James in Keith Bunin's New York-set three-hander
God makes few appearances at the modern playhouse – so few that the Finborough Theatre saw fit to print a glossary in the programme for its latest production.
God makes few appearances at the modern playhouse – so few that the Finborough Theatre saw fit to print a glossary in the programme for its latest production. What begins with Agnostic, Annunciation and Aramaic runs all the way to Spirit Guide, Utopia and Vespers, which gives some idea of the breadth of reference to be found in this tightly constructed three-hander by New York writer Keith Bunin.
Hannah (Kazia Pelka) is an Episcopalian minister (the US equivalent of Anglican), wont to accessorise her clerical collar with combat pants and sneakers. She may be a fervent Bible scholar, but she is also a woman of today who loathes the stained-glass windows in her church-owned apartment. A decorous image of the Annunciation looks, she says, "like Gabriel's come down to tea with the Princess of Monaco".
Contracted to publish her commentary on a newly discovered Coptic Gospel dating from AD 50 – it could be the ur-text of St Matthew's and St Luke's – Hannah hires a ghostwriter, Brandt (Mateo Oxley). He's a thoughtful young gay man whose scepticism qualifies him for the job more than his CV. "It forces me to be more rigorous," Hannah reasons.
Brandt is currently caring for his terminally ill father and, under close questioning from his new employer that surely contravenes every workplace protocol, confesses that his search for a sexual partner is, for the moment, on hold. This fails to allow for the re-entry into Hannah's apartment of her wayward son, Thomas (Michael James), who quickly detects Brandt's romantic potential. Nor does it deter Hannah from deliberately fanning the flames. If Brandt and Thomas become an item, then Thomas is more likely to stick around and give up his risky, self-lacerating expeditions – a lost-in-the-Catskills version of 40 days and 40 nights in the wilderness. She suspects these are prompted by a burning need to learn more about the father he never knew, and whose unnaccounted-for death may have been suicide.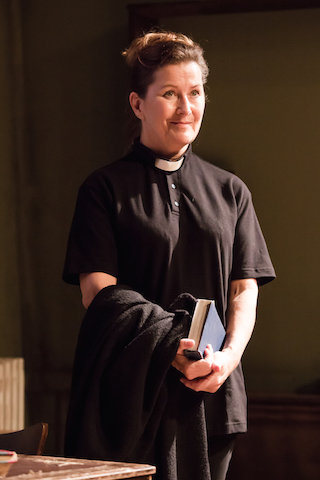 It's the mark of a well-made play when you arrive at the interval with no idea where it is heading, though in this instance you may have a hunch that a meddling mother will get her comeuppance. But Bunin is a writer of wit, subtlety and no small degree of courage, and the play not only tackles changing family and sexual mores but dares to rake over the ashes of age-old theological arguments: why God allows pain and suffering; the Bible as literary construct versus the official word of God; and whether, ultimately, unwavering faith isn't merely a useful carapace, a refuge from the storm.
Paul Higgins directs with a sure touch for the sensitivities of this odd trinity of struggling souls. He is aided by outstanding talent in the two men, highly contrasted but equally sympathetic, who together generate a sexual charge that makes the air crackle. James's first entrance as Thomas, hotfoot from one of his outdoor escapades, bleeding and skewered by porcupine quills, is electrifying, and the hysterical monologue that follows a comic tour-de-force. The quieter Oxley is just as magnetic, revealing by degrees the struggle to maintain his own fragile equilibrium while trying to broker a truce between mother and son.
Disappointingly, Pelka is miscast as Hannah, who convinces neither as a New Yorker nor as a cleric whose faith is under attack. On the play's first outing, in New York in 2006, the role was played by the late, great Jill Clayburgh, whose bemused face beamed a complex intelligence in every part she played. A hard act to follow, for sure.
The Busy World is Hushed at the Finborough Theatre to 25 November