Betty Blue Eyes, Union Theatre review - musical revival pigs out on nostalgia
Betty Blue Eyes, Union Theatre review - musical revival pigs out on nostalgia
New production of the West End show based on the Alan Bennett film is perhaps near its sell-by date
Telling porkies: Sam Kipling and Amelia Atherton in 'Betty Blue Eyes'
People can't find the food they want in the shops. Nobody has enough money. Public services are under pressure. And there's a big Royal occasion to take our minds off things.
England 2023? Nah, England 1947, as rationing applies to meat and fruit rather than toilet rolls and lemonade and it's Princess Elizabeth and Prince Philip's wedding rather than their eldest son's coronation that is bringing out the bunting. Based on the much-loved Alan Bennett film, A Private Function, and 12 years on from its West End run, Betty Blue Eyes is the tale of a pig that's not kosher, and nor is the situation in which she finds herself: the unlicensed but lovable livestock surreptitiously fattened for the festive function.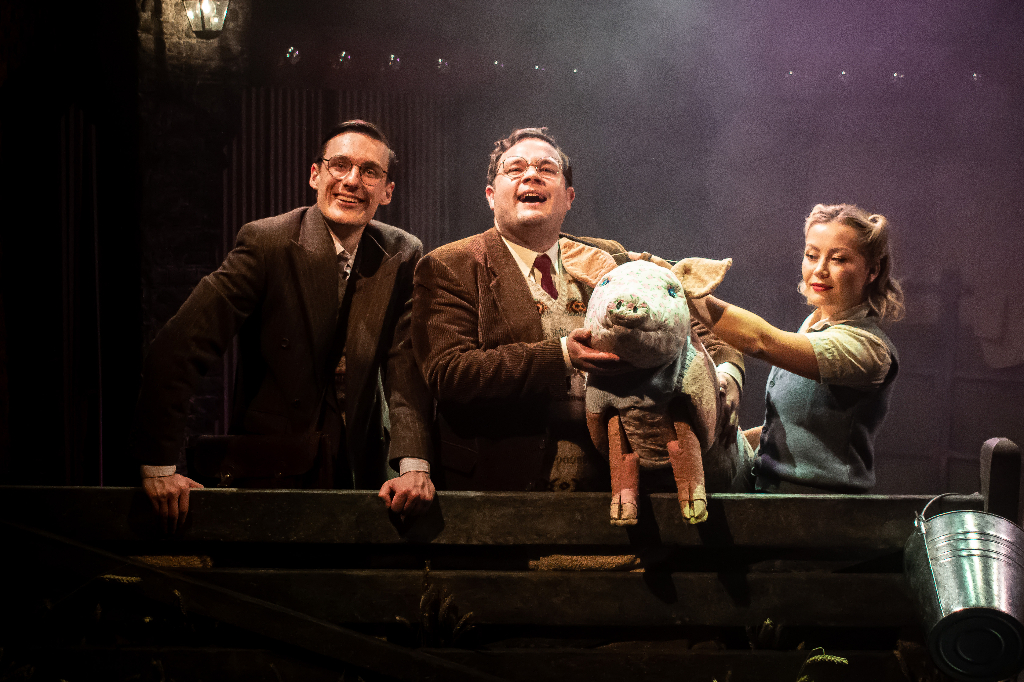 Cue a musical comedy that, though it has a book by two Americans (Ron Cowen and Daniel Lipman), stays pretty close to the English obsessions of class, hen-pecked husbands and smalltown Yorkshire status anxiety. Is that enough for these "Red Wall" times in which the ground is ever-shifting under political loyalties and identities are blurring between pasts and present and even rationing (disguised net zero policies and postcode lottery health services) is back on the agenda? That's a lot to unpack for a show that places entertainment front and centre, but there's a missed opportunity to hint more explicitly how the themes of post-war austerity are playing out today. The nostalgia that underpins the production warms rather than bites, the satirical possibilities going unexplored.
Gilbert Chilvers (a sweet-natured and sweet-voiced Sam Kipling, pictured above with Josh Perry and Georgia Boothman flanking Betty) attends to the feet of his hard-grafting female clientele, and would be happy doing so until every corn is excised, every toe-nail clipped. But his wife, Joyce (an assertive Amelia Atherton), is experiencing a bit of buyer's remorse, falling for her chiropodist in the aftermath of a bombing during which he literally swept her off her feet. Her social background is a notch above his and she has dreams of soirées with Rotary Club members, fostering that crucial ascent out of the lower middle class and into the middle middle class - the stuff of so many 20th century British comedies on stage and screen. She's a snob, but someone hard to condemn as life is slipping her by.
Dr Swaby (Stuart Simons), the local panjandrum and gatekeeper of the near-impermeable class boundaries, is already seething about the new-fangled NHS's ethos of fair shares for all (the title of the splendid opening number, ostensibly about food rationing, but dangerously socialist in its general sentiment) and isn't about to invite a mere chiropodist into the charmed circle, but the pig that will provide the banquet's pork has bad trotters that need fixing and Gilbert is the man. Egged on by his wife, he, quite literally, brings home the bacon, and cuddly Betty's fate becomes entangled with the ill-matched couple's own.
In the support cast, David Pendlebury goes full "'Allo 'Allo" Nazi as Inspector Wormold, and Georgia Boothman imbues the puppet pig with charm to burn. Kasper Cornish keeps everything moving with some energetic choreography, making the most of a well-stocked company, and the pace is maintained throughout.
George Stiles and Anthony Drewe have written a pleasing score, delivered with real verve by Aaron Clingham's three-piece band, the best songs the farce-inspired "Pig, No Pig" and the ensemble pieces that open and close the show. Between times, the singing can be a little variable and one has the feeling that solo numbers will benefit from the singers relaxing into the run and really opening their pipes to fill a space that is always that little bigger than it initially appears.
On her return to in-house productions after the long covid break, Sasha Regan has directed another crowdpleasing musical revival at a venue that specialises in finding shows audiences may have missed first time round - the same composers' "Honk!", for instance, some six years ago. Whether this particular mix of charm, nostalgia and comfortingly familiar comedy tropes leavened by a strong, if not hit-laden score, will bring back its loyal audience remains to be seen. I suspect they, like me, may look forward to something rather more meaty.
Another crowdpleasing musical revival at a venue that specialises in finding shows that audiences may have missed first time round
rating
Explore topics
Share this article