Accolade, Finborough Theatre |

reviews, news & interviews
Accolade, Finborough Theatre
Accolade, Finborough Theatre
A rediscovered play offers a timely critique of social hypocrisy
Saturday, 05 February 2011
Emlyn Williams may have been dubbed the "Welsh Noël Coward" and the action of his long-neglected Accolade may take place in a drawing room, but there's little of the smiling social comedy to be found here. Trading sparkling cocktails and repartee for whisky and unpalatable truths, Williams's play exposes the pinstriped hypocrisy of 1950s society – a society that will press its powdered cheek to all manner of sordidness in the name of Art, while recoiling from even a passing acquaintance with the workaday squalor of its members. Frank, and more than a little apt, the result is a stylish morality play that smuggles a progressive liberal agenda in under its cassock.
Public lies and private lives are at issue here, as we join celebrated novelist Will Trenting (Aden Gillett) on the eve of his investiture ("Even the flowers smell of success"). Loving wife, wholesome son and Nobel Prize all present and correct, the bourgeois fairy tale is interrupted and the drawing room's sanctum breached by two East End acquaintances with noisy talk of parties in Rotherhithe, where the lure of "rowdy, communal, unblushing sex" has taken Trenting regularly from his family duties.
Revelations about Trenting's Jekyll and Hyde tendencies multiply, and (while the explicit issue here involves an underage girl) the openly bisexual Williams pursues an only faintly veiled agenda about the prejudices and preoccupations of his age. With Alan Johnson's resignation still fresh in the mind, and fascination with William Hague's sleeping arrangements still not forgotten, this first revival of the play couldn't be more neatly timed. That it could have found pertinent appeal at almost any time since its premiere, however, only serves to reinforce Accolade's case.
In trying to reconcile "a brothel above an East End pub and a Nobel Prize", the play takes an astonishingly direct approach. Denouncing the cheap promises thwarted by coy cinema fade-outs, Williams pushes beyond and into the blackness, exposing the fragile significance ("Odd how impressive a symbol can be") of public life and its jarringly selective values.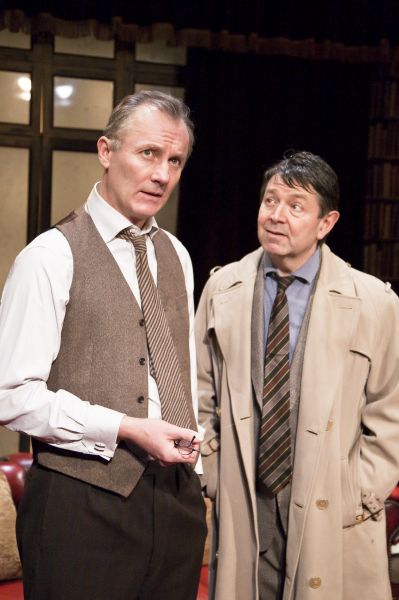 For a work about under-age sex, orgies and scandal it's all rather heartwarming stuff, pulling back at the very last moment from the rather bleaker conclusion surely preordained from the opening scene. The too-understanding wife Rona (Saskia Wickham) and loyalty of publisher Thane Lampeter (Patrick Brennan) chafe against the grain, yet under Blanche McIntyre's light-handed direction do become almost polished into the action.
Framed in the book-lined intimacy of James Cotterill's set, Gillett leads a cast who play to the Finborough's studio space without losing the broader shape of the work. With some self-consciously slick dialogue – "Shall we dispense with the press clippings and get down to the blackmail?" – and comedy, the play could pass effectively enough as a series of artful encounters. That it manages to hold these within a coherent narrative is down to the detail of the performances.
Gillett makes for an appealing anti-hero, striving visibly against the conventions that set his instincts at war with his education. With his swift movements and swifter mood shifts, his physical tension within the confines of the set plays off against Wickham's softly accommodating (if perhaps a little too assured) calm. Bringing just the right amount of animal energy as Trenting's after-hours associates, Simon Darwen (Harold) and Olivia Darnley (Phyllis) balance vulgarity with unsophisticated kindness, quietly thwarting expectation.
In a performance of whispering, oozing bitterness as failed blackmailer Daker, The Archers's Graham Seed (pictured above with Aden Gillett) pulls off a minor miracle. Pathos whines irritatingly in the air, refusing to be swatted aside by his kowtowing humbuggery and alcoholic weakness. He finds his counterbalance in Ian, Trenting's school-age son (Patrick Osborne, controlling much of the show's comedy as the innocent source of dramatic irony and screw-turning emotion). Gangling and oblivious, his ingenuousness is deftly handled, undercutting the humour of his disillusionment ("Did you set fire to some ladies, father?") with disquieting physical sincerity.
Part of the Finborough's "Rediscoveries UK" season, Williams's play here makes a strong case for its readmission to the canon. A curious counterpart to the unspoken tensions being played out in this year's Rattigan anniversary stagings, Williams's explicit confrontations offer a welcome alternative – period artifice framing distinctly progressive values.
Explore topics
Share this article