3 Winters, National Theatre |

reviews, news & interviews
3 Winters, National Theatre
3 Winters, National Theatre
Love and war in impressive saga of a Croatian family across three generations
Thursday, 04 December 2014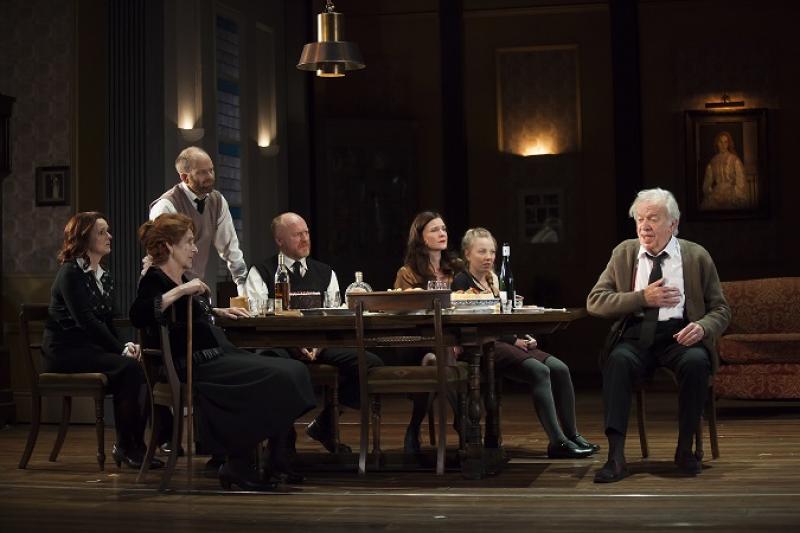 Funeral feast, 1990: the Kos family gathers on the eve of the break-up of Yugoslavia
The single spacious room that is the central location of Tena Štivičić's 3 Winters has seen plenty of ghosts. It's part of an old Zagreb mansion, and through the course of the play witnesses the diverse events of Croatian history of the last 70-odd years played out in miniature. Three overlapping time-schemes chart the full rotations of surrounding society: from the war-end move towards Communism in 1945, through 1990 eve-of-break-up Yugoslavia, and on to 2011, not long before EU accession. We may not literally see anything on either side of these three eras, but the action is implicitly bookended on either side by periods of capitalism, and we feel them: a pre-WW II type that was later tainted by its wartime collaboration with the Nazis, and the "new Croatia" variety that's come by fast money through dubious means, and isn't any more certain about its values.
Štivičić has certainly aimed high in her ambitious family saga that brings public events into private life, and vice versa, and director Howard Davies proves her natural partner (his wonderful Bulgakov adaptation The White Guard remains fresh in the memory). But the first thing that impresses here is Tim Hatley's design, a series of moving screens crossing the front of stage (they also perfectly conceal the nimble stage dressing that goes on behind them), with projected film images showing the often traumatic recent history of Croatia: the bitter end of World War II, the stability of Tito's Yugoslavia, the break-up and ethnic inter-fighting of the Nineties, and finally, the cosmopolitan Zagreb cityscapes of the present day. Dominic Muldowney's music contributes a suitably Balkan, though thankfully understated atmosphere.
The interactions between the two sets of sisters are among the play's most powerful elements
Arguably, these newsreel images (video design, Jon Driscoll) sometimes dominate the stage action. Štivičić's writing excels at monologues (those that close both halves are masterful), and she's got a very sure ear for the play's frequent comic intonations. Given the complex range of characters, it takes a while at the beginning to establish just who is who, and some of the dialogue interaction didn't feel entirely natural last night, as if some of the cast weren't yet quite in the skins of their characters, though the second half grew in fluency (and the whole piece may well settle down with time).
A short introductory 1945 opening scene, away from the play's main location, explains how the rest of the action will move there: Rose King (Jo Herbert) has spent the end of the war with the partisans in the woods and, now returned to the city, she's offered her choice of new accommodation, literally to select a set of keys from the hundreds that are hanging in a cupboard, each belonging to a newly-appropriated property .
The one she chooses has a personal significance, as we discover when she moves in with her husband Alexander, whose own war service, while not that of a collaborator, means that his record remains tainted in these new times, and their baby. With them is Rose's mother Monika (Josie Walker), who'd once been a servant in this very house before she was thrown out, setting in train a difficult life for her daughter from which Rose has emerged with a firm belief that the country's new post-war ideology will bring better times for the people.
From that first generation we cut forward to the third. It's 2011, and the eve of the marriage of Lucia (Sophie Rundle in this episode), Rose's granddaughter: by now that first generation has passed away, and the family name has been changed from King (a moniker chosen in reference to the hopeful days of the early Yugoslav monarchy) to Kos. It's supposed to be a celebratory family gathering, presided over by Lucia's voluble father Vlado (Adrian Rawlins) and long-suffering mother Masha (Siobhan Finneran), who was the baby of that very first arrival, along with Masha's sadder, more complicated younger sister Dunya (Lucy Black). But the presence of Lucia's sister Alisa (in the 2011 episode, Jodie McNee), who's long relocated to London and is now set apart from her family life not only by that distance but by her occasionally fractious attitudes, means that there'll be conflict as well. The interactions between the two sets of sisters, Masha and Dunya, and Lucia and Alisa, are among the most powerful elements of 3 Winters, making clear that Štivičić is much interested in the changing roles of the women over the decades. (Sophie Rundle, left, as Lucia, and Jodie McNee as Alisa, pictured, above right).
Elucidating the whole family saga risks being long-winded, but mention of the middle period, 1990, seems necessary. It's the night of Rose's funeral, and family and friends have gathered after the ceremony. The disintegration of the family entity has already begun, given that Dunya has come home from her new life in Germany with her husband (whose later fate will prove revealing), as has that of the nation of Yugoslavia itself. And there's an "extra" member of the family – the truth of that term is hinted at as the action progresses, and movingly confirmed in a final scene: Karolina, the daughter of the original aristocratic household, a lost wanderer who made her way home there in 1945, and has come back to imposing life in the intervening years (she's well played by Hermione Gulliford in youth, Susan Engel in age). Karolina's continuity is accented not least by the fact that her portrait hangs on the back wall throughout the play.
Štivičić links the diverse elements of her story skilfully, the full nuances of her story resounding incrementally as the play proceeds – and, indeed, after its conclusion – even if we may wonder occasionally if its more natural habitat might be a novel rather than the stage.
3 Winters speaks powerfully about struggle and endurance, and the speed with which the changes of history rupture the everyday patterns of human life. It's most strongly caught in the performances of Finneran as Masha and Rawlins as her husband Vlado, who have clearly been through both personal and public upheavals in the course of their long married life. "We were not brought up for uncertainty," Masha (Siobhan Finneran pictured, above left) says wistfully in a late scene, movingly articulating the sense of sheer loss that afflicted the older generation all over Eastern Europe (and the Soviet Union, too) when the Berlin wall came down. The generation of her daughters was young enough to adapt to change and assimilate new circumstances in their different ways.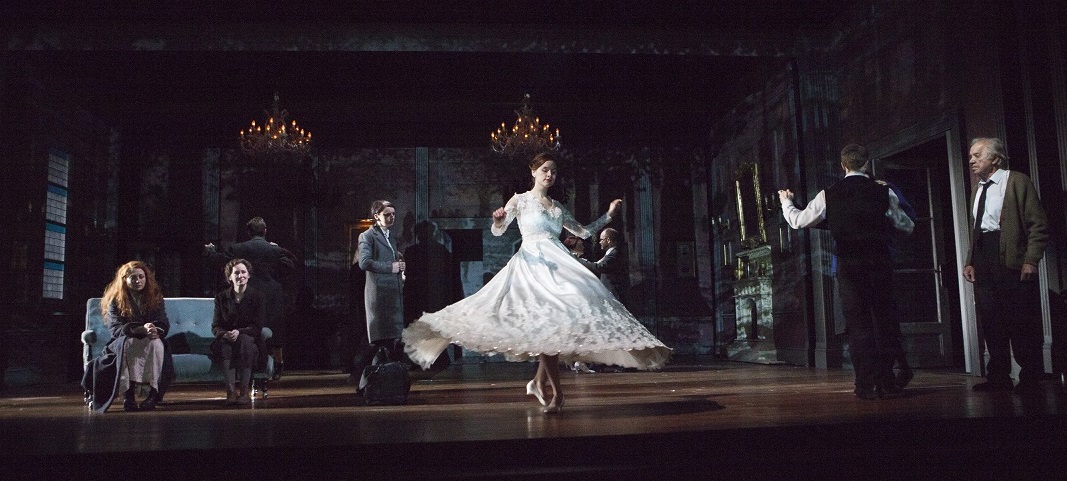 Conflict remains, however, as witnessed by the final broken tableau (pictured above) that's a lovely closing directorial touch from Davies, who thus chooses to end on a sotto voce note. When we think around it, however, we realise that conflict was probably always there, as it will be in any extended family living together in a crowded communal space. But Štivičić makes one thing painfully clear: how heavily the hand of history has fallen on these lives.
The play speaks powerfully about struggle and endurance, and the speed with which the changes of history rupture the everyday patterns of human life
rating
Explore topics
Share this article
Subscribe to theartsdesk.com
Thank you for continuing to read our work on theartsdesk.com. For unlimited access to every article in its entirety, including our archive of more than 10,000 pieces, we're asking for £3.95 per month or £30 per year. We feel it's a very good deal, and hope you do too.
To take an annual subscription now simply click here.
And if you're looking for that extra gift for a friend or family member, why not treat them to a theartsdesk.com gift subscription?