The Silver Tassie, National Theatre |

reviews, news & interviews
The Silver Tassie, National Theatre
The Silver Tassie, National Theatre
Piercing production of Sean O'Casey play about the ravages of war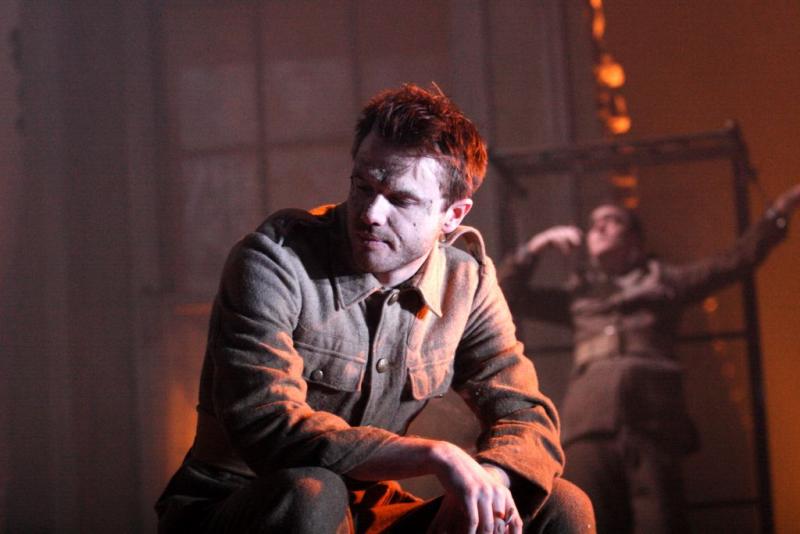 Oh what a lovely war? Ronan Raftery, extraordinary as the bitter Harry Heegan
"I don't think it makes a good play, but it's a remarkable one," Sean O'Casey famously remarked of The Silver Tassie, his late-1920s drama about the depredations of war, and how simultaneously right and wrong he was. To be sure, his four-act play set before, during, and after the ravages of World War One isn't "good" if one is referring to something theatrically tidy and manicured and all of a piece.
But "remarkable" only begins to describe the affect of a text that peers headlong into the abyss and dares an audience to come along on that traumatic (and, in stage terms, altogether vital) ride. And director Howard Davies meets the challenge with one of the "total theatre" National productions in which he has long specialised. The evening won't be to all tastes, and there were a few press-night interval walk-outs, but those who share the author's sense of adventure - not to mention his empathy - are likely to emerge in some tiny way transformed.
As with Arthur Miller's A View From the Bridge, Tassie is a lesser-known O'Casey play that London has done well by as and when it has appeared. The Almeida had a 1990s highlight with Lynne Parker's intimate revival, and I have fond memories in 2002 at the Coliseum of the Mark-Anthony Turnage opera: a logical art form for a play that weaves music into its fabric to an almost unparalleled extent. Indeed, the second of its four acts, set in and around an unnamed battlefield that Davies and his superlative design team fill with the sound and fury of combat, comes close to oratorio, and it is this act - with its deliberate abandonment of theatrical convention - that traditionalists find contentious, the result resembling a searing mix of Beckett, the Bible, and Oh! What A Lovely War, in which the disfigured sing through bandages and we get a crabbed yet incantatory recitative on nothing less than "the valley of dry bones". (Pictured below, a scene from Act Two)
Davies's achievement is to find multiple throughlines that begin pre-conflict with a giddy celebration (local boy Harry Heegan has again won the silver tassie, or trophy, for his football team) only to land us in the middle of war before moving next to a hospital ward and arriving back at a civilian life given over to party balloons and emotional ruin. Harry by that point is no longer the easefully charismatic golden boy we've seen at the start; having in combat lost the use of his legs, the town charmer has surrendered to the toxic self-belief that he has outlived his own life, reduced as he is to careering about in his wheelchair hurling imprecations at an apparently heedless deity: "Dear God, this crippled form is still your child," he lets rip, and Ronan Raftery's masterful performance ensures that we mark out Harry as a once-blessed young man whose life has been forever blighted.
Indeed, the characters' relationship to Himself is as cunningly charted as their ever-evolving dynamics among one another. One notes the way in which the God-fearing Susie Monican (Judith Roddy) - the community scold, or so one feels - softens her rhetoric as the play continues even as she seems to harden her heart: there's scarcely a more chilling moment than her remark, casually delivered near the end, that the wounded men are pretty much all the same. And whereas the neighbouring Mrs Foran (Aiofe McMahon) lives in first-act fear of a Stanley Kowalski-style husband, Teddy (Aidan Kelly), who thinks nothing of smashing up their home, she's comparatively carefree three acts later for one simple reason: Teddy has been blinded in battle, so can no longer pose much of a threat.
O'Casey's avoidance of sentimentality is at times almost shocking, not least in a climactic encounter in which Teddy and Harry compare debilities, Harry's grief compounded by the fact that his one-time fiancée, Jessie Tate (Deirdre Mullins, superb), has linked up instead with the same pal of old, Barney (Adam Best), who now refers to Harry as "a half-baked Lazarus". Adding to the sense of gathering apocalypse is a remark from Teddy that could have come right out of King Lear. "Our best is all behind us," he remarks, the comment amplified by Kelly's matter-of-fact delivery of so bleakly decisive a view.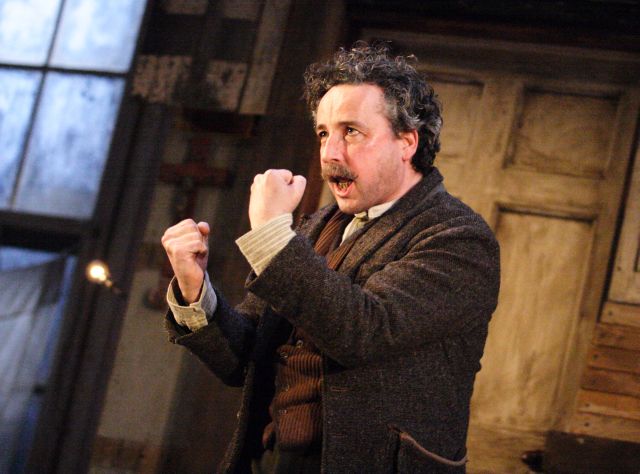 The entire cast is united in a vision of a play that erupts in design terms during its neo-expressionist second act. Neil Austin's lighting lends a sulphurous fury to Vicki Mortimer's epically bombed-out set. Juno and the Paycock - Davies's earlier O'Casey venture at the National - possessed nowhere near this current production's power, but there's more than a trace of Juno's pre-Beckettian double-act between Joxer and Captain Jack in the antics of Aidan McArdle (pictured above) and Stephen Kennedy as a pair of quasi-vaudevillian chatterboxes.
A word, too, about Stephen Warbeck's music, which unexpectedly finds rap-like rhythms to accompany the wartime scene's hellish inferno, a slide into chaos that Harry later - and unforgettably - references as he sings a desire to "keep from sinking down": the eternal language of resilience wedded to a melodic line one might associate with the late Pete Seeger. That Harry's wish isn't granted is to be expected from an overwhelming play that time and again pauses to tell us that "where there's life, there's hope". This peerless production may leave you wondering whether that oft-quoted precept is always true.
The Silver Tassle in repertory at the National Theatre until 3 July
O'Casey's avoidance of sentimentality is at times almost shocking
rating
Explore topics
Share this article