The White Guard, National Theatre |

reviews, news & interviews
The White Guard, National Theatre
The White Guard, National Theatre
Superb ensemble and witty new version of Bulgakov's satire
'Many of Bulgakov's characters are unsympathetic, but they are never anything less than entertaining'
It takes a particular talent to poke fun at the Russian Revolution and its aftermath, a conflict that cost millions of lives and led to one of the most brutal regimes in modern history. But Mikhail Bulgakov's novel, which he later turned into a play and is presented at the Lyttelton Theatre in a new version by Andrew Upton, does just that. It's a big, rambling, sometimes confusing affair that dips into farce, but one that remains entirely gripping throughout its two hours and 40 minutes.
Bulgakov's play (being given only its third UK production) completes a trilogy of early Soviet adaptations at the National Theatre, following Upton's Philistines in 2007 and Peter Flannery's Burnt by the Sun last year. The White Guard (1921-23) was originally conceived as a trilogy, but the magazine in which Bulgakov's work appeared was closed down before it could be completed. Even so, the Moscow Art Theatre asked the writer to adapt his novel for the stage, with some amendments to make it more palatable to Soviet censors, and in 1926, with the less partisan title The Days of the Turbins, it premiered to great success - "the new Seagull". Astonishingly, it gained a most unlikely fan in Joseph Stalin, who saw the play 15 times in its first run alone.
Upton surmises Stalin liked the play so much because "the enemy were clearly formidable, roundly defeated and finally saw the dawn of a new Russia". And who knows - such was the cleverness of Bulgakov's heavily coded play that Stalin may have simply missed the point. (Pictured below: Conleth Hill and Justine Mitchell)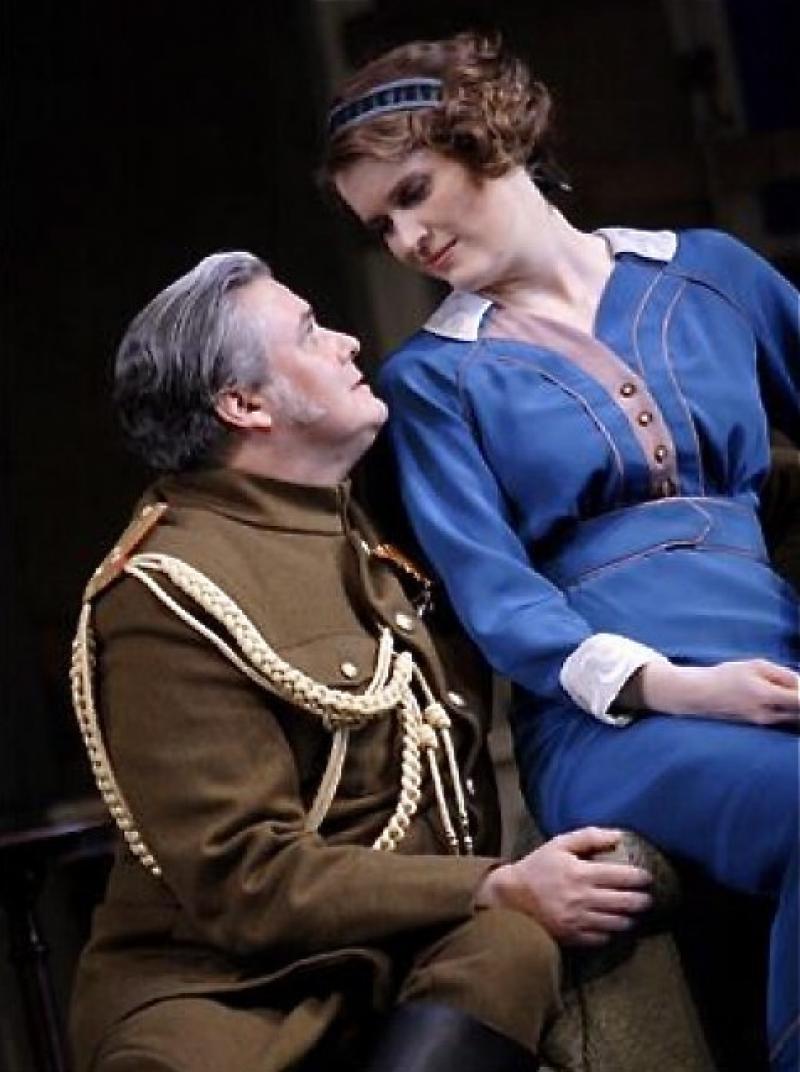 By contrast, Upton's version relies less on code and more on comedy to expose the stupidity of war and its great lie - that conflict makes heroes of us. More often, we realise, it shows what cowards most of us are when faced with real danger. And, although Ukraine has recently undergone another period of transition and there are modern parallels to be read, Upton doesn't capitalise them.
It's the bitter winter of 1918-19 and we are in Kiev, a fiercely contested battleground between the titular pro-Tsarists, Germans, Ukrainian nationalists and Bolsheviks during the Russian civil war. The play opens in the Turbin family's grand apartment, where matriarch Elena (Justine Mitchell), seemingly loved by every man in Kiev, presides over the household as assorted characters flit in and out. Her two brothers, Nikolai (Richard Henders) and Alexei (Daniel Flynn), fight for the White Guard and she is married to Talberg, deputy war minister in the Hetman puppet government. They are joined by their gauche young cousin Larion, a terrible poet.
Talberg gets wind that the Germans are abandoning the Hetman and so flees to Berlin - "I am not running away... Deputy war ministers do not 'run away', they are called away" - and leaves Elena and her family to their fate.
As the action moves from domestic to political to military amid shifting alliances and changing factions, events are, just as in war, disorientating. We see the disruptive effect of war on relationships within the Turbin household, and the importance of belonging as family, friends and lovers gather together to eat, sing and drink far too much vodka.
Many of Bulgakov's characters are unsympathetic, but they are never anything less than entertaining in Upton's witty writing (despite its occasional jarring vulgarities) and Howard Davies' terrific ensemble production. The acting is superb throughout, with Mitchell providing the emotional heart of the play and Paul Higgins, as turncoat Captain Myshlaevsky, its political core. There are great comic turns by Kevin Doyle as the weaselly, pompous ass Talberg and Anthony Calf as the cowardly Hetman, and Conleth Hill is marvellous as the "chameleon" Shervinsky, who mutates from family friend to Elena's lover and from the Hetman aide-de-camp to "prole" civilian in equally fast moves. Wonderful, too, is Pip Carter as Larion, who in one hilarious drinking scene recites an ode dedicated to the apartment's blinds - "Oh blinds that keep the horrors of our life outside..."
Bunny Christie's sets are beautiful and technically wizard (describing how would spoil your fun), while Neil Austin's lighting adds to the spectacle.
Upton's version relies less on code and more on comedy to expose the stupidity of war and its great lie
rating
Explore topics
Share this article