Paul Bunyan/The Secret Marriage, British Youth Opera, Peacock Theatre |

reviews, news & interviews
Paul Bunyan/The Secret Marriage, British Youth Opera, Peacock Theatre
Paul Bunyan/The Secret Marriage, British Youth Opera, Peacock Theatre
Comic-opera delight follows slightly muted company take on Britten's lovable Americana
Thursday, 12 September 2013
It's raining Bunyans, and since Britten's early American operetta with its sights originally set on Broadway teems with song and invention that can't be a bad thing. A fortnight after Welsh National Youth Opera commandeered Stephen Fry to voice-over the giant American folk hero of the title, their counterparts in BYO are offering London its first production for 15 years.
There were singers at the starts of their careers in that Royal Opera special – remember Susan Gritton and Mark Padmore, anyone? – but not enough: it ought to be a paradise for the young, and here it truly was.
In my books, though, that ought to mean not just opera singers: if this latest showing had mixed its operatic protégés with music-theatre graduates, the whole thing might have pulsed even more with the life it needs. No such reservations, though, about the winsome English-language version of Cimarosa's Il matrimonio segreto the following evening, in which choice voices put across the stage business with vivacious precision: an easier task in one sense, since this is merely a six-hander with the covers neatly shadowing as servants rather than a company show with 44 solo roles, but more difficult in another, since Cimarosa for all his charm was no Mozart, and needs zesty help, which he got. Still, on seven weeks' intensive rehearsal, double casts and a limited budget, BYO has done both operas proud.
No doubt about it, though: the hymn to a brave New World which Britten and Auden fashioned so freshly in 1941 needs more chewing the cud. Is there really still any problem with labelling this American creation myth by hopeful Brits the confident work of quirky geniuses? Stephen Walsh thought so in his review of the Welsh youth production; I don't. The composer was never more liberated in his invention; there's none of the knottiness and angularity which both fascinate and perplex in his later work. And Auden has been taken to task for sententiousness in his shaping of an archetypal American myth, but he usually undercuts it with his own earthy, if not by then totally digested, type of Cole Porterishness. Britten never had a better librettist, even if Eric Crozier and E M Forster came close.
There are unforgettable hooks: the chorus's "Once in a while the odd thing happens, once in a while the moon turns blue"; the Western Union Boy's jaunty refrains (pleasantly hammed up by Dominick Felix here); the blues Quartet of the Defeated; Bunyan's daughter Tiny keening in her beautiful lament for her dead mother; the gorgeous party pieces in the Christmas finale. William Kerley had the company working hard on designer Jason Southgate's uncluttered set – a raised target circle flanked by brooms, minimal props and look, no video projection – and even if they couldn't always move very confidently, the chorus could certainly sing.
Ensemble words inevitably got lost, and Louise Kemeny's vocally adorable Tiny sounded as if she were singing a foreign language (pictured above with Peter Kirk as Hot Biscuit Slim). But Christopher Jacklin's ballad singer (pictured below with guitarist Steven Joseph) tackled the American vernacular to the manner born, and surely it's better to have giant Bunyan verbalized in the flesh, as he so confidently was by Will Edelsten, than pre-recorded (the Fry experience in Wales): this is melodrama, after all, that needs to be immaculately timed.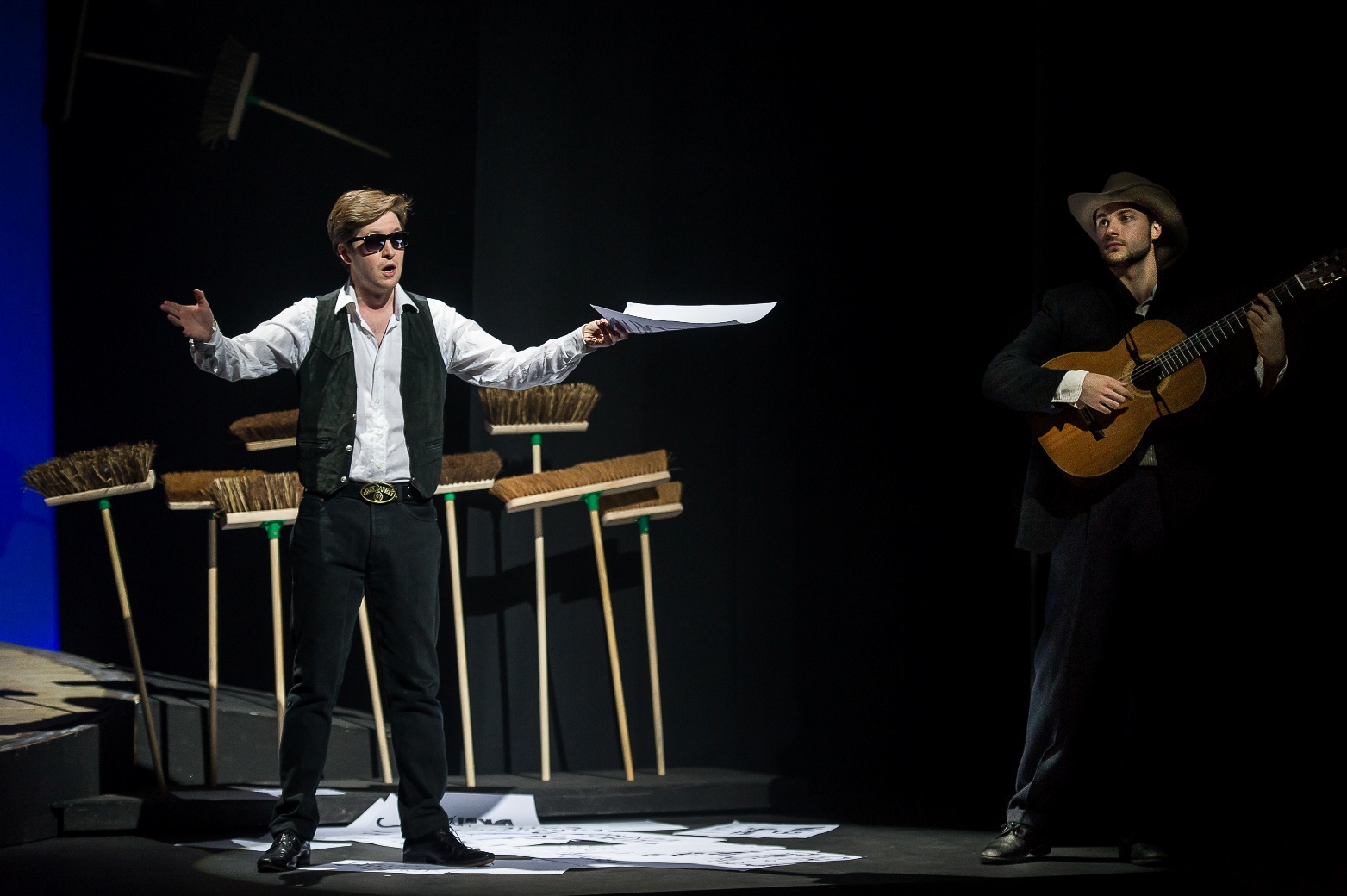 Samuel Smith as the loner intellectual bookkeeper Johnny Inkslinger needs to pull the voice into focus – is he really a tenor or a baritone? – but had plenty of handsome presence. Standouts in a hard-working cast include Emily Vine's coloratura Fido – who but Britten and Auden would have so imagined the camp dog? – Alex Aldren, the most promising of the tenors, as limited cook Sam Sharkey (soup to Ben Benny's beans) and Timothy Connor's malcontent lunk Hal Helson. Peter Robinson kept the fine young players of the Southbank Sinfonia ticking over, not much more: the vitality could have been more keenly sprung, but Britten's serious moments – including Act One's night-chirruping, bullfrog-croaking curtain, a magical atmosphere added by the composer just before his death in 1976 when he overhauled a work he realised was better than he'd remembered – tugged at the soul as they always do.
Otherwise, wide-eyed optimism is part of the period take on the American dream, with not an African American in sight (though the subject may not call for it; more seriously, there was no black singer in this cast) and only a belated piece of deserved cynicism when the animal trio seek deliverance from, among others, "those who say Patriotism and mean Persecution". At least the deliberate ingenuous air has a plausible ring in the mouths of the young and hopeful.
Next page: Cimarosa's The Secret Marriage
Rosalind Coad, Bradley Travis, Frazer B Scott, Heather Lowe and Alice Rose Privett in the Act One Finale of The Secret Marriage
The mature and assured, though, seemed to be holding the reins for The Secret Marriage. I've been harsh on Martin Lloyd-Evans's productions of Francesca da Rimini and The Pirates of Penzance, where less would always have been more; but the gags which he uses to breeze along this uncomplicated opera buffa are so deftly executed by the six singers, with help from their covers as hard-working servants, that everyone should be captivated.
The plot is slight: an older sister is to be married off to a wealthy count, who takes a shine to the younger, but she's already secretly married. Cimarosa's style has none of the richer jewels which stud the orchestral writing and character studies of Mozart's comedies; nor does it approach the later hilarity of Rossini. Rather it occupies a likeable halfway house between the two (it was staged shortly after Mozart's death, in February 1792, and the musically callow emperor seems to have liked it much more than anything by the master).
Roy Laughlin kept the orchestra sympathetically on the move, and there were no longueurs in pace or plotting; quality librettist Bertati's deft dramaturgy was spiced up in a brilliant translation by Donald Pippin. The singers looked splendid and convincing in Ellan Parry's stylish 1920s costume designs; bright colours in the Mondrianish break up of the stage made effective use of limited production funds - David Howe worked wonders on the lighting for both productions - and in truth we needed no more. Least of all when every singer charmed. As the sisters, Alice Rose Privett sometimes sounded too bottled, Rosalind Coad too bright; but both are accomplished artists, respectively projecting the sweet and the bitchy to great effect, and rising to their big set-pieces in the second act. Scene-stealer, though, in terms of projecting the text and the humour was Heather Lowe as spinster aunt Fidelma (pictured above with Rosalind Coad and Frazer B Scott), a lovely characterization.
The men filled their roles to perfection. Nick Pritchard is another of those English cathedral tenors with style to spare, though the top is a bit short. Frazer B Scott quickly settled into the bustle of officious father Geronimo, especially when brought up to the mark by the finest comic performance of the evening, Bradley Travis's as a Woosterish Count Robinson (pictured centre with Privett and Pritchard), filling every moment with disciplined gesture: classic tours de force were the number in which he manages to play croquet, badminton and cricket while singing and a patter aria in which he tells Elisetta why he'll make an unsuitable husband while at the same time succumbing to her sexual advances. In short, there was no flagging, and it seems a shame this first-class show only gets to run for three performances. All the singers should have a future, though – and I can just see Lowe and Travis as backbones of a new D'Oyly Carte company; may it happen soon.