Paul Bunyan, Welsh National Youth Opera, Cardiff |

reviews, news & interviews
Paul Bunyan, Welsh National Youth Opera, Cardiff
Paul Bunyan, Welsh National Youth Opera, Cardiff
Britten and Auden's only operatic collaboration comes up fresh in Welsh youth production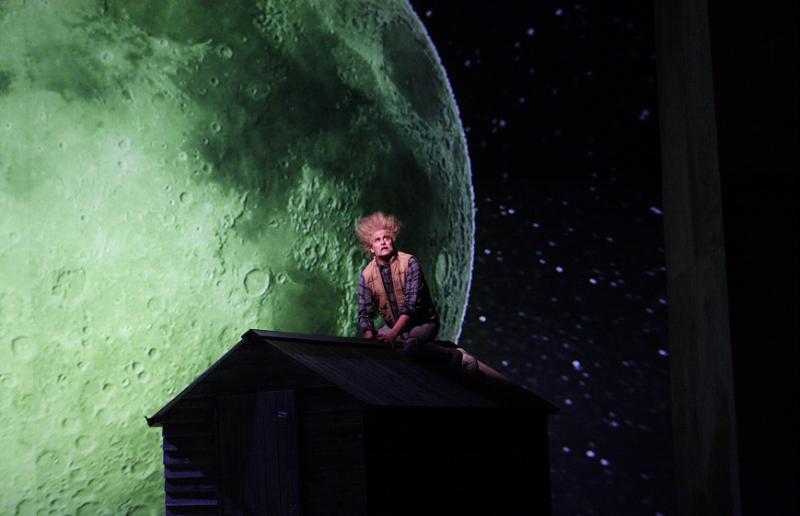 Lukasz Karauda as Hel Helson in WNYO's Paul Bunyan
Reading through WH Auden's libretto for Britten's first stage work – the so-called operetta Paul Bunyan – it's sometimes hard to decide whether the intention was to participate in the great American dream or to make fun of it. In 1941 both artists were living in the United States and writing for Americans, who famously didn't take to the work's blend of folksy condescension and sententious eloquence. The combination is still faintly queasy.
Towards the end, a Disneyesque dog and two cats pray for deliverance "from a homespun humour manufactured in the city", and the mind inevitably strays back over the previous two hours' entertainment.
Entertaining the piece nevertheless is, if patchily, with longueurs, and music that veers between the brilliantly witty and individual, with echoes and pre-echoes of more familiar Britten, and a kind of routine pastiche, part baroque, part ballad, part hillbilly. We are in forest America at the start of time, and Paul Bunyan, the giant embodiment of the pioneering spirit, is gathering together his team of primal lumberjacks, including a quartet of blond, straw-haired Swedes, a pair of lousy fat cooks, and a chorus of assorted frontiersmen and women. Camp life is punctuated by comic vignettes, a fight or two, an argument over the bad food, a bereavement, and a love affair between the good cook Slim and Bunyan's daughter Tiny, all done as set pieces in vaudeville style, and bound together by Auden's dazzling brand of sophisticated, tongue-in-cheek doggerel ("Here lies Hel Helson from Scandinavia/Rather regretting his rash behaviour").
Is this telling us the piece is dated, or merely of its time?
Gradually the America we know and love emerges, the America of John Wayne and the man who shot Liberty Valance, of Abraham Lincoln and Ronald Reagan: not quite "a man's gotta do what a man's gotta do", but very nearly that, in Bunyan's closing "America is what you do… what you choose to make it." In this WNO Youth Opera staging by Martin Constantine and designer Cai Dyfan, there's something vaguely off-putting about the incessant back-projection of Stephen Fry's teeth in close-up as he delivers Bunyan's spoken lines, pre-recorded, beautifully, but in a style not far off that of a Cinerama-Holiday voiceover. Whether or not Dyfan's other back-projections – of jagged Rocky Mountains – are making some point about the archetypal landscape of Bunyan's vast dentures is not wholly clear; but if so, it's an idea that matches the homespun humour of the rest of the work.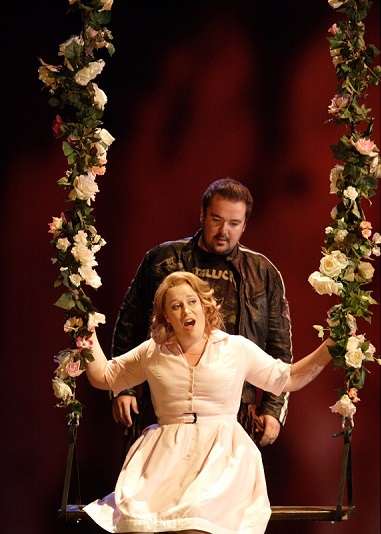 Too much Fry then (in his actual absence), but otherwise a sparkling production, brilliantly stage-managed, and delivered with obvious enjoyment and immense vitality by these young singers in the wide open spaces of the Wales Millennium Centre. Constantine resists imposing any heavy concept – whether lofty or parodistic – on the simple tale. Not too intrusive is the boy American, vintage 1941, who watches the show in bed on a proscenium-wide TV set with unsteady vertical hold while being occasionally petted by the cast. Is this telling us the piece is dated, or merely of its time, when the USA was still almost the one safe, civilised place on the planet? At the very end, "where the dream becomes the fact", as Bunyan puts it, a few men with guns roam the stage – an ironic image that needs no emphasis, and isn't emphasised.
It seems invidious to single out individuals from a big and almost uniformly excellent cast, but two or three stand out, if only because they get the best music. Vanessa Bowers (pictured right with Ross Scanlon) delivers Tiny's touching lament for her dead mother exquisitely, Elgan Llyr Thomas is highly convincing as Jonny Inkslinger, the camp intellectual, and Joseph Gorvett is irresistible in the bike-on role of the Western Union Boy with his life-changing telegrams, delivered in a kind of fractured Al Bowlly style. The chorus singing is exemplary throughout, and Alice Farnham conducts, stylishly, with fine playing from an unnamed orchestra.