Madam Butterfly, English National Opera |

reviews, news & interviews
Madam Butterfly, English National Opera
Madam Butterfly, English National Opera
A beautiful 'Butterfly' still, but one a little vacant behind the eyes
Butterfly (Rena Harms) dreams of the day when Pinketon (Butt Philip) will return
There's a beautiful moment at the start of Act II of Anthony Minghella's Madam Butterfly. Butterfly kneels, leaning forward to kiss Pinkerton, seated in his defiantly Western armchair. A paper screen moves swiftly across our view, and almost before it has passed he is gone, just another evanescent vision in this gorgeous, ephemeral world where cherry blossom no sooner flowers than it fades and falls.
Now on its sixth revival, Minghella's production has lost none of its visual appeal. Quick on its feet, thanks to sets that suggest rather than assert, swiftly reconfigured from moonlit grove to marriage bed, it provides both movement and exquisite moments of stillness. The stage pictures – Butterfly's prostrate body pouring out its streamers of red silk, the silhouetted fan-dance of the start, the lantern-lit seduction – are beautifully judged, Japan as a fetishised, Orientalist fantasy.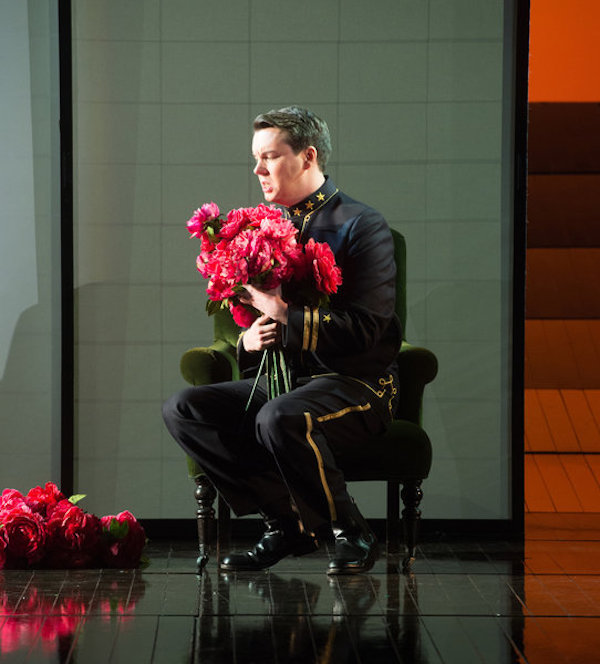 The production's curious mixture of straightforward romance and self-aware commentary is summed up in the figure of Sorrow, taken here by a sunken-faced Bunraku puppet, wise beyond its years. On first encounter it's a gesture that seems too arch, too knowing – substituting the idea of Japan for Japanese innocence itself. But as the revivals have continued it's one that seems to have grown in power. So delicate are the manipulations of the puppeteers that the little boy (tinier than any real life child who could take the role) lives so completely – walking with tottering charm, tugging at his mother's sleeve, staring fascinated at swallows – that it's hard to imagine an actor with more presence.
The main musical attraction of this revival is the chance to hear young British tenor David Butt Philip (pictured above right) making his role debut as Pinkerton. If not yet truly Coliseum-sized, the voice is growing swiftly, and promises so much for the future. As it stands, it's one of the best-sung Pinkertons we've heard yet in this production, the voice even and lovely from bottom to top (and what a top it is in this piece) and phrasing consistently sensitive and musical. Add to this some nicely judged acting – his officer might be smugly self-satisfied, but his is the malice of ignorance, not intent – and it's a fine performance that makes up for what it lacks it Italianate swagger (a fault largely of David Parry's clipped, emphatically Anglo translation) in English poise.
What a shame that neither Butt Philip nor any of his colleagues receive any support from Richard Armstrong's pit. Heavy-footed conducting tramples the singers underfoot with dynamics that are consistently too loud and speeds that tend to the fast and unyielding. Sarah Tipple's revival direction doesn't help, often placing singers back under the proscenium at crucial moments, denying them those extra few metres of forward projection that can make all the difference.
A strong supporting cast are led by Stephanie Windsor-Lewis's full-bodied Suzuki and George von Bergen's excellent Sharpless, with Matthew Durkan an impassive Yamadori, and only Rena Harms's Butterfly herself doesn't quite work. While it's understandable that ENO might look to America for a Norma or even a Lulu, it seems odd (not to say unbelievable) that they are unable to cast a British Butterfly. If Harms (pictured above left) were outstanding, perhaps this wouldn't matter, but hers is a voice that, as yet, lacks the full range of colours for the role, tending to the shrill at the top and lacking in warmth. Dramatically, too, it's a performance that wobbles, veering perilously close to vulgarity at times, lacking the essential innocence that takes Butterfly from cautionary tale to tragic heroine.
Minghella's production is beautiful as ever, but is his Butterfly really Puccini's? It's hard to watch his gorgeous flushes of colour, his origami, his fan dances and silk kimonos and not feel that while he's still in thrall to the smooth, painted face of the geisha, the composer himself is much more interested in the fleshy skin and the messy emotions that lie beneath.