The Importance of Being Earnest, Royal Opera, Barbican |

reviews, news & interviews
The Importance of Being Earnest, Royal Opera, Barbican
The Importance of Being Earnest, Royal Opera, Barbican
Smashing time with Gerald Barry's crazy-precise operatic whizz through Wilde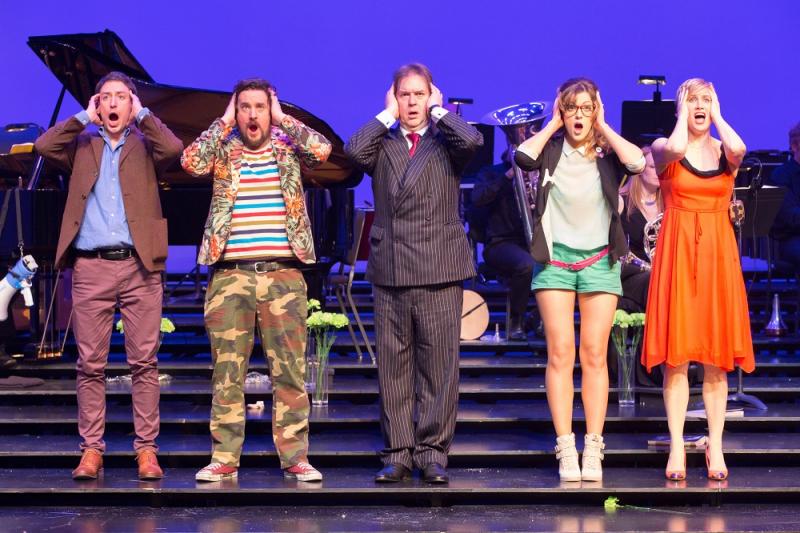 Paul Curievici's Jack, Benedict Nelson's Algy, Alan Ewing's Lady Bracknell, Claudia Boyle's Cecily and Stephanie Marshall's Gwendolen are confused
Some new operas worth their salt work a slow, sophisticated charm, but the handful that holler "masterpiece" grab you from the start and don't let go.
Gerald Barry's shorn, explosive Wilde – more comedy of madness than manners – was so obviously in that league at its UK premiere in 2012, and has kept its grip in two runs of Ramin Gray's similarly against-the-grain production, now removed from the currently-closed Linbury Theatre at the Royal Opera House to the wider stage of the Barbican Theatre. It's still one of the few hysterically funny operas in the repertoire. The more you perceive its method, the more you're awed by the genius in its lunacy.
In shedding two-thirds of the play without even aficionados much missing what's gone, and introducing his own meticulous comic – some would argue tragi-comic – sense of timing even in the silences and the notated spoken passages, Barry may even have made the work foolproof against any inept productions that may pop up as its popularity spreads around the world (Gray's, happily, is not in that category).
This composer's art is analogous to the perfection of Richard Jones's theatre and opera direction. In Jones's Puccini Gianni Schicchi – another superlative operatic comedy in itself – no gag outstays its welcome. In the same way, Barry's Earnest never settles on any mode for too long as it moves between machine-gun, almost automata-like patter and paradoxically angular lyricism, dissonant energy and grinding banality (pictured above: Alan Ewing's Lady Bracknell turns her Ode to Joy into a dictator's rant).
Fury seems to be the unifying tone, buzzing round each of the well-tempered duologues or ensembles. The Britten Sinfonia under Tim Murray took just a bit of time last night to dare, trumpet and horn lines chucking perfection in favour of stridency; Gray, on the other hand, wastes no time in summoning his semi-puppets from the front of the stalls up onto the stepped stage where the instrumentalists are very much part of the action. (We've recently had the ENO Magic Flute with its raised orchestra conjuring a singular complicity, and direct lines of communication with the audience, blazing under Mark Wigglesworth's baton). Franz Peter David's lighting is as much a participant as anything else in this total work of meticulously choreographed anarchy.
The full vocal ensemble, including the two rhythmically precise, dramatically important cameos – Simon Wilding's rude Lane/Merriman and Kevin West's Canon Chasuble – has perfected its interplay since last time; as before, each principal character is a distinct personality. The girls are now true perfection: Claudia Boyle, previously another plucky Victorian maiden in Mike Leigh's ENO G&S and here the only newcomer to the main gang of six, is a cut-glass high-soprano Cecily (though in a generally clear delivery of the text, don't expect to make out the words "They have been eating muffins" on a high A).
Her megaphoned spat with Gwendolen, a clipped duel to the death even before revelations sour relations, now has the most perfect Wildean dialogue you'll ever hear from Stephanie Marshall (pictured left); you wouldn't see a better Miss Fairfax on stage. As often as I've gone over the scene on the recording of the Barbican UK premiere, not least for students, the smashing of 40 plates and the percussive interruptions still make me weep with laughter.
You probably wouldn't find a better John/Jack to deal with Barry's high-lying tenor writing than Paul Curievici, either. The Monty Pythonesque silly walk/hornpipe Gray asks him and Alan Ewing's pinstriped Lady Bracknell to execute could fall flat in a less accomplished singer-actor's hands (or feet). Ewing plays it straight until Lady B's "version" of Schiller's Ode to Joy erupts in fascist yelling.
Benedict Nelson's Algernon makes a good laid-back foil to Curievici's friend/brother. "I like his hair so much," as Boyle sings in Pucciniesque rapture at the end of a typically compact scene where the very name of Algernon sets off a horrified, brilliant orchestral riff each time (only half of it for "Algy"). Marshall's spasms at "Jack" (I don't remember them from first time around) are one of the funniest things in a laugh-out-loud evening. To complement the basso profundo of Ewing's Lady, trailing inky-black instrumental depths and dissonant jabs, we have the inimitable contralto tones of Hilary Summers as Miss Prism – suitably not quite with us in the empty rustic idyll, an expressive face made for comedy and the vital icing on the cake in the denouement (pictured below).
The question often arises as to what a non-English-speaker or anyone unfamiliar with the play might make of Barry's setting. I'd argue that unlike Shostakovich's The Nose, which is a music-drama incomprehensible without knowledge of the text, there's enough going on here to give musical pleasure, or pain, throughout, from the pre-recorded piano frenzy at the start, played by Barry himself, through to the smashing of the last eight plates on a fierce final crescendo. You may even come out humming something as catchy as the Act III Prelude with its air of post-coital tristesse (and "Auld Lang Syne" too, of course). It's a virtuoso piece as much for the players – who also have to participate vocally – as the singers. As I said, you know a masterpiece when you hear one, and the operatic Importance is here to stay.
The more you perceive the opera's method, the more you're awed by the genius in its lunacy
rating
Share this article