The Barber of Seville, English National Opera |

reviews, news & interviews
The Barber of Seville, English National Opera
The Barber of Seville, English National Opera
Popular Jonathan Miller revival of Rossini's farce in a far from vintage outing
Tuesday, 26 February 2013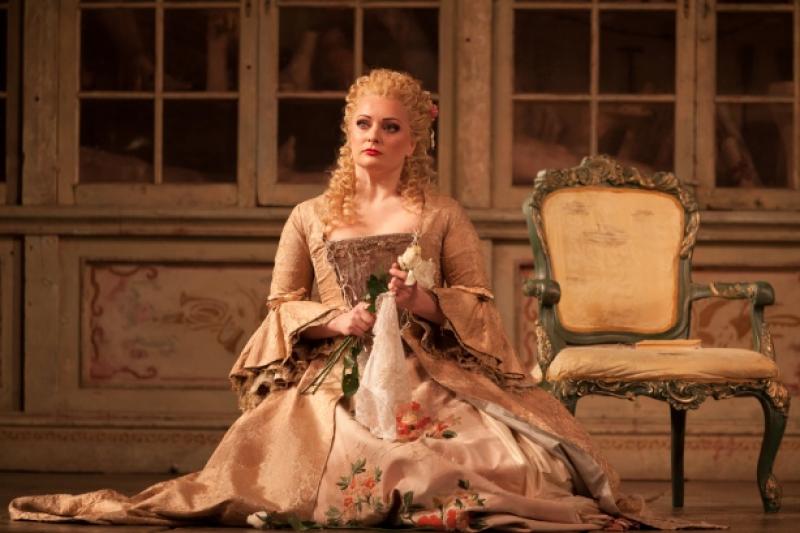 Lucy Crowe (Rosina) warbled with an especially attractive colouring
There is only one rule by which one should ever judge a Barber of Seville. If your eyes (and possibly also your trouser legs) aren't moist by the time the interval arrives, you might as well leave. The last time this Jonathan Miller production was revived by the English National Opera, it passed with flying colours. This time round, I was dry as a bone. Three hours and I notched up two smiles and a snigger.
There's little wrong with designer Tanya McCallin's set-up, traditional and 18th century though it all very earnestly is. It's all neatly tailored to allowing this smooth-as-clockwork Rossini farce to unravel with most efficiency and least fuss. There's little wrong, superficially, with the conceptual shaping either. The merry-go-round of Figaro and Count Almaviva's attempts to woo Rosina and then steal her from her guardian Doctor Bartolo is inflected with a moral bankruptcy in this revival that reveals the angrier political concerns of the original Beaumarchais play.
And the singing was effective enough. Lucy Crowe (Rosina) warbled with an especially attractive colouring and hit her many fusillades across the stratosphere with consistency and musicality, maintaining an appropriately crazed look as she tried to control her madcap reality. The rest were efficient and effortless. Benedict Nelson was perhaps a bit too effortless as Figaro. Andrew Kennedy makes a sound that some have been known to enjoy – though not me. Andrew Shore just about stayed on top of his rapid-fire lines as the Doctor. And Katherine Broderick was a bubbly Berta. Conductor Jaime Martin's debut went by without mishap.
Still, fine singing, delicate concepts, mishap-free conducting, faithful period sets and costumes, do not a decent Barber make. Carefully sculpted comedic detail was what we wanted and far from what we got. Unusually for ENO, poor casting was to blame. Nelson may have a nice méchant streak that suits the wheeler-dealer side of Figaro well but he has little of the light-footed cheek that is necessary to inject the double, then triple, act with Almaviva and the Doctor with humour as well as class tension. Andrew Kennedy, meanwhile, who was unconvincing in some of the most rudimentary human activities – wooing, falling in love, being drunk - is the opposite of an actor. He dissipates energy. Whenever he comes on, your eyes instinctively drift to someone else. It's an unhelpful quality to have in a leading man.
The only performer who elicited anything approaching a laugh from me was the great Andrew Shore. Yet even with him, the comedy didn't seem half as funny as I remembered it. The comedic details were resurrected in a cruder form. Blackadder had become the Chuckle Brothers. It shows you how unimportant the director of the original production is if the revival director refuses to follow the original director's intent. "Everything that is considerable can be found in the negligible", is Miller's famous mantra. Here, both the considerable and the negligible were merely negligible.
Blackadder had become the Chuckle Brothers
rating
Explore topics
Share this article