theartsdesk Q&A: Comedian Rowan Atkinson |

Comedy reviews, news & interviews
theartsdesk Q&A: Comedian Rowan Atkinson
The face of Blackadder and Bean on a life spent entertaining, and taking on a tragicomedy
Saturday, 19 January 2013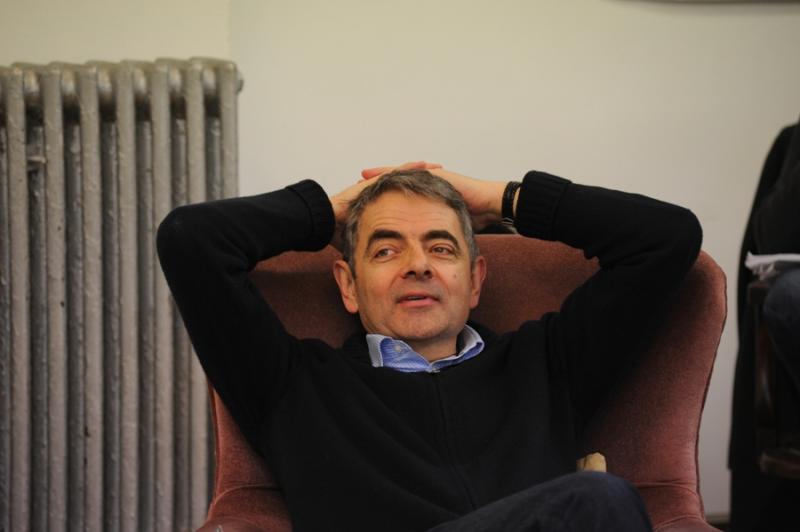 'I feel I know how stage works and I think I know how to do it'
The generation of alternative comedians who emerged around 30 years ago have long since elbowed their predecessors into the long grass and themselves become the establishment. Of no performer can that be said with more certainty than Rowan Atkinson. His rubbery physiognomy is instantly recognisable to billions, which is why he – or rather Mr Bean - was granted pride of place at the Opening Ceremony as guest artist with Sir Simon Rattle and the London Symphony Orchestra.
His curriculum vitae barely needs restating. He is the only performer from Not the Nine O'Clock News who still makes a living by making audiences laugh. From there he became the star – the master of ceremonies, he calls it – in another longer-running ensemble piece. Blackadder walked into a hail of German bullets on the night Mrs Thatcher lost the leadership of the Conservative Party, since when Atkinson has been driving more or less solo as Mr Bean, whose move to the big screen produced the most successful British film of all time. Two Bond-spoofing instalments of Johnny English followed.
Films really are so long-term and stressful and difficult, so I just thought I fancy something smaller
But it was as on stage that it all started for Atkinson, as a child at school, then at Oxford and on to Edinburgh revues. He soon had his own name in lights on Shaftsbury Avenue – with his loyal feed Richard Curtis cueing up the gags. That was as far back as 1981, the same year and the same street that a new play by Simon Gray was premiered called Quartermaine's Terms. Atkinson happened to see that play and he happens now to be starring in it. Although he starred as Fagin in Oliver! in 2008, this is the first time he will be acting (as opposed to singing) on stage since the late Eighties when he was in a play called The Nerd ("in which I played, unsurprisingly, the title role"). And it is the first time ever that he'll be attempting to embody a character - St John Quartermaine, a dreamy, hapless teacher at a language school in Cambridge - who is at least as tragic as he is comic.
He doesn't need to do it. His triumphs have stuffed Atkinson's garage with sports cars and rendered further work unnecessary. He tells theartsdesk what is driving him, starting on this page with the Opening Ceremony of the Olympics, then about performing onstage (page 2), becoming a comedian (page 3), television (page 4) and Bean (page 5).
THE OPENING CEREMONY
JASPER REES: It would be a dereliction of duty not to start with your most recent appearance with the LSO running along the beach at St Andrews. Only I'm not quite sure what to ask.
ROWAN ATKINSON: I could give you an answer almost without a question.
How long ago were you asked about that?
March, I think. So relatively recently, and it came through Richard, yet again, Richard Curtis. The Chariots of Fire was his idea and then we developed it together in the rehearsal room, just trying things out. It's that difficult thing, to provide Olympic comedy. You know, comedy for the Olympic Games is quite tricky, because of the very nature of the event, and obviously perforce it can't be verbal, so that excludes, you know, most comedians, and you tend to end up with people like me who have done quite a lot of visual comedy over the years. So we knew it had to be a visual comedy piece. So Danny Boyle asked Richard to ask me if I would like to do it and I was happy to consider it but the key is coming up with the idea that's going to work. And having decided that it was going to be visual comedy then the next most logical was to make it a musical joke, because music is a good lubricant for visual comedy, because otherwise it can become a little static and a little tense. We've done quite a few musical jokes over the years and this was just another one.
I was nervous but no more nervous than I normally am, which is fairly nervous but not too nervous
Simon Rattle I met and grew to like a lot in the few days that we were together. And he was a very important part of it because the whole point of it was to sell a dummy, that this was going to be a very serious and actually slightly dull idea, that the London Symphony Orchestra would now play a tribute to the British film industry. Here we go, a medley of slightly well-worn tunes. But he was an essential part of setting up an idea that we could then pull the rug from under. It had to be, I am afraid, pre-recorded in order for it to work on the night. And Danny is just the sweetest brightest guy. An awful lot of the success of the Opening Ceremony was obviously to his credit, but I think it was more than just his skill as the director, it was his integrity as a human being. At two of the dress rehearsals we had 30,000 people in the stadium, and because he gave this speech beforehand saying "Save the surprise, don't tell anyone what you see tonight, keep your mobile phones in your pockets," his integrity was something that people bought into and they didn't want to abuse the request which meant that so little of what we did was known about in advance.
You were appearing in front of 80,000 in the stadium, God knows how many live around the world. Were you nervous?
I was nervous but no more nervous than I normally am, which is fairly nervous but not too nervous. I mean the odd thing about stadia, if that's the plural, and of course the television audience is you can't see the whites of their eyes. They're an amorphous mass out there of noise and you're aware of their presence but I think it's far more nerve-racking to stand in front of 45 people at a wedding reception in your local church hall than it is to perform at the Olympics Opening Ceremony, literally because you can see the whites of their eyes, and you can see the expression of people that you know and half know, and that I feel is far more pressure. And of course notionally the idea of a global television audience which obviously was a major part of it – that is the Mr Bean audience. The nature of Mr Bean is he had been as well known in Shanghai as he is in Venezuela as he is in Wolverhampton and he's been in that state for 20 years. So the notion of a worldwide audience is familiar to me.
That's not in any sense to take away from the specialness of that particular night, but in the end what you concentrate on is just getting it right by rehearsing it. If you tell the story, which is the only job an actor has, of this guy who has got the most boring music task in the work, which is to play a C sharp repeatedly for four minutes and 10 seconds, then what's his story? And that's how we rehearsed it. What's interesting is that I couldn't play the C sharp. I had to play the D. The C sharp's a black note that you can't keep an umbrella tip on while playing repeatedly. Very very difficult. We discovered that fairly early on. I am surprised that no one's written in and said, "You're a semitone sharp."
I think it's far more nerve-racking to stand in front of 45 people at a wedding reception in your local church hall than it is to perform at the Olympics Opening Ceremony
Explore topics
Share this article
Subscribe to theartsdesk.com
Thank you for continuing to read our work on theartsdesk.com. For unlimited access to every article in its entirety, including our archive of more than 10,000 pieces, we're asking for £2.95 per month or £25 per year. We feel it's a very good deal, and hope you do too.
To take an annual subscription now simply click here.
And if you're looking for that extra gift for a friend or family member, why not treat them to a theartsdesk.com gift subscription?