Music Reissues Weekly: Jon Savage's 1977-1979 - Symbols Clashing Everywhere |

reviews, news & interviews
Music Reissues Weekly: Jon Savage's 1977-1979 - Symbols Clashing Everywhere
Music Reissues Weekly: Jon Savage's 1977-1979 - Symbols Clashing Everywhere
Personal take on three years when disparate outlooks could happily coexist
"A turbulent, highly creative period of music" encapsulated by "Symbols Clashing Everywhere's" cover shot
The title borrows from the lyrics of Siouxsie and the Banshees's August 1978 debut single "Hong Kong Garden": "Harmful elements in the air, Symbols clashing everywhere." It also refers to Marcus Garvey's prediction that on 7 July 1977 two sevens would clash with damaging consequences, a forewarning acknowledged that year by Culture's Two Sevens Clash album.
Yet Jon Savage's 1977-1979 - Symbols Clashing Everywhere collects "Voices," "Hong Kong Garden's" B-side, and Two Sevens Clash producer Joe Gibbs's single "Prophesy Reveal," a version of "Two Sevens Clash" voiced by Marvin Pitterson in his Bo Jangles DJ alter ego: "maybe you can understand that this year 1977 nah go well dread yah." This collection is not about what seems to be spelt out.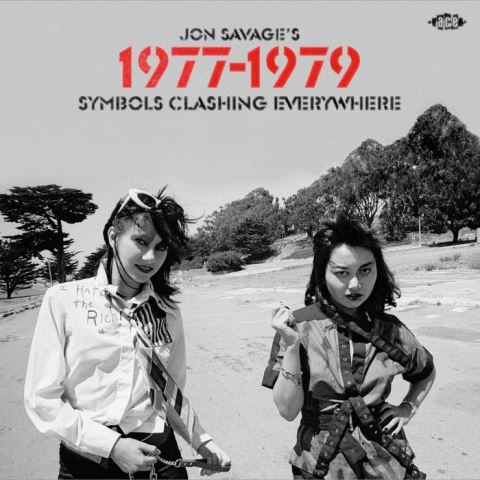 If seen reductively, Symbols Clashing Everywhere covers a timeline when punk fomented post-punk and was followed by fragmentations into oi, anarcho-punk, Two-Tone, mod, the seeds of goth and so on. This, though, is not the narrative here. Received, standard linear progressions are disregarded.
The spirit of the title is reflected by this sequence of 1977 tracks: Space's "Magic Fly," Pere Ubu's "The Modern Dance," Generation X's "Day by Day." Or these from 1979: Tubeway Army's "Are 'Friends' Electric?" A Certain Ratio's "All Night Party," Telex's "Pakmoväst." Symbols clash in a different way, with stylistic variance integral to the 46 tracks spread across the two CDs. In this reading, 1977, 1978 and 1979 could never be rendered down to punk, post-punk, etc.
In his introductory essay for the accompanying booklet (there's a compelling track-by-track commentary too), compiler Jon Savage says "the track selection is a reflection of what I was listening to during this period, rather than what I would like to be seen to have listened to. That means that there is very little disco, very little classic new wave, but a cross-genre fertilisation of punk, post-punk, electronica, dub, Euro disco and unique one-offs – like Subway Sect's 'Dontsplitit' or the Lines' 'White Night' – that reveal a turbulent, highly creative period of music that reflected a divided, increasingly harsh world outside. It was the late 70s: symbols clashing everywhere."
He's also candid about his change in perspective, role and status over these years. "During this period, my situation changed: I stopped being a consumer, and became a participant. Joining Sounds as a regular freelance contributor in April 1977 meant that I had access to free records, concert guest lists, and the privileges of a writer on the weeklies."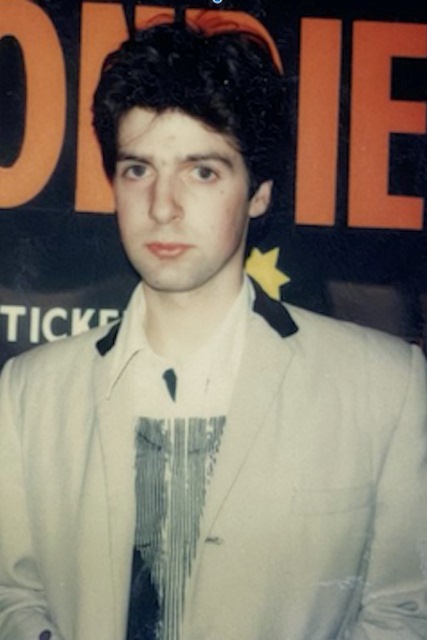 After creating the fanzine London's Outrage, Savage began contributing to the music weekly Sounds. He moved over to competitor paper Melody Maker in October 1978. In time, he wrote the book England's Dreaming: Sex Pistols and Punk Rock, published in 1991. After the 2007 book Teenage: The Creation of Youth: 1875-1945, 1966: The Year the Decade Exploded appeared in 2015. There's more of course but Symbols Clashing Everywhere ties-in with the first and third of the books. And despite the date range of what's collected, it's the 1966 book rather than England's Dreaming which provides the foundations from which Symbols Clashing Everywhere is built. England's Dreaming is incorporated into the superstructure. (pictured left, Jon Savage goes to see Blondie in May 1977. Photo by Derek Jarman)
Effectively, a form of feedback loop has developed. Following the publication of the 1966 book, a complementary double CD with the same title was released. There were more collections, covering 1965 to 1976. Symbols Clashing Everywhere – the seventh in the series – follows a set dealing with 1972 to 1976.
This new compilation, then, differs to its predecessors as it's a personal soundtrack tackling the period Savage became a music business professional – when punk helped give him a platform. However, as it is with this tracklist, he didn't stick with what was popping out of the pipe. In 1977 and 1978, articles about Magazine, X-Ray Spex and other vital emergents were complemented by pieces on Nico's Marble Index and The 13th Floor Elevators. The past had a contemporary resonance and could be as alive as, say, The Damned, Ultravox!, The Revolutionaries, Subway Sect, The B-52's, The Lines, Devo or The Pop Group, all of whom crop up on Symbols Clashing Everywhere.
Overall, the sense is of individual paths taken rather than fragmentation. Not of a dissembling which then embraced orthodoxies: ones either old, contemporary and instantly embedded, or newly fashioned. In this reading, The Undertones's "True Confessions" or 999's "Emergency" are as edgily investigational as Buzzcocks's "Moving Away From the Pulsebeat" or The Human League's "Being Boiled."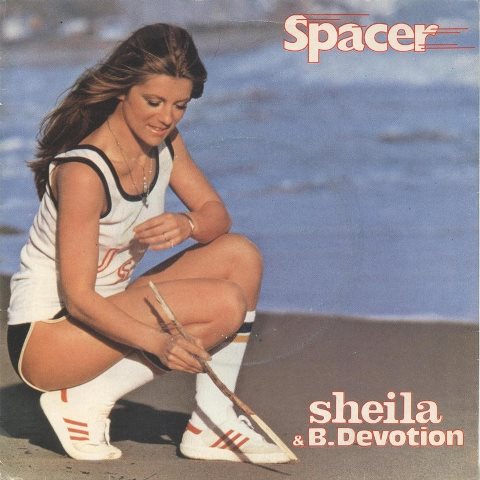 The final track is Sheila & B Devotion's ever-beautiful "Spacer." Of it, Savage notes "It's an optimistic, curiously resonant record that points the way forward to one of the dominant sounds of the early 80s – the crossover between rock and disco." Sheila knew all about pop's continual evolution. After emerging in France in 1962 as a powerhouse pop star, she never stopped. "Spacer" was yet another of her milestones. Here, it's given a new frisson by being preceded by Australian psych-garage rockers The Lipstick Killers and The Slits.
In the worldview fundamental to Symbols Clashing Everywhere, disparate outlooks could happily coexist. But as the Eighties bit in, the barriers between pop-cultural silos became less-and-less porous. The New Wave of British Heavy Metal, for example, existed in its own world. There were new goals too: proper pop status was again OK to aspire to. With the new pop which emerged in 1981 (Duran Duran, Spandau Ballet) and 1982 (ABC, Culture Club) there was less space for happy coexistence.
Consequently, it feels as if Jon Savage's 1977-1979 - Symbols Clashing Everywhere will become the full-stop to what began with 1966: The Year the Decade Exploded. If that's wrong, a 1980 to 1982 collection could be very interesting.
Next week: The Gun Club singles box set Preaching The Blues

Overall, the sense of 'Symbols Clashing Everywhere' is of individual paths taken rather than fragmentation
Share this article