Frankie review - dying for nuance |

reviews, news & interviews
Frankie review - dying for nuance
Frankie review - dying for nuance
Isabelle Huppert stars in Ira Sachs's disappointingly wan homage to Eric Rohmer
End game: Isabelle Huppert in the title role of 'Frankie'
American filmmaker Ira Sachs excels at crafting throughtful relationship dramas in which middle-class characters confronted with crises or unanticipated realisations gain valuable emotional knowledge. His best works – Forty Shades of Blue (2005), Keep the Lights On (2012), and Little Men (2016) – demonstrate an evenness and maturity rare in the rough and tumble of indie cinema.
Sadly, Sach's new film
Frankie
pales beside its predecessors, despite the presence of Isabelle Huppert and Brendan Gleeson and a postcard-perfect Portuguese Riviera backdrop.
Conceived as a light meditation on mortality and the ties that bind, Frankie is built around Huppert's title character, a beloved French film star whose full name is Françoise Crémont. The cancer Frankie though she'd subdued has returned and, solemn but stoical, she has invited her nearest and dearest to join her in Sintra for what will almost certainly be her last vacation. They listlessly wander the sunlit medieval town having sad or faintly amusing chance encounters.
Frankie's fellow actor and doting second husband Jimmy (Gleeson) is grief-stricken but tries to put on a brave face, Paul (Jérémie Renier), her self-absorbed businessman son from her first marriage, is licking his romantic wounds and otherwise preoccupied with his imminent move to New York City. His father Michel (Pascal Greggory), a Paris restaurateur who happily entered a relationship with another man after he and Frankie divorced, is quietly resigned. Sylvia (Vinette Robinson), Jimmy's daughter from an earlier relationship, is irritated by the presence of the sad-sack husband Ian (Ariyon Bakare) she intends to leave.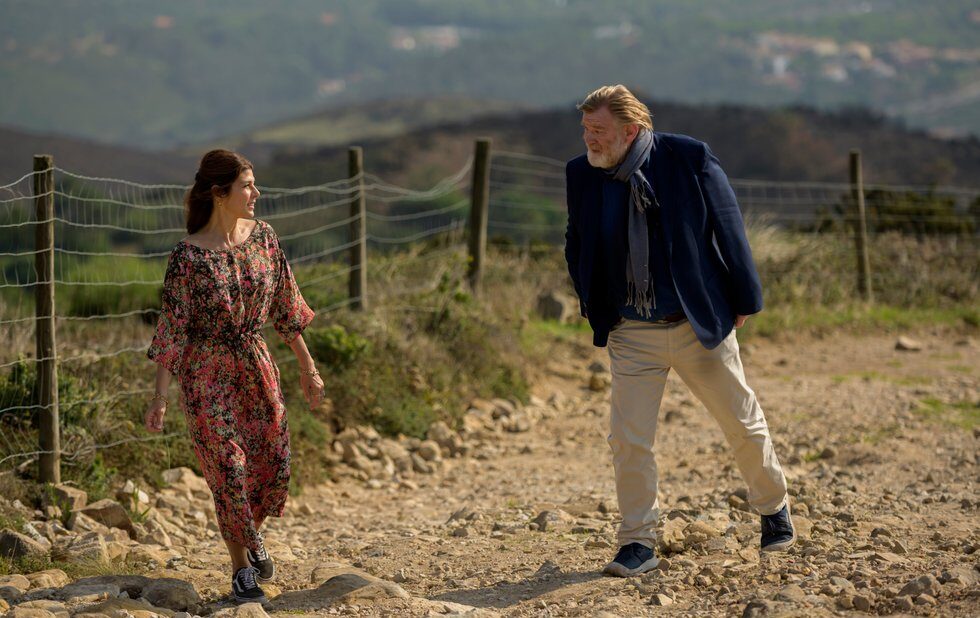 Their teenage daughter Maya (Sennia Nanua) is morose in their company. The New York-based film set hairdresser Ilene (Marisa Tomei), a friend Frankie hopes will make a suitable match with the unanchored Paul, has inconveniently brought along her boyfriend Gary (Greg Kinnear). A film cameraman, he's been working on the second unit of the latest Star Wars production in Spain – the kind of bland detail Sachs and his regular co-writer Mauricio Zacharias should have avoided. (Pictured above: Marisa Tomei and Brendan Gleeson.)
A few interesting things happen. After sternly rebuking Frankie for swimming topless in their hotel pool, Maya – at the "breaking away" stage, yet fearful of her parents separating – matter-of-factly has a fling with a handsome local guide. Whiny wannabe director Gary (who's clearly never going to realise his personal film project) proposes to Ilene and – silently answered by her sphinx-like smile – promptly departs. One wishes she'd accepted his clumsy offer so that Tomei, mannered here, could have left the picture with Kinnear. Instead, Ilene stays on to hear, reluctantly, an excruciating confession from Paul that explains why he, Frankie, Jimmy, and Sylvia never became a family when he and Sylvia were teenagers.
There are to be no collective meals, farewell speeches or emotional farewells – or any sense of clannishness. Save Frankie and Jimmy, they all remain disparate figures, each on her or his own course. Only once do Frankie, her relatives, and Ilene assemble – and that's for an unintended rendezvous, a testament to the love felt for the dying woman, in which they are scattered across the summit of a vast brown hill, the symbolically setting sun strafing the Atlantic in the top right of the frame. Alongside Huppert (impassively and impeccably Huppert-esque), Porto-born cinematographer Rui Poças (whose work on Tabu and Zama is indelible) is the star here – not that his lambent images of Sintra are especially redolent of Frankie's psychic state.
Sachs is expressive with long shots, and the image of these miniaturised people heading, for once, in the same direction as they follow Frankie and Jimmy downhill, is as powerful as the long shot juxtaposing Little Men's bike-riding pre-pubescent protagonist to the monumental Verrazzano-Narrows Bridge (which connects Brooklyn to Staten Island). The idea is that, like the conquistadors and their Inca slaves and mules descending one of the Andes in Werner Herzog's Aguirre, Wrath of God, human are ants subject to forces beyond their control in the space-time continuum – though stronger if they stick together. The long-held hill shot adds a concluding grace note to Frankie it's beige, undernourished script hasn't earned.
All too clearly, Sachs's seventh feature – his first to compete In the Cannes festival's main competition, as it did at last year's virtual event – was an homage to the philosophical cinema of Eric Rohmer, notably his 1980s "Comedies and Proverbs" and 1990s "Tales of the Four Seasons". Rohmer's genius was for illuminating the fault line between his maundering, hesitant characters' needs and desires on one hand and their mercurial, frequently self-defeating behaviour on the other without judging them or explicating their psychological issues. In contrast, Frankie's characters (Frankie and Maya aside thanks to Huppert and Nanua) lack behavioural nuance, as if their souls hadn't intrigued Sachs and Zacharias. Trust the writing duo to return with deeper insights.
They listlessly wander the sunlit medieval town having sad or faintly amusing chance encounters
rating
Explore topics
Share this article