Little Men |

reviews, news & interviews
Little Men
Little Men
Poignancy of friendship explored in sensitive new film from Ira Sachs
Thursday, 22 September 2016
Closing emptiness: Jake (Theo Taplitz) finds his friend gone
American director Ira Sachs is becoming a master at telling the small stories of life, giving them a resonance that speaks beyond the immediate context in which they unfold. That context, for his three most recent films, has been New York, and he's as acute as anyone filming that metropolis today in sensing how the city itself plays a role in the lives of those who make it their home.
Or rather, as often as not, who struggle to do so. His last film, Love Is Strange, was about the tribulations involved in finding a new home for a long-established couple whose circumstances had changed (as had the property market). Little Men is about the indefinably close bond that develops between two teenagers, irrespective of a conflict brewing between their parents that's driven partly by the gentrification of their area of Brooklyn. Sachs's sense of social environment may be sharp, but it's his depiction of individuals living in a particular moment that is exquisite.
The two boys could hardly be more different: 13-year-old Jake (Theo Taplitz) is introverted, engrossed in his art, while Tony (Michael Barbieri, pictured above right, with Taplitz, right), who is determined to be an actor, is already taking the world on with the typical volubility of a New Yorker. They meet when, after the death of Jake's grandfather, his family moves into his flat, a property that includes the ground floor shop that is leased to Tony's mother, Chilean immigrant Leonor (Paulina Garcia, last seen in the glorious Gloria); Tony's father is absent, and she's struggling to make a living from her dressmaking business. With the area going up in the world – and the fact that the old man hadn't raised the rent in years – Jake's parents face making Leonor either pay more for the space, or vacate it.
Here it's friendship that defies explanation or category
Sachs' script, co-written with Mauricio Zacharias, relishes the awkwardness of these negotiations. Jake's parents – father Brian (Greg Kinnear) is an Off Broadway actor who lives from role to role, mother Kathy (Jennifer Ehle) a therapist, the only one bringing in a regular income – have a distinctly Anglo-Saxon unease about bringing the matter up. Garcia's character has hidden depths too, with an almost uncanny ability to discover and then play on whatever makes her adversaries uncomfortable. It's used to considerable comic effect, and seen partly through the prism of Alfred Molina (one of the leads of Love Is Strange) as Leonor's lawyer-adviser, who also consolidates our sense of her coming from, and belonging to, a different world.
But these adult conflicts are really only the background for Little Men, with Sachs's main attention focused on his adolescent protagonists. If love was strange in his last film, here it's friendship that defies explanation or category, though there's something clearly complementary in the closeness between the two boys, the outgoing Tony introducing the newcomer to his patch, somehow protective, yet also himself opening up to the more inward-looking interests of his new companion.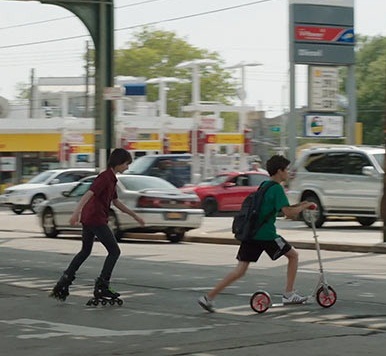 Sachs may be known predominantly as a gay filmmaker – Love Is Strange was about two men, newly married after a long relationship, while his film before that, Keep the Lights On, was a partly autobiographical study of a relationship break-up – but he's avoided that context here. The two boys may be on the cusp on pubescence, but they have still to define themselves, or discover girls (we may wonder whether the thoughtful, reserved Jake will turn out to be gay). Tony tries to persuade Jake to apply to the same Performing Arts college as he plans to: his acting talent is obvious, as we see in a drama class when he holds his own – with wonderfully New York charisma – in a verbal sparring match with his tutor. (Barbieri has an almost Pacino-like ebullience: we'll be seeing him again soon in the next installment of the Spider-Man franchise).
Sachs adds a coda to his film to make clear how life turns out, rich with a melancholy at how the passionate impulse of "only connect!" that sprung up between these two will be dissipated by time. And so we will remember them in this prime, most of all in some wonderful scenes with the boys speeding through the streets – Jake on roller blades, Tony a scooter (pictured above) – set to an expansive score from Dickon Hinchliffe. Barbieri and Taplitz play beautifully together, kings of their universe, navigating it with an ease that the adults around them can't find anymore, and which they will one day soon lose themselves. Little Men may have something of the scale of a novella rather than a full-blown drama, but its insight is considerable, its impact poignant and lasting.
Overleaf: watch the trailer for Little Men